Pharoahe Monch has emerged—not unscathed—from an era where many (most) of his peers were left behind. After three outstanding albums as one-half of Organized Konfusion, Monch went for dolo and released one of the finest debuts in Hip Hop history, 1999's Internal Affairs. Plagued by record label woes, it wasn't until 2007 that Monch was able to drop his phenomenal follow-up, Desire. Fans endured another excruciating wait until Pharoahe independently dropped 2011's W.A.R. Bucking trends, the winter 2012 season brings with it Post-Traumatic Stress Disorder, W.A.R.'s sequel.
The Hip Hop veteran, who's capable of a lightning-fast, tongue-twisting delivery, speaking slowly and deliberately, spoke to HipHopDX recently to discuss his thoughts on his latest project, and some of the experiences that have informed them. The man who might be Hip Hop's very best technician, and is certainly one of its keenest observers, places immense thought before the words said, and wastes none. If the stress is getting to Pharoahe Monch, he isn't showing it.
Pharoahe Monch Reacts To The Damage & Impact Of Super Storm Sandy
HipHopDX: You once wrote the words, "Switch my demeanor / Flip, assemble my own team to / Say 'fuck FEMA' in case there's another Katrina." Unfortunately, those words are pretty relevant just days after Hurricane Sandy. What's the scene up there in New York?
Pharoahe Monch: It's pretty crazy, man. It's just like [Hurricane] Katrina. For me, it's really testing your compassion for the people who are going through troubling times, especially when it's close. I was stuck in Dallas, so I wasn't here during the hurricane, but my mom lives in New York; I had family in New York at the time. So everybody was fine, and the power was good, and the heat and everything was fine.
But still—I talk about this a lot—being an empath, a big empath, I really felt away and down and depressed and sad about a lot of other people's situations and have been reaching out to people, and doing certain things that I can in terms of helping in different ways. You know, it's interesting in that you find comfort in a lot of things that you take for granted until you don't have them anymore or are disabled—and then what?
That line was about preparing because I don't think people were very compassionate after that situation. You hope to try to prepare, just like people tried to do before this, by leaving, or gassing up, or whatever. It's weird because in some areas you go, and it's like nothing ever happened, and then other areas you can see the devastation. Not only in the buildings, but in the faces of people. I can't just look the other way. I have compassion for that.
DX: Do you feel that the national compassion is any greater than it was with Katrina? Because obviously New York gets a lot more attention than a lot of other places, but I'm hearing things like, for example, Stated Island being completely forgotten.
Pharoahe Monch: Yeah. It brings again another realization of how easily that can happen. When it comes to humans that's going through protocol, and being like, "Alright, this is the situation, and what's happening now? Kids are hungry? Where are they hungry? This is what we gotta do, and this is why we gotta do it immediately, and now." And there's a waiting process, and so on and so forth. We're so accustomed to the liberties that we have until you're faced with—you don't know. My manager's still without power now, and I was trying to [work] through it, but now it's affecting my ability to perform a job because I have to be aware of pop culture, and I don't have internet, and I don't have TV, and I don't have electricity.
I say all this, and I imagine situations in Haiti and in the Philippines, and other situations. They don't even have the turnaround where they can be like, "Okay, you guys don't have gas for a few days, but we're sending gas." And a lot of those situations are like, "There's nothing, and we can tell you when there'll be something. Whatever." Even in this situation, I'm thankful that it's New York, and there's a lot of ways we can be resourceful here, as opposed to a lot of other places.
At the same time, while the internet makes us connected and we know information and feel we can Skype with someone, there is a disconnect in the way the country is in general with states and different [places] in general. While I was in Dallas, I'm guilty of my friends telling me, "Yo, stay there if you can, because there's no gas, no power, no heat, it's cold." What would you rush back for? And while I'm there, I'm at a bar having beers. "It's kinda cool, it's eighty degrees today!" I'm still calling concerned, but you're disconnected.
Pharoahe Monch Recalls Ghostwriting For Diddy On Press Play
DX: Not to harp on that line, which you wrote for Diddy, but I was always curious about something: there's always been some criticism that your style shone through so much on "The Future," but I always thought that it was impressive, because Diddy's not known for being a technical guy. Were you personally in the studio, coaching him on delivery, inflection?
Pharoahe Monch: There's a great, great story behind that. I was recording Desire at the time, and had landed a publishing deal which provided me with some financial comfort. I was also touring very steadily on my own and with Mos [Def] and [Talib] Kweli during that era, coming off of the Rawkus [Records] stuff. I had hired Showtyme and Mela [Machinko], who I work with very closely now, and we were like performing a lot of songs from Desire before they were out, and the fans were loving it.
I was feeling great in my career. And so, the opportunity came from the publishing company: "Yo, [Diddy] is interested in you writing for his project." Being the crackpot that I am, I saw it as a case study: an opportunity to see what it would be like to be in the studio working on a project—possibly a three million dollar project, a learning opportunity and a challenge.
He was the first one to talk about how people talk about him. He keeps his ear to the street and pop culture, or he wouldn't be relevant like that. You would think he's not aware of… Pharoahe Monch or who any of those people are, but that's how he found one of the greatest artists ever [in The Notorious B.I.G.]. And so, I had kicked it with him before in the past, knew that he was savvy, heard the rumors. But he broke the ice with cracking on himself about "I know what people say about me! I can't rap for shit, 'I'll fuck with his jeans, but I don't fuck with [his music],'" blah blah blah, and I thought that was funny.
But he said, "I don't want you to do a version of me. I want you to do a version of you." He started playing me music, and it was like Havoc tracks, Mr. Porter, Alchemist. I'm like, "Damn! What are you doing? This is crazy, this is shit that I would choose!" And so, he was explaining to me, and he was at a show one time, and he just felt the energy coming off the stage, and the crowd, and he wanted me to put a little bit of that flavor on the record.
I had never ghostwritten before. I worked a little bit with Prince [Po] back in the days of Organized Konfusion for a couple of projects. I can't claim to have written a whole bunch of stuff. That was my first time really doing it at that level. And so, the key thing he sold me on was, "I'ma listen to you, you coach me through whatever whatever, and do you." So I go down to Miami to write and record these songs, "Hold Up" and "The Future." I'm layin' them down, and it's like "Oh, this shit is crazy!" We sign off on it, we shake hands on it, and it's great. I was very, very, adamant about my album. I'm down here for business—he loves my work ethic—and I want to finish so I could get back to New York and finish this Desire album, which he heard and was in love with as well, but that's another story. So I was all about my business, and he had a great appreciation for that.
I went to Detroit to record with Mr. Porter, and they sent me the finished song, and I wasn't quite happy. We talked about how I thought it should've been a little looser and a little more matter-of-factly, and he felt it should be as…kind of rigid. That was an interesting conversation. So yeah, [Press Play] came out, and I received like a hundred phone calls like, "Well, we know who wrote this song!"
I'm pretty proud of that, actually, because what I learned from him—I took on the project to learn something—what I learned from him is that dude has a component like a good coach, to pull something out of artists that they don't think they have. And even in that process, it was like, "I think this could be this, or I think this could be that," and me being Pharoahe, I'm like, "Are you kidding me? Do you know who I am?" [Laughs] "Do you hear the way that's rolling off my tongue?" But then I dug deeper, and wrote pieces over, and what I took from that is when I went back to work on my own stuff, I was like, "Yo, don't get beside yourself, you can be more meticulous and pull deeper, even before you let people hear it. Try to reach a little further." It's an interesting tool to have and to be able to do with yourself before you even let your peers hear it and it gets critiqued. I'm constantly, "Does this line really deliver what I intended it to deliver? Are there other ways you can bring this across with more passion and honesty?"
DX: It's funny that your reaction was exactly like mine was just now, when I envisioned you and Diddy debating over technical delivery, any thinking that's one of the most ridiculous things I've ever heard. So I can only imagine how you felt.
Pharoahe Monch: Yeah, they sent me the song and we played it on the big speakers in Detroit, and everybody looked at me like, "Uhhhh…" I was like, "Alright, I gotta call him." He said I could call him: "Don't be afraid, don't be afraid. If there's anything that you needed to tell me, then tell me."
So I'm like, "Gimme 10 minutes, so I'ma call him." And it's like, "Pharoahe on line three!" [Laughs] "Who is this?" "It's Pharoahe for Diddy." "Alright, hold, hold, hold…" "Hello?" "Hey, it's Pharoahe, I'm holding for Puff." You know, like four different people. Finally, I'm like, "Hey man," and he's like "Hey, whaddup?" I'm like, "Hey, I'm in Detroit. I heard the song, and I just feel like, maybe, you might wanna…" [Laughs]
DX: That's an amazing Hip Hop moment. Is there an emcee out there with a delivery who you'd be interested in writing something for them just to see how far you could take their technique—purely as an academic exercise?
Pharoahe Monch: It's difficult for me to get in that space because I'm such a fan of Hip Hop. I'm such a fan of Hip Hop that I enjoy my stuff like I'm not even me. This is not to…to sound like that, but I remove myself from the process and business of it. I go to shows, and some of the shows, I'm able to stand in the crowd, other shows, it's just impossible because people are like, "what the fuck?" But I really love to enjoy Hip Hop that way. If you move me, I want to go to the second level of seeing you do what you moved me with… There are situations where I listen to music and I'm like, if it were under my tutelage…
That's the joy of being artistic and a fan, like a sports fan or a music fan: things that you think are sub-par, you're like, "Ahhh, if he had did this, or he would've ran this way or cut that way, I think he would've knocked it out the park!" I do that type of thing, but I'm never like, "If I would've wrote this for him…"
DX: Where does your technique come from? It boggles my mind, because you list a bunch of influences, but nobody rhymes like you do. There's not anybody that fits that mold.
Pharoahe Monch: That comes from a component I'm lucky to have that is instilled in me. The point in which I was enamored in Hip Hop, it happened to embody all of the different arenas, areas. When I saw different dancers pulling off different routines for the first time, I reacted to the shit like a lot of Hip Hop fans, like "What…in the fuck…was that move? What is this type of dancing called?" I'd never seen anything like that before, and it was as much as the emcee, and the deejay, and be b-boys, and the graffiti, and the culture, and the style. It was moving rapidly, and I don't want to make it sound like I was back in the Bronx train era, but it was still embraced as a culture like that.
That being said, I'm an artist; I was in high school, and I was like, "I want to be a part of this," not just to obtain financial benefit—which is necessary in business. At the time, I was just like, "I need to be a part of this culture; I want to contribute." If the so-called Bible and the Scriptures were being written back then, one of the taboos was…has to be original. Biting is a sin! If you're gonna add to this thing, it's like, "What are you adding?" It was tricky to have influences and inspirations, but you're like, "This is what we want to add!" But it links up to an era of, say, Brand Nubian, [Public Enemy], Pharcyde, De La Soul…groups that were doing very well for themselves, and at the same time, all had different sounds and different voices creating that era—that real crisp era that I was part of.
One thing that was heavy was, "What are you adding? We need to see what you're adding." That being said, my first inspiration is—you got Jimi Hendrix, and [Black] Sabbath, and Rush, and The Police—and I'm listening to this shit 15 years later: how are they able to make these songs that obviously people liked when they came out, but I still like now? I always was like, "How can you write, how can you say things in a way that is not disposable?" That's been my motivation. I never got into this under the pretense of someone else's timeline of what Hip Hop meant or Hip Hop career. I always was trying to be like…John Coltrane, and understanding Jimi Hendrix was not revered in his prime, and didn't win Grammys. How do you aspire to be that great in your prime, and maybe not receive the type of accolades. So that's the motivation behind trying to put these schemes together. It's a lot. I take from a lot.
I listened to some Rawkus stuff yesterday, and just to see where I was at at that time was inspirational. I was like, "Damn, what were you thinking? [Laughs] The way you were executing some of that stuff was brilliant!" You gotta start battling yourself, and I actually was inspired. It's intimate. It's what music is supposed to be. I'll hear something, and I'll say, "Man, I think I could've pulled it better!" I think that's what a true artist does.
DX: As far as the accolades go, I wanted to congratulate you on the reception "Damage" has been getting. At the end, you essentially lay out the entire theme of the narrative that began with "Stray Bullet" and continued with "When the Gun Draws": You rap, "There's no need for conversation when we're discussing the bullet's point of view." What inspires you to continue pursuing this narrative?
Pharoahe Monch: That's the last one. "Damage" is going to be the last. I think that one thing that's dope is when your catalogue starts to grow, you realize some things that are interesting. Having this conversation with Nas, after the long wait to put out Desire, it was pretty soulful—Internal Affairs was dark—and people were taken aback, I think, by the soul at first. After years have passed, W.A.R. is out, and I recently asked on Twitter: "Internal Affairs, Desire, W.A.R.—which is your favorite, and in what order?" And to my surprise, Desire got a lot of votes at #1.
It threw me for a loop. Time has passed, and just like this country, and let's say the Republican party, you have to account for the new 18-year-olds, and the new thinking, and just newness, as opposed to tradition. A lot of teenagers, people who were able to vote, who are not frightened by the types of words, or things that used to frighten people twenty years ago… [There's no point in] trying to convince them, "Hey, you know, there's other Pharoahe Monch stuff!" You can't, because they're like, "My girl was having a baby, I was going to leave the city, 'Push' made me rethink my thoughts about a second job, and now we're married."
DX: Wow.
Pharoahe Monch: You can't take that away from somebody! The same thing with, let's say, "One Mic" and Nas and Illmatic. You're 22, somebody buys you a ticket to a Nas show, and you see him do "One Mic" for the first time, and he gets down on his knees, and like, "Holy shit! This is crazy!" And you come home to your older brother, and he's like, "What, are you kidding me? You gotta listen to Illmatic!" You can't make that kid not be moved by what they're moved by. And when you start amassing a catalogue, you run into that. They're good problems; they're good issues to have.
My favorite at the time I was asking that question was W.A.R.; I loved that album. I don't necessarily love it more than the other ones, but that's how you are with your creations, and it's just ill. Same with Post-Traumatic Stress Disorder. There's some rhyme schemes on here that I know people are gonna be like, "What?!"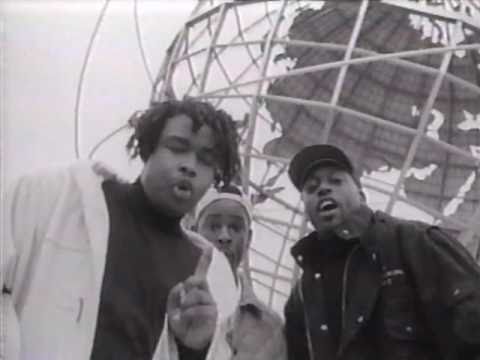 I just feel good about it, and I'm happy at this point—four solo projects, three [studio albums] with Organized Konfusion, longevity—the thing I'm most excited about is being excited. I feel new. I feel eager. This record is not just a thing. It's an art piece. Post-Traumatic Stress Disorder, in particular, is definitely my first art piece. From the artwork you're gonna see, from the way we approach these videos, you know, I think I've got Grammy Award-winning songs on this record. That's not my concern; my concern is that…thirty years from now, when a kid is looking through the Internet, it's like, "I know you heard this, and I know you heard that, but have you heard this project where he was in this state and in this frame of mind?" It's dope, man. It's dope for me to still feel that way.
DX: On W.A.R., the conflicts were largely "man vs. machine," with a little bit of "man vs. self" at the end with "Still Standing." Is P.T.S.D. going to be more of "man vs. self?" conflicts, dealing with the internal?
Pharoahe Monch: Definitely. It's the stress after the traumatic experience. It's sorta like, if you watched the "Clap" video, it's what happens to that person after he saw what happened at the end of that video. What happens to a person when your child it shot, or your brother is shot, and you see it? What happens to a person when you get so depressed that you contemplate the worst? What happens to a person when they think this is it, and you're ready to make this love step, and it doesn't work out? We understand heartbreak, but for the first time, I'm a bit…way more introspective, I think, than I've ever been before.
We know Pharoahe is known for multi-syllabic rhyme schemes, flows, vocabulary. But this record gets really with depression. Depression from medication. Depression from the music industry. Trial and tribulations. You expressed in "Still Standing" that you have asthma, but where are you with it now? Are you better? What are you doing? How's the health care working out with you and all of that? It's not easy. That's what I like about this record. It's not easy. It's challenging, and it's risk-taking. There's a record on here that one-hundred-and-thirty-one beats per minute. So pulsating, it's a protest record. Before performing this record, I will explain how I will be able to tell who has a living thing inside of them, because there's no way…you can be a fan of music—I'm not saying you have to like this record, but you have to feel this record. I've been listening to this song repeatedly…and I'm just eager to see if people can handle that tempo.
DX: Will P.T.S.D. feature any of your own production?
Pharoahe Monch: No. It's Lee Stone, Marco Polo, DJ Boogie Blind, and Lion's Share [Music Group], who did "Calculated Amalgamation" [on W.A.R.].
DX: Are you consciously producing less these days? W.A.R. had less of your production than either Desire or Internal Affairs.
Pharoahe Monch: I think after this project, it's going to allow me some time… I have a whole horde of melodies, harmonies, arrangements, samples, that have been sitting there for a while. It just hasn't been what I've wanted to express. My anxiety comes from having enough time to get all of this stuff out of my head.
DX: Are any of those items you're planning to use down the line for some of the projects that you've mentioned you wanted to do? You mentioned a "female-friendly EP" and Rock vs. Disco.
Pharoahe Monch: Yep. That's exactly what they're for.
Pharoahe Monch Recalls Plans To Work Closely With Eminem
DX: Fans have been liking you to Eminem and Shady camp for years now—even before you almost signed there—and a lot of it's based on the fact that you once "collaborated" on "The Anthem" and just those hard-hitting, outlandish rhyme styles. I was curious: back in the days when Em was toying with the idea of signing to Rawkus, were you privy to that, and were there ever any plans to collaborate at any point?
Pharoahe Monch: Man, he is like…I don't need to sit here and praise [Eminem] I think. I hope he knows how big a fan I am of his music and Slaughterhouse, as well as an inspiration. At that moment, when that was about to happen, that was like, the dopest shit. I really wanted to be there, but there was just so much red tape. I have to have the belief that things happen for a reason.
Like I said, I'm such a fan that I haven't heard, on my side, the song yet that I would bring to him and be like, "Would you please get on this song?" It's gotta be—and it would have to make sense for him—but for me, it would have to be some monumental shit. For me, as a fan, before I even get to see what other people think, I gotta be sitting there like, "Ohhhh, shit! I don't believe it!"
DX: We already knew that "New York City respects your game like Joe Namath," but who's your modern-day NFL equivalent?
Pharoahe Monch: Ah! Interesting. Interesting… Modern-day NFL. Um, I don't know, man! I can say Eli [Manning]…because I am kinda goofy. And I am kinda like a nerd. Yeah, I would have to go with Eli Manning. He's got two rings.
Purchase Music by Pharoahe Monch