Having just finished airing on Fox, YouTube favorite Affion Crockett has just seen his sketch show, In The Flow With Affion Crockett, receive some pretty major acclaim. With a never stopping mentality, the comic with a knack for imitating practically anyone has big plans for the future.
Having starred in movies alongside Samuel L. Jackson, Martin Lawrence, the Wayans Brothers, and the late Bernie Mac, as well as being involved in a Beats By Dr. Dre viral campaign alongside Dr. Dre himself and Lebron James, he's become an Internet sensation thanks to videos that see him imitate the likes of Drake, Rick Ross, Jay-Z, Chris Brown, and countless others.
Now residing in Los Angeles, the self-proclaimed Hip Hop comic has come a long way since the days of him winning dance competitions and imitating Tony Montana in front of his mother.
With plans to take his Dave Chappelle-inspired sketch show to another network, a possible Rap/Comedy album, and a Hip Hop parody in the not-to-distant future, the time is now for Affion Crockett.
Talking to HipHopDX, the TV funny man discusses his favorite impressions, who inspired him, why Drake is good at what he does, and how you can't just upload a video to YouTube and call yourself a sketch comic.
HipHopDX: How are things?
Affion Crockett: I'm well, man. I can't complain. I always try to stay creative and that's just the space that I live in. That's what I love to do. As long as my mind is going in that direction it's always good.
DX: So you've just got through with the new show on Fox. How well was is it received?
Afion Crockett: It's been received well, especially with my core fan-base. Sometimes the networks may not understand a show like this right away because it does dwell in the Hip Hop space of creativity, but it was a good showcase to do what I do. My fans have grown tremendously because of the show so I'm obviously very happy about that.
DX: Do you have any information on the ratings of the show?
Affion Crockett: Nah, I don't have that on me, but I do know we were doing pretty well. The difference with this show is that it was not a traditional pick-up for a network like Fox. We didn't have the first 12 shows or episodes done and they wanted to do something else after. It was a special ve week situation, like a showcase. We only had six shows. It was really a platform for them to showcase what I can do and whatever I wanted to do after that was on me.
DX: So you're saying you had the first six episodes ready, they've aired, and now you're pretty much doing what you want to?
Affion Crockett: Yeah. I'm just gonna produce more shows, maybe using another platform or on another network, but Fox gave me a great stage to begin the show on and now more and more people know me from that now. It was a great experiment.
DX: Are you 100% done with Fox now?
Affion Crockett: We haven't had the ofcial conclusion yet but we have nished airing on Fox, and they are now moving on to the other new shows that they have been producing.
DX: Explain to those who might have missed the show what In The Flow With Affion Crockett is…
Affion Crockett: Basically the show is me commenting on the world as I see it, a lot of it through the eyes of a Hip Hop comedian. There are a lot of impressions very much in the spirit of In Living Color, in the same spirit of [The Tracey Ullman Show], where I play a bunch of characters myself – Chappelle's Show. It's in the spirit of all those. It's edgy. There's a lot of celebrity cameos. It's a pretty wild ride.
DX: Can you pick your favorite sketch from the show?
Affion Crockett: I really can't say. It's difcult to pick one. There was this one I did for the first episode where I play Dave Chappelle and I have Dave calling me to congratulate me on the show, and to let me know about all the pitfalls to watch out for. The way we crafted it was me playing Dave talking to myself via phone, so I'm playing us both but I play Dave convincingly enough to get the message across. It seems to be a sketch a lot of people say is their favorite. But I have so many. I mean me and Russell Simmons have a series called Hustles With Russells, and to have the Godfather of Hip Hop co-signing my impression and wanting to be involved is great, and he's always so supportive of my work. So that's another of my standouts.
DX: Touching a bit on the Dave Chappelle sketch, before you perform the sketch you tell the audience that you got the blessing from the Wayans Brothers and Chappelle. Is this true, did you actually talk to the Wayans and Chappelle before you did the show?
Affion Crockett: Well the Wayans part of that is absolutely true. I'm very good friends with the family. As you could see, I had Damon, Jr. and Damien there, the younger generation, so they've always given me a lot of advice and taken me under their wing. They said exactly what I said in the set up before the sketch – "We see what you're doing, we appreciate it, we can tell that you are a student of the game," because a lot of people think they can do sketch now. It's the computer/Internet generation. So they gure they can just go and shoot something and put it on the Internet and then that makes them a sketch comic. However, it takes a little more work than that, and that's what I've always tried to display. The Wayans saw that I really studied them and other comedic greats and really appreciated the fact that I put the work in.
DX: You're denitely somebody who has embraced the use of the Internet, via YouTube and various other websites, with your sketch comedy. You've racked up millions of views because of it. You've just mentioned those that think it's easy to be a sketch comic. What's your opinion on it being used as a tool, because while there are pros there must also be cons surely?
Affion Crockett: Yeah denitely. I mean I think it's too unltered. Anyone who is good at what they do, I'm always gonna applaud them and be a champion of that work. I love to see people study the craft and get really good at it. But now there are too many people over saturating the market. If there are 400 rappers on YouTube how are you gonna nd the ones really worth listening to. There may be only 20 worth listening to, but because everyone thinks they can rap, or because everyone thinks that they're a comedian, some of them fall by the waist side and then the standard gets lowered. However there is a pro to it. You put the business back in to the hands of the producer. If you can really produce then you can go on the Internet and make your money. So although Fox was a great thing for me, it's not necessary to need Fox to a degree.
DX: You've also done a few movies in the past. What's the difference in lming the show for Fox and making movies?
Affion Crockett: In all honesty… sketch and lm are shot kinda similar. The difference for me personally is I play multiple characters. So unless it's a movie like Coming To America or The Nutty Professor where Eddie Murphy played practically every character in the movie, that's where sketch is different to me. I go to work everyday preparing to play someone totally different whereas in most movies I'm playing one character throughout, and I have to remember what that character's state of mind is from seeing different scenes from day to day. That's probably the biggest difference for me.
DX: Going back to your humble beginnings, how did you get started in the world of sketch comedy?
Affion Crockett: I'm a dancer first. I'm a B-boy, a pop locker, so I'm pretty rooted in the Hip Hop game. You know what I mean? So I started doing everything on stage, like dancing and all that kind of stuff, and then I would also do impressions. I've always had the ability to do characters and mimic peoples voices. So I used to watch Def Comedy Jam a lot back in the '90s and I'd see comedians do the same thing I could. They had a lot of energy, stage presence, and some of them would go on stage and only do impressions. So I thought to myself that if that was a formula that was considered stand-up comedy then I could already do that. So why not go ahead and give it a shot and see if I can make it in the world of stand-up. So that's exactly what I did. I put my characters together and put a lot of energy in to it and went on stages.
DX: Who did you look up to in the world of comedy as you were growing up?
Affion Crockett: There are so many people, from Eddie Murphy to Richard Pryor. The Wayans family of course. Jim Carrey. Benny Hill – I used to watch a lot of TheBenny Hill Show when I was a kid. Tracey Ullman, as I said before. Anyone that had real stand out comedy – Monty Python, Rowan Atkinson and his character Mr. Bean. Sacha Baron Cohen. There's so many brilliant comedians that came before me and I'm a fan of their work. So I just sit back, soak it up, and then their in,uence comes out in what I do.
DX: When did you realize you had a talent when it came to doing impressions, and what was the first one you can remember doing?
Affion Crockett: When I was a kid I would always do (impressions of) Scarface around the house. My mother would laugh, and I was like, "Wow, I can make her laugh. That's pretty good." My mother's from Trinidad & Tobago, so I would impersonate her as well. Anytime my mom would laugh at what I did, that's when I knew I was funny.
DX: Over the years you have done so many impressions. Who would you say is your favorite person to impersonate?
Affion Crockett: I would say that Chris Rock is one I like to do a lot. A crowd favorite is Jay-Z. They always love to see me do Jay-Z. Russell Simmons. [Laughing] Drake is another one.
DX: Have you ever met many of the people you've imitated, and if so what do they have to say about the impressions? Do they ever get mad?
Affon Crockett: Nah, for the most part all of the guys I have met have been fans of my work. They know that when I do it that it's coming from a place of respect. It's all good. It's not me trying to tear them down. So they can laugh at themselves as well.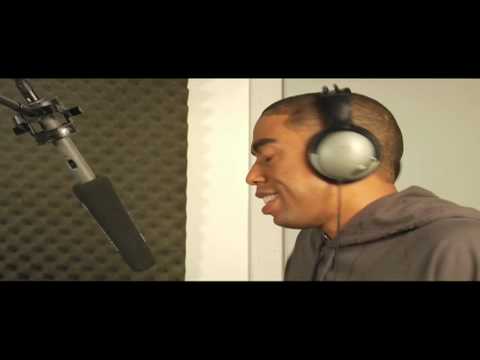 DX: You mentioned that Drake is a crowd favorite. Have you met him, and if so what does he think to your work?
Affion Crockett: I just spoke to Drake the other day actually. He was just like, "Man, you're hilarious. I love what you do. It's all good."
DX: What about Lil Wayne? You haven't had him get at you with the amount of sketches you do with him involved?
Affion Crockett: Nah, but he's Lil Wayne. He doesn't seem to be the type of guy that cares about someone being funny. He's making his money. He's one of the top rappers out so I don't think he's going to care about me. Little ol' me? Nah.
DX: You brie,y mentioned earlier that you were originally a dancer. Were you professionally trained?
Affion Crockett: Trained by the streets man, and the classic movies we all love. If you're a Hip Hop head you grew up on Wild Style, Beat Street, and Breakin'. That's the era that shaped my whole culture when it comes to Hip Hop. That's why with everything I do I cannot abandon those roots.
DX: As you've stated, you're a Hip Hop comic. You've expressed your love of Hip Hop, you even appeared on the Illa J album Yancey Boys. So who do you listen to? Are you new school, old school, or do you listen to genres other than Hip Hop?
Affion Crockett: I'm denitely into traditional Hip Hop. I love the golden era/'90s sound. For me J Dilla is one of the best producers of all time. He's underrated and not really well known, unless you're a digging-in-the-crates type of person. Pete Rock, that kind of production. You know? The heavy snares. The Diamond Ds of the world, and more recently Little Brother, Foreign Exchange – my North Carolina family. 9th Wonder, Phonte, and [Rapper Big] Pooh. Those guys are carrying on the tradition set out by the A Tribe Called Quests and Slum Villages. That's what I love to listen to. The Talib Kwelis, the Mos Defs, the Commons.
All of those types of artists. I'll get in to some of the new guys, don't get me wrong. I bump Drake's [Thank Me Later] album all the time. I think he brings something different. When we spoke the other day I said to him, "It's cool that you're able to be yourself on these records. You're not trying to be the gangster, you're not trying to be a drug dealer." Drake is just a guy that's just saying, "Look, I'm trying to grow up in the industry and sometimes it's hard." And he raps about it. For me personally, I can appreciate that because it's coming from a young man's perspective.
DX: Speaking of rapping, you're pretty comfortable with the ,ow also. Are there any plans to release an album, or maybe even a comedy album like all the greats have?
Affon Crockett: Yeah, but maybe on the comedy album-tip. That's something that may be in the works for me. I don't know about doing a full album of straight music. Only because in the US they like to put you in a box and categorise you and then after two weeks they don't appreciate you anymore. This is why you'll see a lot of artists from the past over in Europe touring and getting a lot of love over there because they can't sell a record in the US. So maybe I'll do something overseas like a collaboration album with 9th Wonder or something crazy like that. A lot of people don't know much about my lyrical background.
DX: What's next for you?
Affion Crockett: Like I said, I'm not stopping with production. I'm about to put the show back up, take it to another network. I wanna get some travelling in. I have a lm that I am producing. It's a Hip Hop parody that is out of this world. It combines everything that I do – all the characters, all of the dancing, all of the rapping. It's gonna be crazy!