This week, Jay-Z paid a visit to the City of Brotherly Love to announce the two-day Budweiser "Made in America" festival, taking place at the start of fall. Meanwhile, Scarface spoke with HipHopDX about his involvement with Platinum League trading cards and why Def Jam rejected T.I. at the onset of his career. Finally, 50 Cent caused a stir by tweeting photos of himself in the hospital. As it turns out, he ate a tainted hamburger and managed to pull through the ailment.
Jay-Z Announces "Made In America" Festival In Philadelphia, Pennsylvania
This past Monday, Jay-Z took the stage outside of the Philadelphia Arts Museum in Philadelphia, Pennsylvania to announce the two-day Budweiser "Made in America" festival, taking place on September 1-2. The Roc Nation honcho says that 70 percent of the acts have been confirmed for the event, but that the lineup will be announced next week. While at the conference, Hov spoke to a few publications, revealing that he doesn't have any immediate plans to hit the studio and record new music. He also made headlines after publicly supporting gay marriage, an echoing of President Barack Obama's comments that were recently made.
Scarface Explains Why Def Jam Rejected T.I.
Veteran rapper Scarface sat down with HipHopDX this week to cover topics ranging from his classic album The Fix and his involvement with Platinum League trading cards. But he also touched on how Def Jam Records once rejected T.I. because Polygram got him first. Face explained how he wanted to bring Tip to the historic label and how Def Jam could have benefitted from signing the Southern spitter. Outside of his chat with DX, Face praised Kanye West and his involvement in The Fix and delivered a freestyle on Shade 45's "Sway in the Morning" that can be viewed below.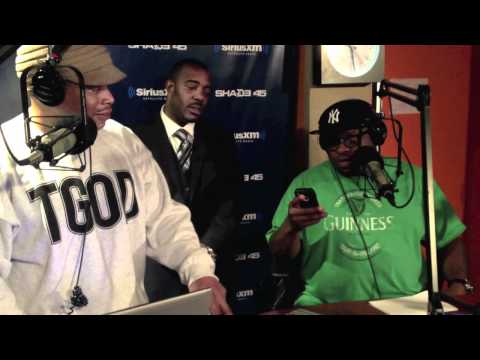 50 Cent Hospitalized After Eating A Tainted Hamburger
50 Cent caused a stir this week after tweeting pictures of himself in the hospital after eating a bad hamburger. He later bounced back from the illness without having to go through surgery, but explained how Eminem called him and said that it wouldn't be respectable if he died from consuming tainted meat. After he got out of the hospital, he headed over to Hot 97 to debut his new mixtape The Lost Tape and discuss where his relationship with Lloyd Banks stands, as well his reconciliation with Cam'ron and their plans to record music and film a movie together.
Other items of note:
– Kendrick Lamar Lists His Top Five Favorite Rappers
– J. Cole Confirms Joint Album With Kendrick Lamar
– T.I. Contemplating Retirement, Says Rap Isn't The Same
– Lil' Kim Explains Origins Of Beef With Nicki Minaj