For over 17 years, one cassette tape in Hip Hop has received a mythology all of its own. There is a reason that Chef Raekwon's Only Built 4 Cuban Linx… is more commonly referred to as "The Purple Tape" no matter its format. The August 1995 Loud/RCA Records release was originally released to cassette in a distinct purple plastic that made the packaging as unique as its game-changing musical contents. Like color-specific caps on crack viles which sales inspired many of the Wu-Tang Clan emcee's rhymes at the time, the product was one of a kind, and stood out from the basic.
In the years since, The Purple Tape has been one of Hip Hop's most coveted pieces of memoribilia. It signifies a veteran purist fan from a bygone time in the music listening experience. Original tapes commonly drawn three figures on eBay as Rae even partnered with Fat Beats to release the vinyl version of his 2009 Only Built 4 Cuban Linx…Pt. II on purple wax.
This week, Boston, Massachusetts-based Get On Down Records has partnered with Sony to re-release The Purple Tape in its original format. Expanded liner notes with Rae, 1,000 hand-made lacquer display cases, and additional throwback promotional goodies are available for the cool price of $44.95.
"The future of being a good distributor is broadening your base," says Get On Down's Matt Welch, about making a product that will be sold in sneaker and fashion boutiques as well as in mom-and-pop record stores. Matt is leader in the small crew of culture curators (also including former Scratch editor/journalist Brian Coleman) who have previously liberated fan-inspired releases from Ghostface Killah, The Pharcyde, Tom Scott & The L.A. Dreamers and Common. Welch, a veteran decision-maker at both Landspeed Records and later Traffic Entertainment, explains what goes on behind the scenes to liberate the cool, and shifting the paradigm back to physical products in the digital age. On Friday (September 14) HipHopDX spoke at length with Matt about the G.O.D. operation and the color purple.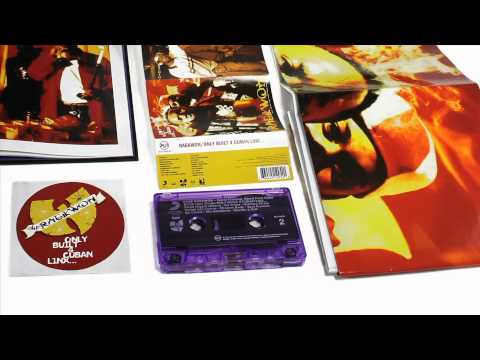 HipHopDX: I'm quite sure that throughout the last 16 years, a lot of people have probably come up with the idea of repressing the purple cassette tape version of Raekwon's Only Built 4 Cuban Linx…, but they never were able to pull it off, at least with authorization. What made Get On Down the first?
Matt Welch: The genesis of the Get On Down vision traces back a couple years. The music industry's changed a lot with digital technology. In the late '90s and 2000s, it's become cool for people to collect as much digital music as they possibly can [saying], "Hey, I have all the De La Soul records on a hard drive." It was kind of discouraging for people in the music industry, who I know get this bad reputation as people who sell CDs that only cost 80 cents for 10 dollars." The truth is, there are a lot of people who actually do care about the music. It was an industry that was supporting a lot of creative jobs.
Since then, we've seen a lot of downsizing. I think that we've seen a lot less interfacing and a creative stagnation of the music industry. Not the musicians stagnating, but in terms of the relationship between distributor, label and artist, I think it's been strangled because the revenue is not there. For us, we kind of see what we're doing as an alternative to feeling rebellious about downloading your music. To me, stealing music is not necessary rebellious anymore. I think it's a good way to vet music. They might download 12 albums from a bit-torrent and be really attracted to one. But then I feel like that one they're attracted to, they'll go to that musician's show and support them by buying their [merchandise] and vinyl [albums]. Our general philosophy is this: we feel somewhere in the equation, the relationship between the product and the end-consumer. My favorite album of all time is [Public Enemy's] It Takes A Nation Of Millions To Hold Us Back. I remember buying that album, I was 10 or 11 years old, and I just remember really feeling a connection to it. The cassette inlay, the photos, the liner notes, the "thank you's"…I was hearing it and absorbing visually what was in my hands. The visual aspect and the packaging was part of the energy – at least I thought, as a consumer. Part of that has been lost. When you minimize an album cover to a thumbnail, people don't know what's on the back, or any of the art direction. I feel that a lot of musicians in the '70s, '80s and '90s really architected how their record looked when it was in stores. In cases like De La, with the [De La Soul Is Dead] comic book, it kind of coincided with the album. We feel that that connection is important. We know it's not important on a Lil Wayne-level, but we know that it's important on an industry level. So we're picking records that we connect with as fans. Our main guise is: "we make things that we'd buy." We have a team and we discuss it. We want our brand to be the Criterion Collection of music items. These releases are near and dear to a lot of people's hearts. What we feel we're doing is giving the fan the ultimate experience.
DX: How big is that team?
Matt Welch: It's three or four people. We just got a new designer in here. It's a small, loose creative team. It's like a committee. It's not a super-structured thing where one person has to make the decision. It's one or two of us that has to pitch the major labels on what they probably perceive as this wacky thing. Sony [Records] was miffed when I pitched the [Raekwon Only Built For Cuban Linx…] cassette to them. Three times, "So you want a cassette?" I'm like, "Yeah."
DX: I know there used to be all these Special Markets departments at the labels years ago that did stuff like this. You don't think anybody tried to pull this off with Sony before?
Matt Welch: I would say that when you're dealing with a major label, their staffs have been downsized so much over the last seven years, that they're really focused on their bread and butter: hits and catalog. Miles Davis and Bob Dylan stuff, they never stop re-releasing that stuff, 'cause it keeps working. Rap music, I think, is seen as not-viable territory to them, in terms of allocating resources to doing high-end releases. I just don't see it. They might not think that a Hip Hop fan will pay the extra dollar for a premium release that a Radiohead fan will. As a person that is that demographic, I know that market exists.
DX: Do you think that consumer buys an item like the Purple Tape to play it or to put it on a shelf as a souvenir, conversation piece?
Matt Welch: I don't think anybody that's buying this doesn't already have the music in their iTunes library. So yeah, I think it's a more of a [souvenir] or show-piece. There's good liner notes and all that too, so there's great information too.
DX: But part of the Purple Tape's mystique is how good it sounded in cassette decks in the era. Did you find, along the way, that the album takes on a different life when played in that format?
Matt Welch: For me, it's like going back home. I'm at an age, and many people buying this are at an age where that's when people first started getting cars. It's interesting, 'cause the majority of people I knew were messy. They'd have a pile of cassettes on the passenger seat or in the backseat. You'd be flipping through them and you'd always grab The Purple Tape 'cause you knew what it was. Actually, I read somewhere that Raekwon said that. He wanted it to stand out for that exact reason. This, [Nas'] Illmatic, Smif-n-Wessun's [Dah Shinin'], Black Moon's [Enta Da Stage], Pete Rock & C.L. Smooth's [Main Ingredient], that's probably the end of the Hip Hop cassette era, like before '95. I think people sequenced their records differently back then, with side-splits in mind.
DX: You guys do reissues in limited supply. You're doing 1,000 copies of Raekwon's Purple Tape. I'm not a gambling man, but I bet 1,000 will sell relatively quickly. How important is it for you to still keep these items relatively exclusive so they have that in-the-know mystique?
Matt Welch: That's definitely important for us. Plus, having a warehouse full of stuff that you made two years ago that you can't sell isn't helping anybody. We're kinda like a fan-club, or fan-zine. We're fans putting out the cool stuff that we like, and we're not trying to ram it down anybody else's throat, 'cause we don't think these things live outside of the people that connect with it. You're not gonna make somebody connect with a Pharcyde box-set who doesn't already love The Pharcyde. You could spend $200,000 marketing it, you're not gonna sell 20,000 Raekwon cassettes. It is what it is, and we understand that. I hope we can keep working with the labels. Because it's a surprising revenue stream for them, and there's a lot of research and development that goes into this. If you don't love it, you're not gonna do it. We're providing a service, and treating it like something we really care about. There's a glass ceiling here. A thousand people is a lot! It doesn't have Lil Wayne's face on it; it's not a Kid Rock tape – no disrepect to those guys though.
(September 17)
UPDATE: Matt Welch of Get On Down Records contacted HipHopDX this morning (September 19) with the following news regarding the Purple Tape Deluxe Box Set of Raekwon's Only Built 4 Cuban Linx…:
"We have been overwhelmed with the response to our Raekwon Purple Tape Cassette Box since it was put on sale this past Monday. It's exciting and gratifying to know that this many Hip Hop fans exist worldwide who appreciate the physical products that go along with the music we all love. At this time we have reached our limit on initial sales of the box, a quantity which was set before Monday. As a result, it is no longer available for purchase at this time. There is a chance that more Boxes may be put on the market by Get on Down later this year, although this is not guaranteed. We do promise customers that we are not producing any more Boxes to meet the overwhelming demand – as mentioned in our original press release, there are 1,000 in this set. If you wish to follow us on Twitter or Facebook, these are the outlets we will use to send out notices if and when any more become available. Get on Down has a steady stream of great releases on the way in the coming weeks and months, so stay tuned, we know music fans will not be disappointed."
Those looking to obtain an extremely rare box set may enter HipHopDX's Purple Tape Box Set Giveaway, going on this week (North American applicants only).
(September 19)
UPDATE #2: Get On Down Records has informed HipHopDX that an undisclosed number of box-sets are now available. With sales of the first run on eBay reportedly drawing upwards of $350, these regular priced ($44.95 USD) sets will only be available – in the next 10 days, to Get On Down newsletter subscribers. The initial sale of these Purple Tape Cassette Box sets began on Sept 17, 2012 and the original for-sale quantities were sold-out in 36-hours. Once this new allotment is gone, this will likely be the last sale of these, they will not be re-pressed, this was a limited edition of 1,000 sets. Get on Down may do very selective fan-appreciation giveaways of the Purple Tape Cassette Box during the holidays, but this is not guaranteed.
Those interested may visit GetOnDown.com's sign-up page.