The 2012 BET Hip-Hop Awards were held Saturday September 29 at the The Boisfeuillet Jones Atlanta Civic Center, and televised this week on the BET network. The awards show continued the highlighting Cyphers, with groupings of artists displaying their craft at its purist level. The event had performances from Rap superstars, on-stage truces, and even a few websites nominated for an award. However, most of what made headlines happened backstage and had very little do with the music itself.
The Role Of Fights In The 2012 BET Hip Hop Awards
This event in particular had so many different incidents of conflict, one might find it hard to keep up with what truly happened. The first news emerged of a crew-collission between Rick Ross and Young Jeezy. These two Def Jam Records label-mates and onetime collaborators have had a speculated beef for years over lyrics (Ross seemingly hitting below the belt on "Blowin' Money Fast (B.M.F.)," Jeezy reciprocating with "Death B4 Dishonor"). At the award show itself they ran into each other backstage where the reports of pushing and shoving began. A team of guards intensely stepped in and stopped the altercation. The tussle moved to the parking lot, where gunshots were later heard and arrests were made. BET's President of Music Programming Stephen Hill stated he acknowledged the fight between the two yet denies the gunshots that happened. Whether or true or not, attention was placed everywhere but the stage during the early live-tweeted reports from the show.
As if the fight with between two of the biggest stars in Rap wasn't enough, the one that followed is when fights escalated and accusations flew off the freaking roof. Triple C's member Gunplay was on the receiving end of a brutal attack by 50 Cent including getting his head bashed into a metal barricade. Several different sources from G-Unit affiliate Mike Knox to Gunplay himself have spoken out about this altercation. Knox, who is also a longtime Beanie Sigel affiliate, stated in a radio interview, "The only thing I can tell you is [Gunplay] was in the wrong place at the wrong time and he was acting a certain kinda way that he shouldn't have been actin' … So, he got dealt with … He got his ass kicked." Gunplay has had quite a response to all of this since it occurring on Saturday, threatening to "gun down" his attackers. After turning himself into authorities this week for an unrelated incident, time will tell how this issue plays forward.
The threats weren't always so explicit, there wasn't always video either. But this type of storyline is nothing new.
A History Of Hip Hop Award Show Fights
At the 2008 Ozone Awards, which once chronicled the best of Southern Hip Hop, a fight escalated between fellow Houston rappers Mike Jones and Trae The Truth. The later revealed root of the smacking: Trae didn't like Mike due to him calling himself "The President of Houston" amidst some arrogance towards his peers. The Asshole By Nature (A.B.N.) leader took a headshot on the former major label star. Both artists released apology statements, but Trae would later admit that the violence would be a promotional vehicle. He said, "Things like this happen in life every day and I do not have the time to entertain this anymore," Trae concluded. "I would like the world to tell Mr. Jones that he can thank me later for his split second of fame. Right now, I'ma keep it moving." Almost five years later, Trae's independent reign has grown organically through high-profile collaborations and regional stardom. Mike Jones remains active in music, but a far cry from his 2005 dominance. One can't help but wonder how much of a turning point this stage within a stage was in fate.
Many looked at the recent BET escapade and compared the events to The Source Awards – Hip Hop's original and most known ceremony. Some could argue that The Source Awards' fame owes a debt of gratitude to controversy. The magazine's major stage, often televised, starting making waves in the gossip-mill in 1994. The same night Tupac Shakur bum-rushed a stage performance by A Tribe Called Quest performance, Onyx got literal, reportedly shooting live ammunition during their "Throw Ya Gunz." The table was set, and The Source subscribers and novice Rap fans got a taste of WWE theatrics within a culture of aggressive lyrics and images.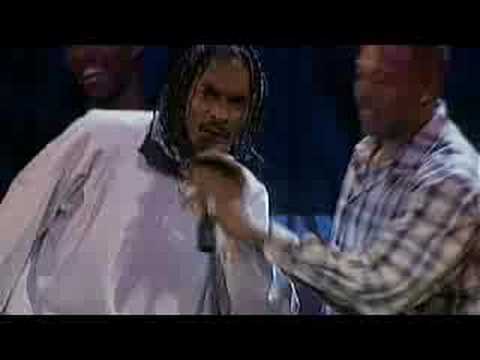 The 1995 Source Awards however, is the event that history often dwells on. At Madison Square Garden's Paramount Theater, then-Death Row Records CEO/co-founder Marion "Suge" Knight may have "launched 1,000 ships" in a videotaped podium remark about his competitors being "all in the records, dancin'." Knight, flanked by his R&B crooner Danny Boy and playing to his roster goading in their seats, took a call to arms in that moment. Though Suge would not mention by name whom he was referring to, rival Sean "Diddy" Combs later took offense to Suge's diatribe, and still congratulated his opposite. Later, a triumphant Notorious B.I.G. shouted out Da'Brat and Warren G from the podium, two artists who had also been scrutinized on and off record at Death Row. The deaths of Tupac Shakur (who was not signed to Death Row at the time), and Biggie are often traced back many months before, to that night. Whether true or not, one of Hip Hop's ugliest three-years periods went public during The Source Awards. And many of us watched or read, and discussed the winners and losers with our friends.
Five years later, in the wake of the aforementioned murders, it got worse. The 2000 Source Awards, televised later on UPN, saw only five of the fifteen awards that were supposed to be presented were actually given out. DJ Quik (who opted to perform MC Eiht-diss "Dollaz & Sense" at the '95 event) was allegedly hospitalized from a fight. Several artists at the time had different opinions of it, such as Snoop Dogg, who told MTV.com "I can't speak on that right now, my head is in another place right now." E-40 and Mac Minister were filmed fighting in the audience. Mobb Deep was also attacked by an entourage believed to be associated with Death Row. Many were concerned of the media's spin on this, and Wu-Tang Clan affiliate Capadonna stated that he wanted "a justification for this whole mess right here, so then maybe somethin' good will come out of it." Twelve years later, no justification has ever really been offered. Redman, Method Man and Ice Cube who won lifetime achievement awards that night all had their moment stolen out of this incident.
The sad truth of so many of these incidents is how the violence drowns out the recognition. Just as last month's Chris Lighty Tribute featured Fat Joe and 50 Cent, Q-Tip and Phife Dawg, it's not what people seem to be talking about the most. Dr. Dre, who rarely attends events of this kind (and another participant of that '95 showing), had his own brush with brutality. While preparing to accept an achievement award at the VIBE Awards in 2004, Dre was attacked by a man named James Johnson, who reportedly asked the Aftermath star for an autograph. Young Buck, who was signed to G-Unit/Aftermath at the time, came to Dre's rescue and stabbed the instigator. Buck was later charged with assault with a deadly weapon and later dealt with probation charges as opposed to jail time. When Dre won an his lifetime achievement award that night, he simply said the following "They can't stop me. I don't care." It can only be imagined what his speech was supposed to say.
The Mainstream Embraces The Controversy
Even when it's not just Hip Hop award shows, the model works. MTV has seemingly used it for their own flagship event. The MTV stage is famous for Snoop Dogg warrants, and 'Pac and Biggie coming face-to-face for the last time, in a brief red carpet exchange days before Shakur's 1996 murder. As powerful as that image is, one of the more confusing incidents which some started watching with laughter and later a puzzled look on their faces was the one that involved a electronic music star, an Rap superstar and a puppet. At the 2002 MTV Video Music Awards, in which Eminem proceeded to go off on both Moby, who at the time was a side kick on Late Night With Conan O'Brien sidekick Triumph The Insult Comic. When Moby was being interviewed by Triumph, you can see Eminem in the corner giving the finger, prompting Triumph to go over to Em in a lighthearted but funny way. Em didn't take it that way, pushed the puppet aside and later insulted Moby on stage when winning "Best Male Video" saying he will hit a man with glasses.
Moby later replied to the incident stating on his own website- "The truth is that I honestly, in all sincerity, thought that the whole Eminem thing was done in some semblance of humor until Eminem called me a pussy and then threatened to beat me up…I think that Eminem is talented and interesting but I'm kind of stunned at the anger that he has for me seeing as I'd never met him up until last night." Since then, all three have moved forward from that moment in time.
One could argue that all fights and controversial incidents are just that: moments in time. However it's peculiar how Hip Hop events, particularly televised and public, are marred by them. Wars have been seemingly declared, skin has been broken, and history has been written around the moments when you put a bunch of fame and ego into a room together. As T.I. pointed out of BET's recent events, "Men everywhere, we have huge egos and lots of pride… most fights that I hear about, it's about pride and ego."
Ryan Shea has written for top music sites including The Examiner since 2010. He lives in Long Island, New York and frequently works from New York City. Follow him on Twitter @iamthatguy61