After showcasing a line of capes he collaborated on with his girlfriend JuJu at the New York Fashion Week in February, Cam'ron and The Diplomats recently announced the exclusive release of their DIPSET USA clothing line on Karmaloop.
In a promotional video supporting the release, Cam'ron breaks down how Dipset came about during a photo shoot for the DIPSET USA brand. "Basically when we formed Dipset," Killa said, "it was more like, me and Jim [Jones] was like, we was always fly, we always got girls, we always was getting a couple dollars—in our eyes we thought that was money but it really wasn't. We formed the Diplomats and then people in the streets started dapping to it. Then it became music. Then when we did music, people started feeling the music because of what we was doing in the streets. So, that's why we got such a good vibe with it. But, like, you know, everybody started doing their solo stuff, we all branched into other businesses. At the end of the day, we made investments, we're our own bosses, and all the profit comes back to us. So, we definitely gon' be around, we ain't going nowhere. Besides that, there's a whole new generation of Dipset coming up beneath us. So, we'll be around for a minute."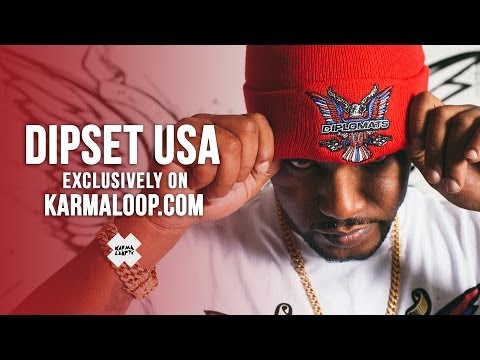 The Diplomats' DIPSET USA clothing line currently offers items like beanies, snapbacks, t-shirts, sweatshirts, and more. The line is available exclusively via Karmaloop. Images of the DIPSET USA line are available below.
RELATED: Cam'ron & JuJu Showcase Cape Line At New York Fashion Week