Amongst Hip-Hop's most exciting under the radar acts is Detroit group Clear Soul Forces, originally solo acts who bonded as a unit in 2009 at the suggestion of local legend Royce Da 5'9. With a shared musical vision and focus towards reminding listeners of soulful boom-bap while seeking to create a new sound altogether, their debut LP Detroit Revolution(s) comes on the heels of The Departure EP, the mixtape Clear Soul Radio, acclaim garnered from performing at South By Southwest and a Red Bull affiliation extending to a filmed documentary about their grind going up against against their city's harsh odds.
Clear Soul Forces (members Ilajide, L.A.Z., E-Fav and Noveliss) recently granted HipHopDX an extensive graceful conversation full of humor, insight and candor about their influences and determination to rise through the ranks of the lesser heard.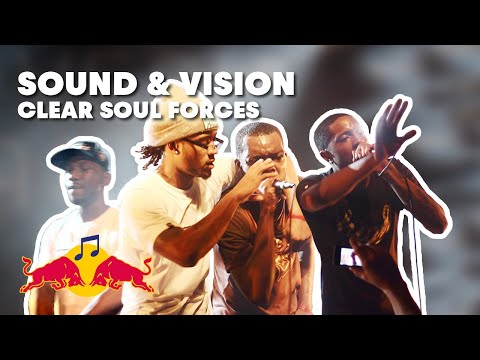 HipHopDX: Your group seems to pay homage to the past while simultaneously looking forward to the future. How would you describe your sound?
Ilajide: I would describe our sound as being true and soulful, having fun with a lot of energy. We're all rooted in Hip Hop, we get in the zone and catch that feel good mood and just go. It's weird but it's always organic.
L.A.Z.: Our sound is influenced by Hip-Hop from the 90's but like you said we're looking towards the future. We want to pay our respect to those that came before us but we also want to carve out our own lane so we try to keep things fresh and handle things our way. We don't purposely set out to do what other people do, we recognize and respect it but we keep on pushing forward.
DX: How did you come up with the group's name and what does it mean?
Ilajide: A cousin of mine came up with the name and we all stuck with it. Clear Soul Forces actually describes our music, we're all clear minded, we got soulful beats and we're forceful aggressive ass rappers. That in a nutshell sums it up.
DX: You started out as solo acts before Royce Da 5'9 suggested being a group together, was it hard finding chemistry with each other?
E-Fav: Our chemistry is organic, it comes from us hanging out and being cool. Once that suggestion was made, we started kicking it and making sure we would all be cool with being around each other outside of music. When we started performing it was as a group of solo acts. I would go up and do songs, and someone else would go up like it was a compilation almost. So then we decided to start doing songs together, we sat down one night and Ilajide made a beat on his machine he just got and it was a terrible song but we stayed up all night writing making that shit [laughs]. From that point forward we started making songs and writing together and it all just came organically.
DX: What would you say have been the biggest challenges in adjusting to being in a group?
Ilajide: One of the biggest challenges is always considering everybody else before you consider yourself. By doing that nobody has an ego, that shit has to go out the window whenever we do shit. Going through our beat process is pretty challenging [laughs], we all have different ears. I do most of the beats, but we've also had production from Kankick, Nameless and Best Kept Secret. I'm pretty sure I'm speaking for everybody when I say we like to come with our own sound that nobody's ever heard before, but in the same essence of the '90s type Hip Hop shit, some refreshing shit.
DX: What does each member contribute to the whole package of Clear Soul Forces?
Noveliss: I think what makes us special is that we don't all bring the same thing, all four of us are extremely distinct from each other and our versatility as a group is what makes a difference. Everybody sounds different, everyone has different styles.
L.A.Z.: The thing that makes people look at us twice is the fact we're an actual group. If you look today, most groups are collectives. You cant even call them groups because they're like the Swag Boyz, or the Money Boyz and you're stuck listening to four people rapping about the same thing from the same perspective like "We all got cash, we all got hoes, we all got cars." We're individuals, if you look at the Oklahoma City Thunder right now, with them it's not 11 people playing exactly like Kevin Durant. On the '96 Bulls there was one [Michael] Jordan, one [Scottie] Pippen, one [Steve] Kerr, one Rodman and everybody played a position. We're an actual team and we have a dynamic because that's what a group is supposed to have and it's been lost in the fold with all these groups that have been coming out over the years like the Swag and Surf Boyz.
Ilajide: We all play important roles, I know I bring energy to the table just based off of listening but I don't really set out to do that. I bring the beats to the table and a lot of the times E-Faze and L.A.Z. will come up with the hook and Noveliss has been bringing hooks to the table lately. We're all so versatile we can switch roles and do everything, one of us will come up with the hook and not even rap on the shit [laughs].
E-Fav: I think it's safe to say we bring ourselves, what you get on a track is definitely is our personality. We bring our four different personalities and we don't try to be the same niggas, you got groups where niggas have the same flow and subject matter, it's like you're listening to four verses of the same nigga but it's different people and you're like "Who the fuck is who?" That's not what we're about.
DX: There seems to be the influence of Slum Village and J Dilla in your music. Who else would you say have influenced you from Detroit and outside of the city?
Noveliss: We got a whole bunch of influences, definitely Slum [Village], [J] Dilla, Elzhi and Eminem – the first album I bought with my own money was The Slim Shady LP. Royce [Da 5'9] too. I grew up listening to The Roots, Black Thought is one of my favorite rappers ever, also Nas and Jay-Z.
L.A.Z.: Im the only one from the group that's not from Detroit. I was born in Detroit but I was raised in Colorado Springs. My influences don't stem from Detroit rappers, when I became passionate about writing it was to J Dilla's Donuts. I remember when Kanye [West] and Pharrell debuted the "Number One" video on 106 & Park and they asked who their favorite producer was and they said J Dilla. I went to Independent Records on the south side of the Springs and I bought Donuts. Then I went and Googled and it was like "Hey, I know this nigga", my first real 16 [bar verses] when I was trying to focus and put shit together, they were written to that album. But I'd be lying if I told you I grew up listening to Slum Village, Elzhi and Royce. My influences were Outkast, they're my favorite group of all time. My influences were The Clipse, Scarface, The Neptunes and the types of beats they were making.
Ilajide: From Detroit definitely Dilla and Eminem's old material, the same people Noveliss said influenced him. Royce, Slum, and Elzhi definitely influenced us. From outside the city, I still bump [A Tribe Called Quest] and Redman and you cant forget Phonte, 9th Wonder and Little Brother.
E-Fav: We all have the same influences from the city. I remember growing up and listening to the radio and those were some of my favorite artists, you had [Bone Thugs-N-Harmony, Tupac, The Notorious B.I.G.] and Craig Mack on the East Coast and all the west coast shit was crazy in the mid-'90s. I feel like Bad Boy [Records] had a golden era of their own, they were onto something. [Diddy] was onto something with them beats and the way they were flipping samples, Mase was making hits.
DX: That leads into my next question. You guys aren't quite fond of the radio in 2012, how do you find the balance between being accessible with a sound that is neither Pop nor strictly underground?
L.A.Z.: I remember saying in a song "a combination of backpack and subwoofer rap", that's what I call it. It's shit for your soul and conscience because music is something that stands forever. You have to speak from the heart, soul and mind, but the point of a song is to still be entertaining. We don't lose sight of that but we don't want to make temporary bullshit either just about Jordans.
Noveliss: I feel like you can classify our shit as timeless, 10 years from now people are going to look back at the mainstream music that's playing now like "Why the fuck was I listening to that?" Nobody right now is going to be like "Play that Yung Joc song because that shit is still cold" it was cold in high school but you wont listen to it now. Niggas right now still listen to Slum Village Fantastic Vol. 1 and Eminem's old shit because that shit is timeless. We're just trying to make music that will last forever that you cant bottle up and put in a time capsule saying "That shit came out in 2012 and I haven't listened to it since 2012". Niggas used to make songs about wearing white t-shirts and if a nigga made a song about wearing a white t-shirt now they'll call him a fucking bum. We're just trying to make timeless ass Hip Hop music.
Ilajide: One of the things I know that's keeping us from being wack and making bullshit is we're not scared to be Hip Hop artists or ourselves. I'm a fucking nerd, I read comic books and play video games and I'll make a song about it. You're human and you can rap about being you, just make it good. Redman raps about weed all fucking day, but how does he do it better than Wiz Khalifa? The Clipse rap about drugs all day but them niggas are good at it, what's the difference between them and Rick Ross?
E-Fav: We do our own thing and don't ask nobody for shit, let us do our own thing and put ourselves on our records making dope shit and we want to make money doing it. We also want to maintain our integrity as well.
L.A.Z.: These niggas are obsolete and they just wont accept it. You don't need the radio, they're so starstruck off of what fame is that they whore themselves out and go against everything they did to get to the top just to be a part of that little fraternity. Welcome to the radio, you're now one of the 10 niggas that we're gonna play constantly non-stop, I feel like that's seriously niggas goals. Do I honesty feel like Wale sits down and listens to "Lotus Flower Bomb" 26 times per day on the radio? Fuck no, he's tired of hearing the shit; it's cool that he finally made it and they're playing the song everywhere but you don't have to do that shit.
Look at how much cake Mac Miller has and they don't play him on the radio, they said Curren$y made one million dollars from touring last year. You don't have to put that price tag on your integrity to be successful anymore and people still do because they think being on the radio matters. You can get on MTV and ESPN off of just being on the Internet, so why make shitty music? We go against that shit, fuck a gimmick, I don't need one. I can do whatever I want to, I got my own site where I sell merchandise, I sell my own shit off of my Bandcamp and iTunes. We got our own publicist, people handling press and distribution. We're not changing shit, we don't have to.
DX: What was the overall goal and vision in the making of your album Detroit Revolution(s)?
Ilajide: This was my breaking out as a producer. Before that I had one beat on the Departure EP and a few on Clear Soul Radio but this is me getting my feet wet. My main goal was wanting the shit to get heard.
E-Fav: We all just wanted to make something that sounded like an album and not a typical mixtape. We wanted to make good Hip Hop and shit that came from us, nothing typical and gimmicky. We were listening to a lot of people's projects that were dope but you couldn't listen to it straight through, you would have to skip through a couple. I wanted to make something we could listen to start to finish and I felt like there wasn't anything out there like that. You gotta make your shit undeniable and no matter what if it's undeniable then it'll take you somewhere.
Noveliss: I wanted the shit to showcase our growth, a lot of artists don't get better as their projects go on. I think that we've consistently gotten better over the progression of every project we've put out. Our album is a huge step from everything else we've done so far, and fuck it I'll say it because I know everybody is thinking it, we wanted to make a classic ass album that will go down as one of the greatest underground Hip-Hop albums ever. [Laughs] I'll say it, I think we're fucking good emcees and that our album is awesome.
Ilajide: People always forget or underestimate having one producer or an executive producer that can give you a cohesive sound. If you go back and listen to Slum's shit, [Snoop Dogg's] Doggystyle, The Roots and Redman, it was Erick Sermon with Redman, ?uestlove with The Roots, Q-Tip and Dilla for whole projects. It gives you that feel more than a mixtape that's just going up and down.
DX: What can we expect from the group in the future?
L.A.Z.: We're trying to get our business tight, that's nothing flashy to glorify but we're working on that. Things are finally picking up, we're young bucks to this game and we're just trying to order our steps and find our way. We're trying to get on the road and find out how to tour. We're normal people, I work a job labeling cans at a paint warehouse, E-Fav works at a pharmacy, Ilajide is a producer trying to scrape together change off of doing sessions, Noveliss does basketball camp. We're trying to ease ourselves into this game and really learn how to do things.
We're trying to work on getting more music out there, shooting more videos and getting our website and merchandise together. We're trying to learn the ins and outs of the game as opposed to rushing to record another album. It's time to learn how to play the game, we're looking at where we are in out career and really humbling ourselves to learn what we aren't doing good. You have to look at where you're falling short, people say we rap good so that's not what we need to focus on. We need to learn this game as students.
E-Fav: We wont just gonna keep putting out tons of music to where niggas get burned out at the end of the day, then when they finally get on they aint got nothing to say.