"If it wasn't for Snoop Dogg, we wouldn't even be rapping," Jay Rock, one quarter of Black Hippy, said to HipHopDX this week. "We was young kids growing up, singing his lyrics. We'd be like, 'One, two, three and to the fo'.' We was young niggas singing that. That influenced us a lot. That's a beautiful thing."
Jay Rock, Kendrick Lamar, Ab-Soul and ScHoolboy Q weren't alone in that. Millions did the same. Millions sang along to Snoop Dogg's lyrics, soaking up the Long Beach slang, the smooth, seemingly effortless flow and the intriguing rhymes coming from The Doggfather. Since his introduction on 1992's Deep Coversoundtrack, the 213 representative hasn't stopped creeping and crawling through stereo speakers. 20 years later, he remains a significant cultural figure.
Perhaps part of reason for his resilience has been a testament to Snoop Dogg's ability to adapt. Over the years, he's overcome the rise and fall of various trends, the coming and going of countless emcees and the numerous pitfalls of the industry. His ability to adapt has allowed him to work with several up-and-coming artists, working to prove that age doesn't have to matter in Hip Hop, as it has in the past.  
He has also helped others along the way. "I credit a lot of my success and a lot of my longevity to Snoop," adds Bow Wow, speaking with DX about The Dogg's influence. "If it wasn't for him, I wouldn't be here." 
Today, Snoop continues to stand tall (both literally and figuratively). He's been recognized for his philanthropic work as well as his youth development programs. He's worked with children, coached football teams and somehow, someway, he's maintained a diverse portfolio that includes rapping, singing, acting and producing, among other endeavors. Standing tall, he knows he doesn't have to stand alone. Enter: Wiz Khalifa.
Khalifa was approximately five years old when Deep Cover dropped. A self-proclaimed "goofy" kid, Khalifa would grow up to become a presence in the independent Hip Hop scene before he became a hit maker, shown by his work on the infectious chart topper "Black & Yellow." Snoop and Wiz met at Rock The Bells, a meeting orchestrated by Guerilla Union's Chang Weisberg and a meeting that both emcees feel was destined to take place. 
Since meeting, the two have built a business partnership and a friendship. As Khalifa shares in this interview, "It's not one-sided." Instead, they've created one of mutual respect, one of understanding, despite the age difference. That may be one reason why their song, "Young, Wild & Free" became a chart topper as well, an amalgamation of generations, styles and Hip Hop eras. Whatever the reason, the two have decidedly become partners-in-rhyme and films.
In December of 2011, the two debuted theirMac & Devin Go To High School soundtrack, a project that accompanied their film of the same title. The DVD for it will be released on July 3, 2012. Snoop and Wiz recently spoke with HipHopDX about their time in school, their work giving back to students, their friendship, their similar spirits and more.
Wiz Khalifa Discusses Recording Music In Snoop Dogg's Closet, Building Friendship  
HipHopDX: Going back to your early school days, what were you like in school? What would teachers say about you?
Wiz Khalifa: They would say that I talked to much and that I was real goofy. They would also say that I was very smart but that I should have used my leadership qualities for good.
DX: Why would you say that?
Wiz Khalifa: No, that's what my teachers would say. I wouldn't say that [Laughing]
DX: So what would you say?
Wiz Khalifa: I was straight. I was pretty cool. I was a goofy kid, though. You know? I was pretty outspoken.
DX: Recently, Chang Weisberg from Guerilla Union spoke to us about how excited he was to introduce you to Snoop years ago and how happy he was to see how your partnership has grown over the years.
Wiz Khalifa: Yeah, yeah. Absolutely.
DX: What can you say about the relationship that you have with Snoop and how that has progressed?
Wiz Khalifa: Well, it was bound to happen. You know? I base that on how hard we both work, the things that we both enjoy and our whole vibe, our whole spirit. We just came together at a really good time in my career and a great time in his career, which is like anytime, for real, for real. It just works. That's really my homie. I really look to him for certain things. He looks to me for certain things. We bounce stuff off of each other. It's not one-sided.
DX: Was there a moment where you realized you were real friends, not just collaborators?
Wiz Khalifa: Yeah! It was probably when I recorded a song with him in his closet. We shot the video for it the next day. That was what I was used to doing at home. You know? But then, I'm doing this with Snoop! He's rich. He's an icon but he still does the same things that I do. So, I was like, "Cool. That's my man."
DX: Was that the most surprising thing you've learned about Snoop?
Wiz Khalifa: Well, it wasn't really surprising. It was just the most important thing. I learned that you gotta keep your surroundings how they were before for you to maintain that success. You can't really change. Well, you can do new things. You can try new things. You're supposed to grow. But for real, for real, you've gotta maintain that motivation.
DX: What has been the most difficult thing for you to overcome in your rise?
Wiz Khalifa: People coming up to me asking for pictures or autographs while I'm eating my breakfast at the airport. Pictures and autographs are cool but not while I'm eating. That's the hardest part because I really want to let people know about themselves but I don't. I just hit them with the two fingers [makes peace sign] and bam. [Laughing]
Snoop Dogg Talks Wiz Khalifa's Personality, Giving Back & Shares Life Lessons 
DX: Many of the younger emcees who've spoken today have said what a great influence you have been. What would you say has been the most important lesson you've learned?
Snoop Dogg: The greatest lesson that I've learned is to always be loving and caring and to give back to people. Also, to not be so entitled. You know? A lot of people feel they're entitled once they make it. I learned not to be like that but to always be loving and caring and to never forget where you come from, to look people in the eyes and to never look down on nobody.
DX: Was there a specific moment that taught you that?
Snoop Dogg: I think there were many moments just seeing things around me. I saw different celebrities and I saw how they treated people, how they dealt with their problems and how they dealt with their success. I'm a great learner. I observe very well. So, I have been able to be around it, observe it and put myself in a position to where I wanted to take the good and leave out the bad.
DX: Wiz Khalifa talked about you guys having a similar spirit. I've heard you say the same thing. What would you say is your biggest similarity? Why do you guys have such similar spirits?
Snoop Dogg: That's because Wiz loves to smile. He loves to make people happy. He's not afraid to say, "How you doing?" He's also a realist. There's no wall. When you've got that, that makes it easy. It's very attractive. See, that's like a magnet. People are attracted to that.
DX: You work with kids a lot. What have the kids taught you about yourself?
Snoop Dogg: The most important thing about kids to me is to always be real. The kid is smarter than you think they is. You can't ever lie to a kid. Tell him the truth. Tell her the truth. They'll give you the truth right back. I've always been that way with my kids. When I'm dealing with football, I always give them the truth whether they're seven years old, 13 years old or 18 years old. They've always gotten it uncut from me. Coach Snoop loves them to death and I'm gonna always tell them the truth.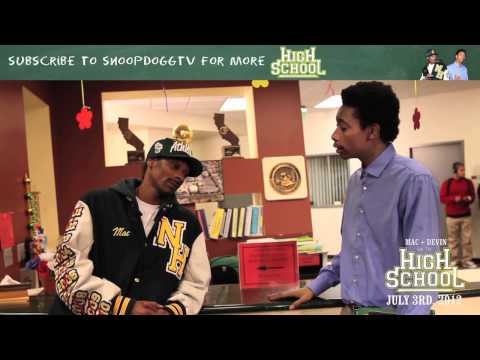 Purchase Music by Snoop Dogg
Purchase Music by Wiz Khalifa
RELATED:Snoop Dogg & Wiz Khalifa – Mac & Devin Go To High School