It's a sunny Sunday afternoon in Manhattan's East Village neighborhood. A thousand-plus people decked in snapbacks and graphic tees are standing in a line stretched down the E. 11th Street sidewalk, around the corner along 3rd Avenue, and around another corner heading west on E. 12th Street – nearly encircling an entire city block, roughly a half-mile in distance. All arrived at least two hours in advance; some as early as 9:30AM. All are impatiently waiting for Webster Hall's hallowed doors to open. The iconic locale has hosted innumerable events since it's 1886 launch. Masquerade balls, union rallies, concerts headlined by Madonna and The Rolling Stones, scenes from Martin Scorsese's 1980 classic, Raging Bull have all taken place within Webster Hall's Grand Ballroom. It's literally a New York City landmark; an institution leaking history.
Later this evening, Hip Hop's first half-a-billionaire, Sean "Diddy" Combs will be in the building, along with musical impresario, Q-Tip, legendary emcee Busta Rhymes, Queens-lyricist Lloyd Banks, former Los Angeles Clipper, Darius Miles, Terrence Williams of the Sacramento Kings, and a scattering of other famous names. But this isn't the ESPY's or VH1's Hip Hop Honors. These world-class representatives of Rap and sport have converged on Webster Hall with the same vigor as those thousand-plus in line two hours early. This is the new era of Battle Rap – a subculture tipping past anonymous, brimming with mainstream opportunity. This is SMACK/URL's Summer Madness 2: Return Of The Legends – Battle Rap's biggest stage.
"See this Battle Rap world started off as a network / And over time it became a community…" – DNA, in battle against E Ness at Summer Madness 2
The SMACK Battle History
Around the turn of the century, Troy "Smack" Mitchell had an idea. The Queens-native thought it would be great to create a video magazine for rising Hip Hop talent to promote their music. "The vision was based off of mixtapes," the SMACK DVD founder tells HipHopDX. "I used to love mixtapes. I'm a fan of DJ Clue, Doo Wop, Kool Kid, Ron G. I thought it would be hot if they could get visuals behind the music based on the underground lane. Technology caught up with the times and you could buy the camera and take the content that you captured and actually do your own editing. So, I got the necessary equipment to start producing Hip Hop underground content."
Then, an independent "video magazine" sounded about as crazy as George Bush winning Jeopardy. YouTube wouldn't arrive for another two years; Twitter for another three. It was a different era and Smack was sporting a different idea. So in 2002 when he brought his cameras to Cam'ron's "Hey Ma" video shoot and explained his plan to State Property, as Smack tells it, he was met with blank stares. "That was actually my first real Hip Hop content that I acquired grinding on the streets," he explains. "Shouts to Beanie Sigel, Freeway, Omillio Sparks, and all [of State Property]. They didn't really grasp the concept. Once they saw it, they were so excited. They wanted to continue to work with me and it just grew from there."
Smack – along with partners Eric "Beas" Beasley and Jean "Cheeko" French – would build SMACK DVD (an ackronym meaning Streets, Music, Arts, Culture, Knowledge) into an independent juggernaut through largely grassroots marketing in the years ahead. They set up their own distribution matrix by sending DVD samples to Mom & Pop shops who specialized in urban content across the globe. They landed exclusive interviews with Eminem, Kanye West, 50 Cent, The Diplomats, DMX, Ghostface Killah, and a gaggle of Rap's heavyweights, and paired them with footage of lesser known artists on the rise. Papoose, Maino, Gucci Mane, Cory Gunz, Saigon, and Jim Jones all garnered major industry recognition through SMACK DVD. As those artists enjoyed the access of increased exposure, more acts lined up to get down. It became a worldwide platform for Hip Hop information passed through the hood network – word-of-mouth, hand-to-hand. 
"SMACK DVD was like a bridge between artists and their fan bases where they could come and feel comfortable talking to Smack and myself about certain issues that were going on that they couldn't express on MTV or BET," Beasley says. "That's what kind of made it unique: Because we could get the biggest stars on our platform. I think that fueled everything. Then with the battles, we never really totally stepped away from the street element."
While images of Hip Hop's elite on the DVD packaging and the glutenous amounts of controversy inside undoubtedly made it easier to move units, arguably the most compelling portion of the series were the Rap battles included in each quarterly. Unlike the glossy, forcibly PG-13-rated bouts on MTV's Battle at the time or 106 & Park's Freestyle Fridays, SMACK battles were rugged, no-holds barred lyrical affairs originally shot in the emcee's archetypal element: The streets. No instrumentals. No pick-an-object-out-of-a-hat-and-rap-about-it rounds. No judges. Witty similes and a distinct delivery were only a portion of the formula necessary to build a rep in this arena. Composure and crowd control were an absolute must, along with cadence, comedic timing, vocal projection, showmanship. In some respects, this was closer to Slam Poetry – an a cappella form only, advanced research required, freestyle at your own risk-style of Hip Hop entertainment that became the prototype for the onset of numerous battle leagues that emerged in the aughts.
In 2006, MTV2 snatched the crux of the SMACK format for its cable televised lyrical joust, Fight Klub. GrindTime embraced much of the SMACK format, cultivated chapters in each region across the country then posted them online, and is now touring as a part of Murs'Paid Dues Festival. Canada's King Of The Dot followed suit, but internationally, even adding a Pay-Per-Ustream option for this year's Internet-stopping blockbuster, Canibus versus Dizaster. For Smack, Beasley, and Cheeko, refocusing all of their resources on dominating the bourgeoning Battle Rap industry spawned in the image they depicted on SMACK DVD became the priority. So in 2009, they launched the Ultimate Rap League (URL). Beas elaborates: 
"Now that we're just basically applying all of our concentration to the URL, it's like we are a big marketing company. We market anybody that's involved in our movement and they get a lot of recognition because our content has a lot of legs. If we deal with artists and they stay persistent in dealing with us on our platform, then they're gonna eventually become famous."
"You say 'Mook,' you say Smack / You say 'Smack.' You say 'Mook.' / Nigga, we made our name off each other" Murda Mook, in battle versus Iron Solomon at Summer Madness 2
Battle Rap's Presence Online Via YouTube
Beasley downshifts into record executive mode when explaining SMACK/URL's emphasis on marketing. Perhaps that's the best way to think of the URL – or GrindTime or King Of The Dot or any organized battle league. In essence, each do their best to promote the battlers competing while providing the necessary investment, infrastructure, and quality control in a fashion similar to how a record label promotes its artists while providing the necessary investment, infrastructure, and quality control.
So let's put it all in perspective.
At the time of this editorial, SMACK/URL's YouTube page boasts 63,430,685 video views and 78,041 subscribers. In comparison, the official Strange Music YouTube page – home to indie titan Tech N9ne – sits at 36,449,854 views and 62,728 subscribers. Rhymesayers Entertainment (Atmosphere, Brother Ali) has 57,448,072 views and 74,980 subscribers. Stones Throw Records (Madvillain, Homeboy Sandman): 70,220,240 views and 49,165 subscribers. Top Dawg Entertainment (Kendrick Lamar, ScHoolboy Q,) 37,752,967 views, 51,373 subscribers.
That's right. SMACK/URL has generated more YouTube views and subscribers than three of Hip Hop's four most successful independent record labels. Only Stones Throw has compiled more views than the Ultimate Rap League, but still trails in subscribers. URL's even ahead of at least one of Warner Music Group's official YouTube pages, as well as Nicki Minaj TV (in views). So when Beasley says that artists who stay persistent on the SMACK/URL platform can become famous, he's not pump faking. SMACK battlers like Jae Millz, Serius Jones, Loaded Lux, Math Hoffa, Iron Solomon, and arguably the most legendary of them all, Murda Mook are legitimate celebrities in this metaphorical Octagon. Their signature lines – like Mook's popular, often imitated closer, "Eaaasssy" — are ubiquitous, raucously chanted in unison like a Jay-Z lyric whenever delivered in front of a live audience. Translation: The Net is watching Battle Rap. 
"This concept is timeless," says Cheeko. "We'll put a battle out today, and five years from now, people will still watch it. They love arguing over it. They love debating. It lives forever."
Of course, YouTube interest is just one isolated indicator of the power of the SMACK/URL community. Here's another: By the time the coin is flipped for St. Louis' Hitman Holla's head-to-head against Yonkers' John John Da Don (Summer Madness 2's opening card) Webster Hall is at capacity – 2,000-plus strong. Between now and December 2012, super-philanthropic Alternative Rock band, State Radio, and Harmonia Do Samba – a multi-Grammy nominated Pagode group from Bahia that's so big they don't require an English-language Wikipedia page – are the only acts currently booked in the iconic venue's Grand Ballroom offering a ticket that's $70 or more. No other show exceeds $34. URL smacked heads with a $75 General Admission, $125 VIP, $300 Stage Pass special…and sold out the joint…in a recession. Cue Murda Mook: "Eaaasssy."
"I just have to point out that there are certain major artists that can't sell out Webster Hall to the extent that we're selling it out," Cheeko chimes right on time. "We have relatively no name guys selling out venues that mainstream guys couldn't sell out if they were selling [tickets] for $15." Translation: The streets is buying Battle Rap.
Forbes interviewed veteran battler (and Summer Madness 2 headliner along with Murda Mook) Iron Solomon on the business of Battle Rap this past March. Solomon notes that he first entered the battle scene to build a buzz behind his name to help push his music. He also shares that he won $5,000 for one battle at Ohio's Scribble Jam Hip Hop Festival. Each Summer Madness 2 battler received a purse for competing, and Uptown's T-Rex snagged an additional $10,000 from Diddy after defeating St. Louis' Ayeverb. Translation: There's money in Battle Rap, so much that Forbes is reporting on the industry.
"Y'all the reason why labels think Battle Rappers can't make songs today." Calicoe, in battle versus Loaded Lux at Summer Madness 2.
Historically, most battle rappers say they jumped into the arena out of a love for the sport of it, to sharpen their skills, and, like Solomon, to build name recognition. Serius Jones landed a deal with Ludacris' Disturbing Tha Peace after winning MTV2's Fight Klub in 2006, for example. Following his impressive winning streak on 106 & Park's Freestyle Friday, Jin was notably picked up by Ruff Ryders. But once a number of releases by Battle Rap champions caught commercial L's the 2000s, an arguably unfair stigma was placed on battle rappers' ability to compete in mainstream music.
The adage is that battle rappers can't make hit records. But adhering to that adage dismisses the fact that most "artists" can't make hit records either, and that one of Hip Hop's all time top sellers is a resolute battle rapper (Eminem). To attack a battle rapper for getting dropped or not succeeding under the umbrella of a major label – something that DNA uses against E Ness, Charlie Clips uses against Serius Jones, and Calicoe uses against Loaded Lux during Summer Madness 2 – sounds trite considering that labels have consistently dropped non-battlers under the weight of macroeconomic forces and rampant music industry consolidation throughout the past decade. Sure, Serius Jones got dropped. But so didJoe Budden.
Can Battle Rappers Make A Career Off Of The Sport?
The real question is this: Has Battle Rap progressed from necessary detour to final destination? Is it possible for a rapper to live off of battling alone?
"I believe so," says Brooklyn's Poison Pen. Pen is super seasoned in the battle-sphere as both a competitor and as an organizer for GrindTime and now SMACK/URL. He's quick to point out that, while every Battle Rap event isn't as massive as Summer Madness 2, even the smaller bouts can still pack 500 people into a venue. "Dudes get paid, win or lose," he says. "If you're a mid to top tier emcee and you did a battle a month, you could definitely pay your rent. I don't know if you want to call it a career, but making money off your art is a good look."     
"I think Battle Rap is that big," agrees Freeway, coming from that aforementioned State Property legacy. "I don't think the fans are worried about [whether a competitor has a hit record]."
"It would depend on where you live," adds former battle rapper, Soul Khan of the Brown Bag Allstars collective. Soul's GrindTime and SMACK/URL battles have amassed roughly 3,000,000 YouTube views and counting. "If you live in New York City in a decent home, probably not. If you lived in most other cities besides New York, [probably so]. My goal wasn't to make money off of battling, so I didn't really ask for it. But I could've started asking for a grand per battle easily if I had stayed in."
Wrekonize of Strange Music's breakout band, ¡Mayday! also stepped into battling as a means to build his rep. In 2003, he won MTV's televised lyrical competition, Battle, but bowed from the cypher because focusing on music and battling required an exhausting amount of mental capacity. "Not even just writing those five-lying-ass-minute long verses," he says. "But on top of that, memorizing them and locking them down while doing something else is a fucking commendable feat. It's a fine art." Wrek also points to a startling trend within the battle community:
"Now, the leagues are so big that you have emcees that actually go there and literally say that they just battle. They don't make music. That's a new concept. That boggles my mind a little because the stigma was always that battle rappers can't make music because most of the time they really wanted to make music. Never until maybe the last three or four years have I bumped into people at battles that were like, 'I just battle. I don't really make music.' I'm like, 'Oh shit! I didn't even't know you guys exist! That's crazy!'"
So Battle Rap has evolved into a sub-culture lucrative enough for mid to top tier competitors to live off, more YouTube popular than many notable record labels while selling out venues at Trump-like ticket prices, and includes in its community a generation who aspires to battle for the sake of battling, not as a stepping stone for a music career. Sleeping on Battle Rap is starting to feel like a sucker's proposition. Things done changed, indeed.
"He gon' get this work!" Loaded Lux, in battle versus Calicoe at Summer Madness 2
To say the Summer Madness 2 vibe was anthemic is an understatement. The energy in the room is closer to a Money Mayweather title bout than a Rap concert. The crowd reacts to every victimizing bar like a vicious haymaker. There's seemingly an avid fan for every battler. When New Jersey's Serius Jones' ill fated "Bootsie"-laced tirade failed miserably in his second round against Harlem's Charlie Clips, the curly haired young lady who finagled her way to the photo pit between the stage and the front row barricade literally looked like she was fighting tears. After Murda Mook "body bagged" Iron Solomon in all five rounds, one Solomon fanatic stood dejected, staring blankly at the stage while hundreds around him filed out of Webster Hall's grand ballroom. And if there was one battle riveting enough for Hollywood, undoubtedly it was Loaded Lux versus Calicoe. Truly must-see emceeing: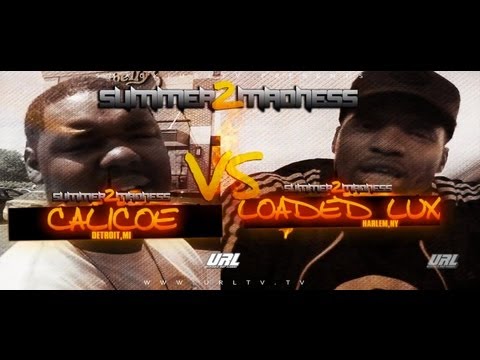 Seriously, Loaded Lux's third round lyrics should've been delivered at the Democratic National Convention. Homie made Calicoe a rapping metaphor for the cycle ravaging impoverished communities, simultaneously reminding us that an emcee can remain uber vicious sporting a matured perspective minus the gun-toting bravado. For two and a half rounds, Lux kicked Ether in its purest definition: unbridled truth injected into the mind, straight through the heart, slapping the soul like Corporate America's pimp hand. Cal's most revealing line of the bout wasn't even a bar. Rather, the disheartening way reflex exhaled that unfortunate silver lining for millions of youth left dangling while their fathers toil in incarceration. "He'll be home next year," said the Detroit-rapper faux dismissively as " the large picture" reigned down in HD. This was more than a battle. This was a Public Service Announcement – enough to oddly feel thankful that Lux's first round choke forced him to leave a verse unheard. Sometimes enough is too much.
That's the beauty of this blooming industry. While consolidated media has seemingly relegated any semblance of mainstream spontaneity to the annals of the Golden Era 1990s, Battle Rap revels in it. While the music industry maneuvers in a scripted, almost manufactured fashion, in this arena, even the expected is unexpected. While the tome of a decade past was how Hip Hop is dead, organizations like King Of The Dot, GrindTime, and SMACK/URL stepped up as the ultimate testament to this culture's resilience; a talisman to how hungry heads are for something real. Real intensity. Real passion. Real community. Smack, Beasley, and Cheeko stand tall as another Indie Era success story, galvanizing a worldwide community millions of people strong through grassroots tactics and a do-it-yourself mentality, putting people on each step along the way.  
"Coming up in the urban areas, this is what we used to do day and night, just listen to an emcees' rhymes and who got the illest bars," Smack concludes. "It feels good to know that you could contribute to somebody's dreams and try to be successful in this entertainment business."
Justin "The Company Man" Hunte is a freelance journalist covering music, politics, and entertainment for The Couch Sessions, The Well Versed, among others. The Brooklyn, New York-resident is also the host of The Company Man Show on PNCRadio.fm and has contributed to HipHopDX since January 2010. Follow him on twitter @TheCompanyMan.