"I remember the first time I heard it, there was an initial sting, There was an 'ouch.' I never met him, it wasn't provoked in any way. Then I took a step back and looked at the whole thing. This kid is 17. He's rhyming on the 'Forever' beat, it's a posse cut, he's doing his thing. As someone who knows what Hip Hop is, the nature of it and was raised in it, after that initial sting went buy, I was like 'Nice.'"
Oceans and years separate him from his battle-rapping prime and Jin still deals with emcees throwing jabs in his general direction. Also, as a racial Rap pioneer, he's put into the same category as an Eminem…or a Vanilla Ice.
It's a two way street. He has to put up with shots fired and most aspiring Asian rappers will face him, responding in interviews questions or in the booth. As an emcee a decade in the game, which side of the Eminem and Vanilla Ice quality line he stands on is still fiercely debated.
Jin knows his legacy is up in the air.
Jin Explains On Tribulations Of Being A Onetime Top Battle Rapper
Right now, though, he is reflecting on the latest up-and-coming Asian rapper to call him out. "I'm only at the point in my life right now where I can bring this up and you can tell by my demeanor that I genuinely don't feel any real ill will. This guy has dissed me before in a rhyme. It's recent too, in the last year or so."
I believe that he doesn't care and I don't. There are too many qualifications.
His smile widens. He leans in closer and taps me excitedly on the knee a few times like he's about to brag about a fight he got in. "D-Pryde is from Canada. In the last year or two, he's really been buzzin' in terms of building a fanbase. I'd like to think that he's probably on the verge of signing a deal sometime soon. Anyway, everyone gets their 16s in," Jin says. It was the directness of the diss that surprised him most. "Just bold out like that, no subliminals in the midst of his 16…which he killed by the way."
He pauses for a second. As a battle emcee, he has a built-in tendency to want to retaliate. "I guess once a battler, always a battler as they say, which I agree with to a certain extent. I can still appreciate the art and the craft of freestyle battling but I will be completely honest with you, I don't have the inclination that I once had to want to jump in the ring." It's a tendency he is trying to learn to shake.
"You been wack your whole career / Ain't there two billion people in China? / You can't even go platinum over there." – Serius Jones battling Jin, MTV's Fight Klub, 2005
A decade after cementing his place in battle rap lore on 106 & Park's Freestyle Friday, Jin is relaxing in a Starbucks in a busy shopping district in Hong Kong. Initially, the city situated on an island on the knuckle of mainland China's Southeast Coast feels like a larger, more jittery version of the Chinatowns in San Francisco or New York.
Rockbottom prices and no sales tax fuels foreign visitors and mainland Chinese to rush around grabbing all they can carry. Christmas music is already blaring and decorations adorn the store's windows. Even if it weren't the holiday season, you get the sense that everyday in HK feels like a Christmas shopping rush.
If Hong Kong, like its nearby island neighbors of Taiwan and Macau, exists as a gateway to Western trade, it is also the midway point for Western culture and style coming from the U.S. and elsewhere. As a result, these places produce the majority of the successful music, TV and film acts for the mainland. Trends arrive in these censor ambiguous island zones up to a few years before they ever reach mainland China, if they ever get that far at all.
As much as rapidly growing tier-one mainland Chinese cities like Shanghai are considered developed by most standards, the fact remains that they still live behind a firewall, and behind culture's biggest and most suffocating muzzle, censorship.
Jin Explains His Career After Moving To China
"In China, there are acts who rhyme ruthlessly and recklessly about anything but it will be difficult for it to reach everyone on a mass level," he says but figures the censors only go so far into art prevention. To him it has more to do with how much the Chinese value pop culture. Entertainment, Jin argues, runs the lives of Americans, where it is only peripheral for many Chinese.
The priority and history of entertainment in the US has given it a unshakeable status in the industry that stretches beyond the English language. "The reality at this moment, English being the major entertainment language is one thing, but it's undeniable that as an entertainment hub, America still sets the pace and that's something that I don't see changing anytime soon — even if the economic situation changes."
In that sense, Jin isn't exactly holding his breath for Chinese cultural exports to take over the globe. "I think that the more it changes, the more it will stay the same. For example, if you say, do you see a rapper from Beijing blowing up in Beijing, completely dominating China, doing a song with Kanye and somehow making it into the States? I don't wanna say it will never happen but I might not see it. Maybe my child's child might see it."
The lack of interest in entertainment makes it hard for cultural industries to thrive, but the bootleg factor makes it damn near impossible. "I can't even defend Chinese people on that. Piracy is wack. Does that prevent a music industry from flourishing in China? Absolutely."
A British colony until the late 1990s, the island is as Western and open as anywhere under China's guise. Hong Kong exists in an economic vortex that appears relatively unaffected by the recessions of the developed world as well as mainland China's explosive rise to prosperity. In 2006, while everything was still gravy in the U.S. economy, Jin had already begun going through a career recession of his own.
His adept battling skills earned him a deal and subsequent debut album, 2004's The Rest Is History, from Ruff Ryders Entertainment (featuring the likes of Twista, Kanye West and Wyclef Jean), and a role in the film 2 Fast 2 Furious.
It's hard to dance around any word for his album in a commercial sense besides flop. Critics booed, fans didn't pony up the cash and by 2005, Jin had already parted ways with Double R. "It was hard because I had been stratosphered into the limelight and then shot back down to struggling artist mode. I don't feel any bitterness or blame anyone, that's just kind of the reality. Those two years were more of a reality check than anything."
Frustrated, Jin decided to dip out of the Rap game. He released a revealing, scrappy recording called "I Quit." He talks about his glory days being over, biting the dust and being his own opponent. Inwards, he was asking questions about the structure of the industry. "What is a fanbase? What is a loyal fanbase? What is this thing called the music industry? Dude, I'm sick. I'm done with this.'"
It was then he took his first step towards internationalizing himself. Growing up, his parents, both Hong Kong natives, spoke to him in Cantonese Chinese at home. He recorded a track in his mother tongue called "ABC" (American Born Chinese) and was fond enough of it to want to spin it into an entire Cantonese album. He finished recording the album in 2006 but found shopping it around to be tough, even in Cantonese-speaking Hong Kong.
"They were like, 'This was that dude that was on BET, battling the black guys?' that's literally what they said. They all pretty much gave me the, 'Let's keep in touch' response," he says. By 2007, Jin decided to release it on an independent scale stateside. "It struck me as peculiar, this is nuts, I can't release an all Cantonese album in Hong Kong, but I can in the States? What is the world coming to…"
A few independent albums (The Emcee's Proper?Ganda, 100 Grand Jin, and I Promise) later, Universal Records comes back into the picture and wants Jin to re-release the ABC album in Hong Kong, with a few new songs and a few videos — a proper roll-out. They also ask him to come to Hong Kong for a few months. Although he had never lived there, it was a no brainer.
"I'm kind of shooting myself in the foot when I share this but I don't feel the need to dodge it or sweep it under the rug because it's reality," Jin says. "When I first came, one of the biggest questions that people in HK had was: 'Why are you coming back here! You're popping in the States!' They all thought I was crazy but in reality I came because there was nothing really going on [for my career] in the States."
It was a pivotal moment in his career and his life. Nearly four years later, the move, which was initially only meant to be temporary, gave him a second chance.
He hands me his sophomore all-Cantonese album, Homecoming, which came out in 2011. It's made to resemble a Hong Kong state-issued ID card. Jin is proud of the packaging, a testament to the city he now calls home.  
Darting eyes and muffled whispers emerge from nearby tables and passersby every few minutes as we continue our conversation. Jin sports a pair Ray Bans, inside on a relatively sunless November day. He needs to keep a somewhat low profile. He's a celebrity in Hong Kong, not just a rapper. People know him here and not just for his rhymes.
His albums, videos and large-scale concerts made an impression on the city when he first came to town. Yet it was his appearances in five feature films, numerous TV dramas, hosting everything from music to variety to food shows, and mugging in commercials for lemon tea drinks and noodle shops that made him a household name. Even the upcoming Cantonese release of Happy Feet 2 has Jin voicing for characters.
His invasion of the Hong Kong media reached a pinnacle last winter when he teamed up with Hong Kong political head Donald Tsang, for a Christmas video urging citizens to "Act Now," a thinly veiled call to support certain political reforms. It was an admittedly different turn from his first foray into politics in his 2007 "Open Letter to Obama"
, calling for folks to "Take it to the polls" in support. The video is playful but people were outraged online and off about his alignment with the political apparatus.
His self-inflicted artistic integrity wound aside, Jin is most grateful for other gifts his new home provided.
"Ask your girl, I was doing something in her house / Matter fact she had my egg rolls and dumplings in her mouth." – Jin on Freestyle Friday, 2001
What's been most fulfilling and rewarding doesn't even have anything to do with his career. "Watching my own priorities shift, my own perspectives shift, watching my own morals shift, my moral beliefs, my principles," Jin continues. "Kind of going from not really standing for anything to finding something that I really want to stand for and believe in."
We inevitably move topics and start discussing his more serious investment in Christianity. He pays homage to his Aunt Cathy, who planted the spiritual seed which has now begun to sprout. "I had no respect for Him," Jin admits. "I wasn't saying blasphemous things in my rhymes, but by no means was my lifestyle respecting Him." That cleansing began with the Hong Kong move.
Jin Speaks About Evolving Into Spiritual Hip Hop
An early apology for cursing during the interview and his latest English single, "Shoot For The Moon," hint at a more religious turn for the emcee. Still, he's not yet at the overt, preachy level of, say, Pastor Ma$e in the way his beliefs are manifest in his rhymes. Instead, his latest material reflects an aura of mega-positivity and moment seizing.
He acknowledges the inherent dangers his newfound lifestyle can posit to the Hip Hop contingent. "When people think of Jin, their initial reaction is one of two things: that Chinese rapper or that battle rapper. They say, 'Jin was a gimmick from day one, he's still a gimmick now, even with his whole born-again Christian music, even that's a gimmick.'"
If his belief system is anything, it's certainly not a gimmick. Long after our interview ended Jin persisted to talk at length about his religious life and his relationship with god. Digging into deeply emotional territory at times. He's no stranger to being open about how he feels on a personal level, no matter how vulnerable it makes him to discerning listeners.
Jin is simply the sort of hyper-candid rapper that says exactly how he feels in plain speak on wax. It works both for and against him. In the past, these honest outpours usually came from industry anxieties.
As far back as "Club Song" one of the more regrettable cuts on his Ruff Ryders debut is an entire song dedicated to the stigma that to be successful you have to drop a club song. The same went for "Fuck Jay-Z," one of Jin's many English freebies that lambasts the industry's thirst for beef. The execution of either song can be justifiably called a whiny complaint and a critical truism.
Today, his content touts a Lupe-esque pop-timism with widespread accessibility in a kind of industry pitfall ascension. Such is the case on the aforementioned, "Shoot For The Moon," which will be accompanied by a single with a similar vibe "When The Lights Come On" for his first English language album in five years. He's already eyeing a June 2012 release date.
The double-edged, real-talk/soft-talk sword will be something Jin will again wield as he readies a professional and possibly physical transition back to the U.S. He speaks coyly about this reemergence. "My timeline in the spotlight was a good decade ago, the Ruff Ryders thing, the BET things was 10 years ago," he says. "That's the thing about the Hip Hop world, you can be in today and out tomorrow." Despite outcry at his level of commercialism in all facets of his career, the wide-mouth of industry turnover is something he's been able to dodge by diversifying his material and his methods.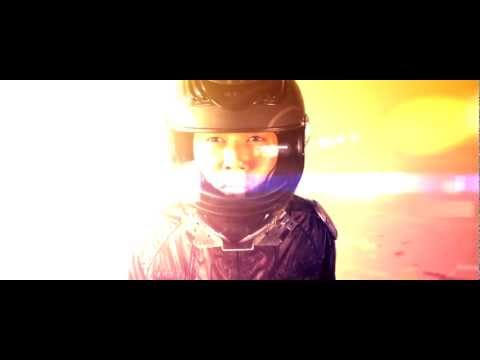 "Think you got me figured out but you'll never know what it's like / to live my life, the attempts to live up to the hype / of being the nicest Asian to ever lift the mic." – Jin "I Quit" 2005
In "I Quit" Jin touches on the lack of Asian emcees in an industry chalk full of Asian consumers. "I watched the Asian Rap community grow / first there was none, now there's a few cats nobody knows," he spit. He also made the assertion that his mic skills were the finest of his race. He doesn't think so anymore.
"I could list a whole stable of guys that just so happen to be Asian that I think are top notch emcees," he says, beginning to list emcees he's into.
"Dumbfounded, he's Korean, from Los Angeles, K-Town I think. He's sick for someone like me, someone that's lived and breathed the most text book version of this Hip Hop thing. I think Dumbfounded is a well rounded artist, that's with the Asian thing out the window. He's got the pen game, he's got the live show down stat," Jin says, peppering the emcees with compliments.  
"There's Bambu, who's Filipino I believe. He carries himself more as an activist than anything — what's going on in his community, what's needed, what are the social injustices. All that aside, when it comes to straight rhymes, attacking a beat, rocking live shows, he's on point too. I'd put him up there with any other non-Asian encee."
The more emcees he mentions, even though he leaves The Far East Movement's G6 success out of it, the more evidence stacks up to attest to the fact that these are still emcees that relatively "nobody knows." Jin is still the primary Asian Hip Hop success story. It's a status he tries not to own they way he does his battle track record.
With more than a trace of nostalgia in his voice, we talk about how battle rapping has mostly moved on to the YouTube world, where people are looking for the clicks, thumbs-ups and likes more than daps and props. He misses the smell of the mat and the roar of the crowd but understands the evolution.
The digi-cypher and cross-the-ether battle circuit has created a new breed of battle emcee – where the age-old question of whether something was prewritten or not (and whether that matters at all) is even tougher to distinguish.
He circles back around to the most recent instance of Asian-on-Asian emcee hostility.  "I mean what am I going to do? I'm not gonna record a diss track and go at this 17-year-old D-Pryde kid because he said I'm old news."
In explaining his approach, it's obvious he still keeps an ear out for his name — no matter how much weight he gives it. "Being that I'm from that environment and that element, I understand it. I understand the premise of a punchline and of an angle that I can attack on."
Instead of biting back, he's restrained himself. "I'm a grown man. I'm about to be 30. Not just as an emcee or as an Asian emcee or as a factor in the music industry but just as a man, where do I stand? Is this something that I need to diffuse or address? If anything I address it like this [in an interview]."
D-Pryde "Forever Video (diss 6:43 minute)  HYPERLINK "http://www.youtube.com/watch?v=FLNz5fI8UDI" http://www.youtube.com/watch?v=FLNz5fI8UDI
We talk about some of Hip Hop's nows including Wiz Khalifa, Drake and Wale — some of the emcees he's been listening to. He dug Wiz enough to make a video blog about buying his Rolling Papersalbum.
Content-wise, he finds a disconnect between him and what's he sees as popular Stateside, a concept he's not fond of. "I'm starting to despise that word [popular[ and 'fans.' I don't despise fans, the person, I despise the concept of fan. The same person that's a die hard fan, is the same person that if you lose that battle the following day, he will be like 'damn, what happened? You let us all down.'"
As his own lyrical content goes through metamorphosis brought on by his priority shifts, he feels distanced from these emcees. "As much as I can admire what they do and respect it, I can't relate to the content as much. I mean this in a very practical sense. Where my state of mind is," he says, echoing sentiments from many generational and paradigm shifts in the game.
While second and third generation of legends in the genre continue to age without slipping into irrelevance, Jin's own rap career could still has a relatively long way to go. Where that career will blossom is another question.
In truth, only a handful of rappers have true international report. Even fewer have actually lived out of the country for extended periods of time. While he's more representative of the shiny internationalism that sits pretty on a rapper's bragging list, he faces a tall order to renew his relevance outside of Hong Kong.
He says that doesn't matter to him like it used to, "I just felt like I needed to defend myself, like I couldn't let [them] bad mouth my legacy.  Once upon a time, I felt like all I had was that and I felt the need to defend it."
He insists again that he's stopped caring about what people have made of his career as an emcee. Aspiring emcees, supporters, haters and the web at large will continue to debate his legacy. He's ready to be past that.
"When you see that there's way more to life than battling or there's way more to my life than how people view me, be it as the greatest Asian rapper of all time or the greatest joke of all time — then you start seeing thats it's really not that big of a deal."
Purchase Music by Jin
RELATED:Samsonite Man: Live From Planet China With DJ Wordy
RELATED:Samsonite Man: A Look At Hip Hop's Diplomatic Affairs