"I'm Chinese of course," begins DJ Wordy, gently balancing his chopsticks on a half-eaten bowl of soy-braised pork slivers at a Taiwanese restaurant in Beijing. He acts like he is about to say something profound. He is. First though, he wants to make sure that I understand, that everyone understands how earnest he is about what he's about to say.
"Ancient Chinese culture, is the best in the world. Nowadays, culture in China is the shitiest in the world.
It's a bold statement from a Chinese cultural crusader but not exactly an unexpected one.
We've just finished cruising around Beijing, churning through its gridlocked streets on an early Friday afternoon. It just snowed for the first time this winter and it is a bit fucking cold outside. It's The kind of day where no one wants to be walking around.
DJ Wordy is far from organizing any people's uprisings but he isn't going to let living in a repressed society hold him down either.
In Beijing, everyone is prohibited from driving their car one day per week, according to your registration number. These are penalties he'd rather face than deal with the inconveniences of pedestrianism."I hope they fine me," he wailed, shifting gears, lanes and cutting off a group of taxis as we swung into the parking lot of the lunch spot.
His reckless confidence isn't without music merit to back it up, but in China's minefield of humility bolstering and "face" saving, its hard to imagine he's made it this far.
Make no mistake, DJ Wordy is a punk.
DJ Wordy, China's Hip Hop Messenger
To put it mildly, China has a reputation for watered down modern arts. The argument isn't without its detractors, those who think copycatism is an art in-and-of itself and those who feel that restraints produce brilliance. Yet, the former has no place in a genre that worships originality and punishes style biting. It's in the latter, where DJ Wordy firmly falls.
"China is great and horrible," he shrugs, recognizing his place of birth and residence for exactly what it is — a gift and a curse for his creativity.
Since moving to Beijing from Xi'an province at 15, he took an early interest in specifically rhythmic music (he has been quoted as saying he bought "every record with a Black guy on the cover"), a novel fascination in a country with a musical tradition so reliant on harmony, melody and a cheesy pleasantry that rocks the bootleg headphones of the peasantry. Wordy's music isn't so soft as to shed those layers completely, but it's clearly the work of internationalized ears.
Beijing is a global city, completely infused with all-foreign-everything. When he moved here though, long before the 2008 Olympics and the brunt of the China boom, there was no Hip Hop. There were just "some break dancers" and what he calls "Disco Rap."
The pioneer Mandarin Chinese Rap album came from Yin Ts'ang, a group featuring four emcees, two of whom were white North Americans. Released in 2003, Yin Ts'ang's For The People was the "first real Hip-Hop album in China," says Wordy. He half jokingly hints that the first mainstream solo emcee rapping in Chinese might be foreign too. One of the members of Yin Ts'ang, MC Webber, teamed up with Wordy to start Section 6. A monthly showcase which he equates to a Beijing 8 Mile where emcees head to battle.
DJ Wordy – China DMC 2007 Championship Scratch Routine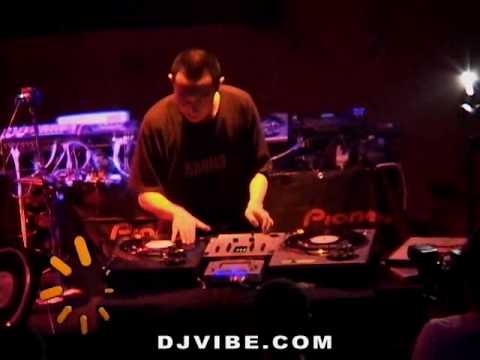 By that time, Wordy was already a 3-time battle deejay champion and knew a thing or ten about real representations of the genre. Along with Section 6, Wordy launched Hotpot a second monthly residency with Soulspeak, a Los Angeles bred Chinese deejay who moved to Beijing a few years back.
Wordy linked up with his recluse partner after he randomly called him up. "We started jamming and didn't speak to each other for two and a half hours. I never saw anyone who I could play music with like that," a huge concession from a guy who feels his beat game is leagues ahead of any other Chinese player.
"You talk to me, you're talking to the right people. I'm at the top of China. No doubt," he says.
Again, he's right. Otherwise I wouldn't be in Beijing freezing my ass off. Wordy, though, carries a certain altruism beside his cockiness. His productions aren't for sale. He just "gives 'em away," a foreign concept in a beat industry built on getting top dollar for compositions.
"I gave my CD to everybody from [DJ] Premier, DJ Crash, Dame Dash, Pete Rock. I even gave three beats to RZA, who said he wanted to record over my beats. I think his beats are for his movie, The Man With The Iron Fist," the icons rolls off of his tongue, many of whom have publicly praised Wordy productions. Peedi Crakk was given a track (for free, of course) and is considering coming to China to record with Wordy this spring.
"I don't make music to make money from my own music, I make money from my shows and my parties — and sometimes from ads and some bullshit." That ad money isn't chump change and the photographers don't do poop shoots. Last year Wordy appeared alongside Diplo in a Gap ad, shot by one of the world's best photographers, Annie Leibovitz.
He remains earnest about the global consumption of music in its traditional clothes,"I haven't bought music for like five years, none of my friends buy music." To him, it's better that it gets heard than that he gets green. He's a man with a code, even though he's programming is at odds with that of his peers.
Acceptance In China's Music Industry
Wordysoulspeak came out in Spring 2011. It's the first full-length instrumental album from the duo. Since, they've put out singles with Das Racist, various Chinese emcees and have enough material for at least two other albums.
"Our first album is like our first love — we come from the golden age of Hip Hop, with the Funk and Soul flavor of production." At times abruptly brass, at times grittily filtered, and not without its share of turntablism, the beat album is funky, soft-hitting boom-bap with enough extra do-dads tossed in to keep listeners guessing.
"Music is supposed to have no wars between styles. As long as you like the sound, you can fuck with it. I don't care if it's Indie here, Jazz there, Rock, whatever it is. As long as it sounds like I can make it good, I can use it. That's sampling."
Hip Hop's always been a cut and paste kind of genre, lyrically as well as instrumentally. As those pasting patterns become more dancy, plenty of producers have their panties in a bundle with the lack of drawers not being boomeranged in the direction of their true-school deejay booths.
Amidst this electro production backlash, Wordy eyes evolution. "It's natural. When people get tired of a sound, they find a new sound," he starts.
"I'm a Hip Hop head, fuck the Electronic shit," Wordy felt for years. "Once I toured in Europe, I go to the parties and shows and talk with all the big producers. You know Premier, Just Blaze, Dr. Dre, Timbaland, these guys listen to electronic music every day. Way before us, they listened to electronic music."
Wordy considers it the latest evidence of the age-old music industry truism that, the majors want the album to pop, so DJs play it in the club. Clubs around the world, from Vegas to Macau, want to be dancing.
Electronic music makes bad dancers look good. Call it a rhythm problem.
As far as rap beats go, he's on his Lil' Wayne shit. "Right now, in Hip Hop, I'm mostly listening to myself." It's a conceited way of touching on the reality that inventiveness on a strictly Hip Hop instrumental scale might be in a bit of a rut right now. Hence, like many producers long before him, he's found himself genre veering in order to bend beats into bangers.
When he does let his ears venture, he finds himself gravitating towards the L.A. beat scene, which he considers the most exciting in the world right now, for experimental Hip Hop and electronic beats. He asks if I know about the Low End Theory. I'm momentarily transported to hipster Transylvania just north of Chinatown in my native Los Angeles, watching Flying Lotus wring sounds from a wilted MPC with Thundercat last year on one of those ceiling-sweat dripping nights in The Airliner's sonic sauna.
Yeah I know it but I'm surprised he does.
"The L.A. movement is the pioneer in the world. That's my favorite style right now, for the beats, experimental Hip Hop, Electronic." It's place he's been invited to play before, an invitation he has every intention of fulfilling.
His collabos aren't limited to Electro and Hip Hop. "One genre isn't enough for me. This is my profession, I do music. If you cook, you're not going to cook one food for your whole life, right?" Wordy's beats boast an elementally eclectic production style with careful attention to melody. His diet has melded to make a more digestible Madlib-meets-Diplo boiled down and turned into smooth paste.
"You just have good music and bad music. Good songs and bad songs. It doesn't matter about the style, as long as it sounds good."
His genre disregard is as reciprocal as it is rewarding. Cha Cha, a Shanghai-based songstress he teamed up with for his most recent release, the Fall 2011 Wordysoulspeak x ChaCha EP One More Day. It's James Blake minimalism with a hypnotic twist a la Yukimi Nagano (of Little Dragon) but in Chinese. She makes Mandarin romantic. Wordy agreed to work with her after leagues of improvement, "She was not that good when I first heard her, but she's like me, she's thirsty. She wants to get better."
DJ Wordy's Catalog And Relationships
I tell him that the One More Day EP is the best Chinese music I've ever heard, which is the truth. He brushes off the compliment because he's eager to talk about what he's working on now.
Wordy figures producing is only one role in his craft. "I lock myself in my studio for a few weeks. I'm just doing my music in my studio, I don't go out. I don't party," he says of insular days of fine tuning. Another skill he focuses on at his private studio is practice.
The deejay performance, Hip Hop's birthright, ought to feature a dangerous man who can speak with his hands and Wordy's mitts have always been talkative. Crowned DMC China battle champ on three consecutive occasions (2005, 2006 and 2007), his deejay-polished performances marinated heavily in Hip Hop juices before sprouting other limbs.
WordySouspeak – Cuttin Dirty Breaks
He considers his straying from the genres traditional turntablism as a causality of timing, "When I met [DJ] Q-Bert and DJ Shortkut in Beijing, they told me that Turntablism is dead in the U.S. I was sad man. These are my heroes."
He now deems live deejay sets as a natural progression of what turntable instrumentation was to him and where live shows, so essential to an artists livelihood, should head.
When it is stage time, whether abroad during European tours or at home at his monthly Hotpot residency, DJ Wordy goes nutty. Hotpot, which finished 2011 with its 44th installment, has a reputation for being China's best beat night. Soulspeak joins Wordy on these occasions at The Opposite House in Beijing but back in the studio the duo are busy practicing for 2012.
"It's a secret weapon for the upcoming spring," he builds. "We will do the whole DJ show live." The two will bring along synths and drum machines in addition to their tables. "This is big shit for us. This isn't like producing where you just do it and it's done. You have to remember so many patterns, so many notes. You have to practice or you will forget. One or two hours, all live, scratch guitar, drums, horn, everything, just two people."
He's visibly amped about the prospect. "It will be something different," he guarantees. "Trust me."
WordySouspeak – Space Jam Live Set
For all the innovation, outside praise and confidence, Wordy is by no means the first or only Hip Hop artist in China, His music is just, flat out better than that of everyone else churning it out in the still mysterious middle kingdom.
"I can say that I'm the only one in that's representing China in a good way. With good music. People can dig it, not matter where you're from," he laughs but remains serious. I wouldn't be sitting there with him if it weren't mostly true. He has been on the scene from early on and is clearly the cream that's risen to the top.
Without a comprehensive examination into every nook and cranny of an underground-for-survival musical landscape, you can't really call his bluff. You also can't deny that he's the only Chinese deejay who's made a dent outside of China.
Wordy hasn't been able to find is an up-to-par Chinese emcee to accompany his arrangements. "The first real, real emcee to represent China in a real way — I don't see any right now," Wordy says, slouching back for the first time in the conversation.
"Maybe my standard is too high." He rejects the idea that rapping in Chinese is difficult, "Every language has their own rhyme, you just need to find it. It's not hard or easy. You just need to find it."
"Soulspeak and I, we have the same taste, but for all the emcees I've worked with in China, we don't have the same taste," he says.
One Wordysoulspeak track, recorded with Beijinger Ljapa (IN3), who wordy dubs the Chinese incarceration of Ol' Dirty Bastard, feels drastically off-putting. The rappers abrasive style and dialect (intensified through a language that can already sound a bit rough on the ears) harvests a painful experience out of a decisively harder production. "They are my homies, don't get me wrong. But for music, if we are working together, they aren't there yet."
The audience isn't either. "A lot of emcees in Beijing want to be battling. The battle circuit is pretty tight, hosting battles for like 600 people a night but [the audience] just wants to be entertained. They have no skills man, they just yell at each other. They just want to see what 'yo-mamma is…' on stage."
Lack of skill isn't the only problem, either. "Hip-Hop is in English," he says, acknowledging a systemic language barrier for the rise of any Chinese emcees internationally.
Still, there's an audience even outside of Beijing and Shanghai, in China's some-odd 100 cities with over 1 million residents (10 times more than cities of the same size in the U.S.) for domestic and international rappers to thrive on tour. From Skyzoo, Saigon and Busdriver to Kanye West, Fat Joe and Ludacris, a diverse pocket of rappers have spat into mics on Chinese soil at various cities. Wordy has seen Public Enemy when they come to town, before musing about how Jay-Z was somehow barred from the powers that be back in 2006.
At last, he touches on the elephant-in-the-room barrier for the Chinese emcee. "I have a chance to tour the world, because I don't rap. Music is an international language. You don't need to speak any language to understand. For a Chinese emcee, it's really hard."
Aside from pointing out the obvious linguistic plight, it's a gracious way of bringing up the subject of censorship, in the country where it is the most infamous. "If you are underground, you can say anything you want. These type of emcees aren't big in China yet. If they are getting bigger, they're gone. I'm telling you, the government knows everything, man. They will shut you down."
He professes his innocence jokingly, "I'm free. I'm so happy, I just do music."
Going Against The Government With Hip Hop
While the government doesn't find Wordy's usually wordless productions and touring to threaten the order of the general populace, it doesn't prevent him from being able to soberly assess the ongoing suffering of the national arts. "It's really hard to do real art in Beijing, in China. Real art."
"Everybody just copies," he says frankly. Originality, innovation and creativity have long been justifiable sacrifices in modern Chinese society. It's the Achilles heel of the often forecasted global domination predicted by many a political pundit. The Chinese remain cultural export-less. This soft power, the West, and even China's bitter rival Japan, still has in spades.
"Architecture, maybe, some buildings or something," Wordy muses about what culture the Chinese can be proud of. "For music and art, I don't think you have much that is 'Made in China.'"
In some ways, it's exactly what you think it is.
Suffocating socially, historically, or politically critical art isn't simply happening, it's essential to the way China operates. Censorship is arguably the most crucial activity for the authoritarian Chinese Communist Party to maintain power.
A government who handpicks what will be successful and what won't be generally creates widespread culture (or lack-thereof) that's even shallower than if its determined merely by the often-vaulted votes at the cash register. Worst of all, it creates a kind of cultural wasteland where the soil is so infertile and dreary that ambitious, creative people don't even dream of planting anything.
"All you see in China is all floating on the water, it doesn't have roots," he says, motioning his hands horizontally. "That's the big problem with music and art in China, you don't have the background or history." In this sense, art prevention now means even less art later, no matter how many digital and analog alleyways hiccups of expression flow down.
In other ways, it is a lot less menacing in implementation.
The oppression isn't all around you. It resonates itself in a subtler fashion, which could be as much a byproduct of ancient Chinese traditions of Confucian, collectivist society as it is of the Communist party.
In that respect, the problem isn't just the government, but also the sheepish nature of the mass citizenry, who Wordy exists as such an exception of. He's not having it. His rise to domestic and international popularity is rare for someone who isn't prepared to let his small section of culture float by in a daze of mediocrity and copycatism.
"I wanna let people know that even though Chinese people are, of course, suppressed and there is a lot of bullshit, you can still find some good music. Some real shit," he says, dead serious. "Doing music in China is really tough. There is no industry for it. Everything you do is by yourself, independent. Doesn't matter if your a Rock band or a rapper."
The musical entrepreneur in China deals with deterrents at every turn. The audience might be the biggest one. "In China, everybody thinks about making money and building buildings, nobody thinks about music. When people have money, they want to be entertained, KTV (karaoke bars) with some girls. They don't want to spend it on art or music."
To him, there's a divide. Wordy sees it as a passive experience. Original culture as an active experience hasn't yet reached China. After all, who has time for art when there's so much money to be made?
"For the young people, who really like music, they don't have money to buy an album or go to a show, pay the 100 Kuai (only 13 dollars) to see DJ Crash," he notes, leaving out the additional access problem brought on by the most sophisticated censorship tool in history — the Great Firewall of China.
For 5,000 years of history, arguably the richest and most inventive on earth, China boasts almost nothing in the vein of modern art. Those in power and those powerless appear unwilling or unable to kickstart that history. It's a viscous cycle. Those who are interested can't afford it or find it and those who can afford it, aren't interested because sexier, easier and less risky options prevail.
Mass exposure from a corporate label-cosign is tricky enough to land for any artist. For Wordy's music to prevail in a mass sense, it would need the Communist Party-cosign exposure.
"When CCTV plays it, that's how it gets big," Wordy says, speaking to the state-owned media stranglehold on what reaches the masses, a possibility he's realistic about. "It's not gonna happen in my life, there are too many rules in China."
Ironically enough, the TV hanchos have reached out in the past. "You know the TV station, asked me a few times to be on TV to do some stupid shit," he remembers. "I said 'no.' 'Fuck no!' Keep it real, that's Hip Hop right?
WordySoulspeak – Music Please
Despite his electronic leanings and Euro tours, his Hip-Hop pass is intact. It's one that's earned the praise from Premier, Pete Rock, and RZA. It bought him a few weeks in NY, staying with personal friend, Dame Dash. "Hip Hop is a style you know, a lifestyle. Rap's just a part of it," he says, sporting his fitted and bagged garb common across the global Hip Hop nation.
Even in Beijing he sticks out.
He's proud of himself and his music. "Everything I've done, is from the heart. I love it. If I don't like it, I don't do it," he says, again dividing himself from the rest of the pack. "A lot of people do stuff in China that they don't like. They don't know why they do it, but they do it."
He doesn't believe getting by is a viable excuse for inauthentic art in China either. "You can easily do your art without finding a proper job. I have enough money to live in China from my music."
Being a starving artist in China is a little easier when you can eat a bowl of noodles for less than a dollar. It's cheap here. Even with inflation and rising costs in living, Beijing is still a bargain if you know what your doing.
"In China, if you do it good, you can live off of it," and he does. He has no "real job," and he's married — a major piece of importance in Chinese culture. His wife, a graphic designer even doubles as an in-house artist, doing his covers and website design.
He's proud of his city and has no intentions of leaving despite so many trips overseas."I'm living golden. Making life mean something interesting. Doing some creative stuff, one day people will get it," he says, bringing up the One More Day EP. "Nobody appreciated it in China. They haven't gotten there yet. In five years, they will go back and be like 'fuck, man.'" By that time, I will have already done some cooler shit, some better shit."
China will probably, eventually have an explosion of cultural interest. The questions are when and whether it's possible without a one-party tumble. "Everything changes so fast in China. Today a company does music, two years from now they don't. They do restaurants," he notices.
The cultural tides could turn any day, but the dollar sign would have to come first. "That's how people do it here. They just want to make money — that's it. Of course that's everywhere in the world but China is the worst.
He reiterates his earlier assertion, "I can say that. That's what I think. Old Chinese culture, is the best, now, modern Chinese culture is shit." It's as blunt as what he lights up as we get back into his car.
Where the saying goes, "The nail that sticks out is the first to get hit by the hammer," it's somewhat surprising he hasn't been whacked. Yet he's precisely an example of what good can happen in spite of, or maybe because of, the pitfalls of being silenced. He's a successful, uncompromising artist in China, an accident of the tension between mass censorship and individual ingenuity.
He starts to turn the key to the ignition but stops. With a highly illegal substance dangling from his lips, driving on a day he probably shouldn't, China's beat punk speaks from the soul.
"To be honest with you, I don't want to make money with my music, I just want more people to hear my shit. That's it. I just want people of the world to know what we do in Beijing. In this fucking city, in this country, where it's so tough — we still do it."
Purchase Music by DJ Wordy
Alex Dweezy Dwyer has written about Hip Hop for eight years, coincidentally the same year he got his first passport stamp in Paris. He's since lived in Rio De Janiero, Madrid, visited many other countries and spoken to many emcees. He currently lives in Chongqing, China but calls Los Angeles home. Follow him on Twitter @adweezy.