In a recently published interview with VladTV, rapper and media executive Benzino explained the nature of his long-running dispute with Eminem and Dr. Dre, saying "it wasn't a personal thing" as well as explaining the first time that he saw the Detroit rapper in person.
"One time I was in L.A., and I don't know if he remembers this, but I remember I was by Jerry's Deli, I think that was the first time I'd ever seen [Eminem] and I looked at him," he said, "and I was like, 'man, he's a lot taller than I thought he was.' That was really it."
Despite their widely publicized beef, in hindsight, Benzino did acknowledge Eminem and Dr. Dre's commercial success alongside an admission of his affinity for Dre's music. "He was being produced by arguably the greatest producer of Hip Hop in our time," he said, "I recognize that, I mean, Dr. Dre is my hero, you know what I'm saying. I mean, The Chronic, [Snoop Dogg], Dogg Pound, I mean everything, I was turned out by N.W.A. N.W.A. is top five dead or alive to me."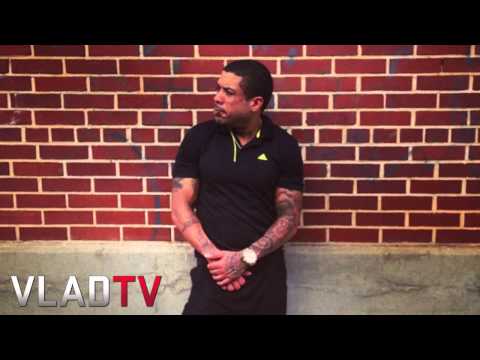 Benzino's controversial feud with both Eminem and Dr. Dre as well as their shared label, Interscope, largely stemmed from the monthly Hip Hop publication The Source's evaluation of Eminem's sophomore album, The Marshall Mathers LP, in 2000. By that time, Benzino had since joined the publication as a co-owner several years prior. Notably, Benzino was chastised for previous editorial missteps when he granted his own group, Made Men, a coveted four out of five 'mics' rating in 1998. The magazine granted The Marshall Mathers LP the relatively low rating of two 'mics' two years later despite its critical acclaim elsewhere. The beef quickly escalated with Benzino's accusation of Eminem being racist and his releasing a string of diss tracks against the rapper. In February of 2003, with Ja Rule on the cover, Benzino appeared inside The Source in a picture holding Eminem's decapitated head. Following that issue, Eminem, Dr. Dre, and Aftermath boycotted the publication and eventually Interscope removed all advertising from the magazine.
"It wasn't a personal thing about these guys and what they accomplished," Benzino said in the recent VladTV interview, "I was just looking at the bigger picture and I don't think they understood that. It was 50 [Cent] I was trying to get on a song when all of this was going on, me and 50 had a pretty good relationship, I had met him through Tone and Poke which Steve Stout had introduced me to—the Trackmasters—and then I remember when he had that situation with Ja [Rule] at the Hit Factory, he ran down to my session when I was with the Made Men at Sony and he had shown me his stab [wound], I called him a car service and got him up out of there. I hadn't known Ja, it's crazy because now me and Ja, like that's my brother. Like, our kids, he's the godfather of my kids and I'm the godfather of his kids, we're family. My daughter just went to the Rihanna concert with [Ja Rule's daughter] Brittany the other day. My son stays weekends til this day, they live in Jersey.
Raymond "Benzino" Scott first gained attention as a member of the Boston-based Hip Hop group The Almighty RSO beginning in the late 1980s. The group released an EP in 1992 preceding their long playing debut, Doomsday: Forever RSO, in 1996. The group also experienced a short-lived affiliation with Queen Latifah's Flavor Unit and was later managed by the management company of the same name. Later, in 1998, Benzino and another member of the group formed a new group called Made Men and released an album titled Classic Limited Edition.
Benzino is currently a recurring character on VH1's reality show "Love & Hip Hop: Atlanta."
Related: Benzino Threatens To Quit "Love & Hip Hop Atlanta" Following Stevie J Beef