2012 was a big year for Compton Menace. The self-proclaimed "Menace" of his hometown Compton, California, put out two Volumes of work as part of his Menace 2 Society Mixtape Series, which saw him collaborate with many notable emcees such as Cassidy and Wiz Khalifa. With the success generated from these first two releases, Menace is ready to drop Volume Three of the Series at the top of 2013.
A product of Game's Black Wall Street Records, Compton Menace has enjoyed the year's success, though he's quick to note that he's been the game longer you'd imagine. For instance, he and Game were friends before there was a beef with 50 Cent. He also candidly notes that he and Lil Wayne have shared a creative relationship and friendship "for about seven years."
HipHopDX recently caught up with Compton Menace to discuss his recent efforts, as well as what lies ahead. After the January mixtape release, Menace will drop his first studio LP in the Spring. A "street record," Menace won't be relying on Game, his friend and boss, to help him make the best of it. "I'm going to be a big boy and knock that out with a couple of big producers and a couple other people I've been working with," jokes Compton Menace.
During the conversation, Menace also touched on storytelling in his rapping, as well as his recent acts of Holiday charity.
HipHopDX: Are you on tour right now?
Compton Menace: Nah, actually we just got off tour. We was on a little promo run with [Wiz Khalifa], we did a couple dates with him and shot a couple videos with a couple [other] artists.
Compton Menace Discusses Menace 2 Society Mixtape Series
DX: Nice. This year you dropped two mixtapes as part of your Menace 2 Society series. Can you tell me a little about these projects and just the mixtape series as a whole?
Compton Menace: Well actually it's a work in progress. Just bringing the real music to the Hip Hop World as far as what I think should be part of it. I got a series, I got Volumes One and Two out right now, I'm about to drop Volume Three after- actually in January. And I'm a keep that going as far as they can go. And we actually about to drop a street album right around this upcoming year, 2013 – probably around March.
DX: So what's the reception to the first two installments been like?
Compton Menace: A lot of people fucking with 'em, they doing real good actually.
DX: And you said just wrapped a video shoot with Wiz for "Ain't No Change", how was that experience?
Compton Menace: It was pretty good, it was a cool thing to get done; bring the video to life so the fans and everybody get to see what's really going on. While I was on the road I shot a video called "My Homies" with Trae Tha Truth. And I shot another video up in New York with Bow Wow called "Change of Life" so we just been getting it in.
DX: Did you do the Wiz video in New York too?
Compton Menace: Nah, we did the Wiz video in [Los Angeles]. We going to drop the video at the top of the year, it's going to be on MTV and all that good stuff. Also I got a video shot with Birdman, we did that in Miami, so that was a good look too.
DX: So have you just done Trae tha Truth, Birdman and Wiz, have you done all theses videos right in a row like that?
Compton Menace: Yeah, we just lined 'em all up while we was on the road, took the perfect amount of time in each spot and just knocked 'em out while we could.
DX: You've collaborated with a slew of emcees in a pretty short amount of time. How have you been so successful networking in your young career?
Compton Menace: Well a lot of people know me 'cause I've been around, I've been on the stage for a minute. But I just been in the basement working. [My music] may seem like new, but a lot of people already know me. Once I bring the music out and work with the people I'm working with and everybody just get to see that shit is a lot more than people think going on.
DX: Can you just talk a little about your relationship with Game and how far back you two go?
Compton Menace: Oh yeah, I knew Game since I was a youngin' coming up. When Game got on he started the Black Wall Street [Records] movement and we all ran with that. And basically, me and Game cool, we got a good relationship, but I like to separate myself from what everybody else is doing and do my own thing, just try and make my own name and my own team in the Rap game.
DX: Just a technical question: on tracks like "On That Real Shit" and "Wing Stop" you showcase two very different rapping styles. And I don't want to ask you a "A" or "B" question, but which one would you say is more indicative of your style?
Compton Menace: All of it. A lot of people hear about Menace hear about a West Coast artist and just automatically put us in that box. So I just been doing a lot of different music and different beats just to show everybody that ain't nothing different. We could do whatever we want to do, no matter what type of music we known for or what we do, we could always switch it up and go out the box and bring it to the table. That's basically all I do. 'Cause me, I really like the laid-back type of music and telling stories, that's me right there. But as far as that other shit…I can do it too.
DX: Do you ever choose how you want to sound according to [the] beat or who you're getting on a track with, maybe?
Compton Menace: Nah, I just really go by vibe, feel me? I don't really have no idea what I'm going to do or nothing. I just pull up a beat and whatever I vibe out to that's kinda-sorta what I rhyme to, whatever come to me right there. I don't really write anymore, I just go in and let it go, so it just be kind of a vibe thing.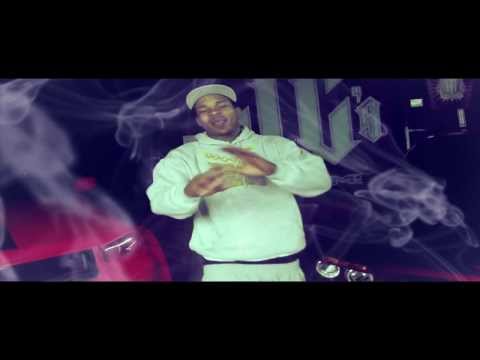 Compton Menace Recalls Knowing Lil Wayne Outside Of Rap
DX: You've collaborated with Lil Wayne, and Game has too on several occasions. How would you describe the creative relationship between Young Money and Black Wall Street?
Compton Menace: See, me and [Lil] Wayne got a personal relationship that go way back, that's bigger than the Rap shit. When it come to that type of shit – when it come to the music, that's where it began and that's where it ends for both of us, so it ain't nothing when it comes to the music.
But as far as Wayne go and everything else go, we had a friendship before the music. And that's how it is with a lot of people you hear me on songs with. Some of us have relationships that's bigger than the music, so that's why it's nothing when it come to it or on the road just being together, doing shows together. And that's why it's just all good: just the relationship of real dudes coming together and make it work.
DX: Did you know Wayne like back in the day?
Compton Menace: Yeah, I actually knew Wayne for about seven years now. I done flew out with Weezy, fucked with him about four-five years before I actually asked him to get on a song with me. That's what I was talking about with relationships and – it ain't just about the music.
DX: I'm just curious, are you cool with the Black Hippy and Odd Future crews?
Compton Menace: Yeah I mess with them. All them is good friends of mine.
DX: Have you collaborated with any of them, or are you going to anytime soon?
Compton Menace: Yeah, it's all a work in progress, everybody that I really wanted to collab with, I collabed with, so everything else is just work, feel me? But as far as people, all them dudes is good people and I fuck with 'em.
DX: You said the Third Installment of Menace 2 Society is due in January, right?
Compton Menace: Yeah, third one, that's already locked and loaded. I got a [Volume] Four that's damn near ready. And you know, we just working, man. Bringing the best we can bring.
DX: So you're prepping a studio LP for the Spring. Can you tell me a little about this album?
Compton Menace: Well, on my mixtapes I got a lot of features, so I'm just really bringing the real Menace to it. So it's going to have a couple features on there of course, but you'll be ready to hear the real streets.
DX: Is this your first studio LP?
Compton Menace: Yeah it'll be my first studio LP, 'cause I got my own studio so I do everything myself. But I'm going to be a big boy and knock that out with a couple of big producers and a couple other people I've been working with on the side.
DX: I know you're a classic car enthusiast, what's the deal with you giving away one of your car's as part of a promotion?
Compton Menace: I like to give back to people that help me, feel me? As far as Thanksgiving, I gave away 150 Thanksgiving dinners to families in Compton and Watts. Crenshaw is having a toy drive in a couple of days coming up. So it's all about giving [for] me. I appreciate the fans going out, supporting and getting the music and all that good shit, so I thought, "Why not give back to at last some of them?" So that's all behind that, that's what that's all about.
DX: That's what's up. What would you say you'd most like to accomplish in 2013?
Compton Menace: 2013? Shit, I just want to be where I feel that I am in the game. A lot of people respect what I do and you know how I do, I just want to be where I feel I should be.
DX: Where do you think you should be?
Compton Menace: Shit, I feel like I should be on the top with everybody else. 'Cause it's a lot of shit that goes on in the industry – and everybody know, there's a lot of fake shit going on.
Purchase Music by Compton Menace