The name implies that their rapping "breaks the sound barrier." Inspired by the Anime program Speed Racer too, Atlanta, Georgia-based duo Mach Five has burst onto the scene, taking the city and it's Hip Hop scene by storm.
Comprised of rappers A.ware and Corey Davis, Mach Five's first release was their 2008 Stepchild EP. Since then, the duo has released three albums, and are prepping their upcoming effort, Art Rap, due in January 2013. What's more, the duo's interests are not limited to Hip Hop. As true patrons of the arts, they devote any free time to other creative endeavors, such as painting, blogging and maintaining Greedmont Park magazine, an up-and-coming publication that promotes Atlanta's rappers and musicians.
With Art Rap due soon, Mach Five is hoping to take another step forward in their careers. Their creativity is palpable and their ambition is strong. They credit the Nightclub Scene for helping them mold their sound into something everyone can party to. "[We're] in a turnt-up era, everybody wants to party now, so if it's not the Electronic Dance Music, it's Trap Rap," suggests Corey Davis.
Mach Five recently sat down for a phone interview with HipHopDX to discuss their music and their artistic prowess, past and present.
Mach Five Details Early Days, Entrance Into Hip Hop
HipHopDX: So you're childhood friends. Tell me a little about your early days; and when did you start making music?
A.ware: Well me personally, I grew up in the environment where I had choices: I could either just go to the streets, or I could be creative. So I chose to just drift away from my environment and I started writing when I was like 10 years old.
Me and Corey linked up when we was in high school. I was like 16.
Corey Davis: Yeah, similar upbringing. Even though we both come from the hood, my mom was always trying to push me to be creative and stuff. I was always drawing as a kid, so she always pushed that and just supported it really, anything I tried to do. So even when we was young with the music, she got us a little MacBook so we could record – in the most rinky-dink way ever. But she was always there pushing that shit.
DX: And I know the show Speed Racer is a little bit of an inspiration. Can you speak on that?
Corey Davis: Yeah we both just grew up on cartoons —
A.ware: — And that's just kind of how we connected. We liked the same cartoons and we both from the Midwest, so we both like the same style of music, coming from the Midwest to early '90s Hip Hop, all that kind of goes together.
Corey Davis: I kind of feel like our generation, we all grew up on that Toonami Era, where we would watch all those old Anime cartoons. So Speed Racer was the shit, but came up with the name Mach Five, 'cause we used to rap fast. So it's just like breaking the sound barrier, rapping real fast. And it just went together, so we just used that as the icon of the group in the beginning.
DX: Atlanta's home to some of the premier Hip Hop artists, but [A.ware] mentioned the Midwest too. Who did you listen to growing up?
A.ware: Well I'm originally from Chicago, so I came up on Psychodrama, Do Or Die, of course Twista and Triple Darkness. All the like – they were underground, but it had the streets on lock like somebody like 2 Chainz got Atlanta on lock, that's what I was seeing.
Corey Davis: My first album that I was listening to, I bought Snoop Dogg, Doggystyle and [Bone Thugs-N-Harmony] E. 1999 Eternal, and I listened to those albums for like five years. So I listened to Snoop Dogg and Bone Thugs, then I started going to art school with these White kids, and they started putting me onto Sublime and shit like that, Korn. So that started opening up my palette to different types of music around middle school. And since then, I've been listening to everything from Deftones to Three 6 Mafia.
DX: Just switching gears here, a lot of people have ideas about what Hip Hop in Atlanta sounds like- and you mentioned 2 Chainz. Do you ever feel like you're making a specific brand of Rap music?
Corey Davis: Yeah man, our new project is called Art Rap and that basically- somebody came up to us and was like, "Man, you guys are so conceptual. Everything from the album covers to the videos. Have you ever considered calling it Art Rap?" And then we looking at what everyone around us is doing too with this whole New Atlanta Movement, that's like this whole renaissance of artists. And we all kind of doing the same thing: you got Rome Fortune, Trinidad James, and we all trying to push the boundary and make stuff real funky and soulful.
Mach Five Explains Atlanta's Current Art Renaissance
DX: That's real interesting. What else is going on with that renaissance in Atlanta?
A.ware: It's growing. I feel like- this almost takes us out of the category 'cause we always got a certain amount of attention, but it's attention finally being [shown] for what's going on in Atlanta, so that's a beautiful thing.
Corey Davis: It's also bring a lot of unity, it's just everybody working together: we got all the musicians, not just rappers but singers and songwriters, artists, painters, videographers. It's just everybody coming together and working together so we can really show this movement to Atlanta, and show that it's more than just dope boys and Trap Rap.
Aware: Exactly, 'cause when you think about Atlanta- coming from Chicago, I might speak to my [family] and from the outside looking in, they immediately think, "Ya'll got the [Young Jeezy], the [Gucci Mane], the [Waka Flocka Flame]. That's what they think this is, Atlanta. But for the past five years, we've been fighting to show the world that there's actually some creative people, people who do dope shit.
So besides that, not taking away anything from the mainstream —
Corey Davis: — We fuck with it.
A.ware: [Laughs] We definitely dig it, but [there is] more than that.
DX: So Trap Rap is the most predominant sound out of Atlanta right now, even though you've got a whole bunch of other stuff going on too?
Corey Davis: Yeah, I mean that's all politics. Trap Rap, they going to have the dope money to go behind it. I know a lot of dope ass musicians, but they don't have that money or that extra push to get themselves on the radio or their shit mastered correctly, or even videos or album covers. So money always helps, but we in a turnt-up era, everybody wants to party now, so if it's not the [Electronic Dance Music], it's Trap Rap.
DX: And also right along with that, what do you think about Electronic music and Hip Hop is that the relationship that you're talking about?
A.ware: Man, we play around with every type of music. Go back to our earlier stuff, we were doing Electronic music on our project- it was called Sex on a Sunday– we experiment with that a lot. We party everywhere; we might go to a dive bar, and one of our friends that deejay, they might play [an] EDM mix of a Gucci Mane song. So it's evident, the merging is like- it's game over right now. I could name one deejay, he just dropped a mixtape called- what is it called?
Corey Davis: [The genre] is basically called "Trap-Set" and it's Trap music over EDM, and that shit be having the club going crazy.
DX: That sounds crazy.
A.ware: That's how I like to party though.
Corey Davis: Yeah I think it's good, 'cause I like what the energy of EDM brings to clubs and to parties.
A few years ago at a Hip Hop show, people [would be] just standing around and looking at the stage. We don't want our shows to be nothing like that, we like our shows to be epic, we want everyone to be partying, getting drunk. Bitches [hopping] on the stage, stage dives, our shit is epic. But that type of music brings that energy.
A.ware: Yeah we hosted this CounterPoint Music fest over the summer, it was like two months ago with A-Trak. And it was crazy, the stage that we was on with him and Donnis, we were crowd surfing and shit. It was crazy. It was beautiful. The next tour I'm on, that's the energy I want.
DX: Yeah that's refreshing for a Hip Hop show. Your most recent single from Art Rap is "Don't Play" with Gangsta Boo. What's the reaction to this track been like?
A.ware: People [are] really messin' with it, man.
Corey Davis: Yeah, it's crazy, man. It's been circulating real good. That record is dope, it's a transition from the Ratchet Shit to the Art Rap. We just didn't want to start hitting people with this crazy Smooth-Rider, Funk shit we got. It's riding them on out. So it's something that's like a conclusion to that Ratchet Shit. We going to continue making Ratchet music always, but we got a lot more to say
A.ware: Yeah, this project, Art Rap, we have some of the elements of our last album, Ratchet Shit, those elements are there but we're still bringing people into our world on our side of the project. The album that you just sit down, pop in and you just listen all the way through.
Corey Davis: You can ride to it, you can party to it, you can smoke to it, you can talk to a chick with it in the background. It blends with everything.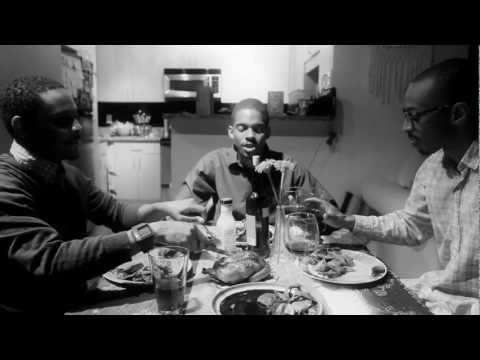 DX: You said before that you could call your genre Art Rap, do you think that also relates to the difference between this and Ratchet Shit just in terms of sound?
Corey Davis: Yeah, definitely. A lot of people didn't get that Ratchet Shit was a conceptual project. We both grew up on [Three 6 Mafia] real heavy, so we wanted to make something influenced off of that sound, which is why we have so many features from the members of Three 6.
A.ware: It was a concept.
Corey Davis: It was kind of like [Kanye West] when he did 808's and Heartbreak: it wasn't crazy-conceptual sounding, but it was like our sound of music what we make typically, it was something different. We want that Lo-Fi, late '90s sound.
So that's what we did for Ratchet Shit. And then with Art Rap, we're bringing it back around what we was doing with Sex on a Sunday and the Stepchild EP in the beginning. And it's really bringing all that shit together- the lyrical content is still very Ratchet, but it's the life we live, so of course it's going to be that. But we just pushing it sonically.
DX: And I'm just curious because on the Ratchet Shit album, you were able to work with Juicy J, Danny Brown and a bunch of other people. How did you go about contacting these people and getting them on your album?
A.ware: Well we know, 'cause we do a lot we don't do just the music. Corey's a tattoo artist, he's a painter, he does a lot of stuff —
Corey Davis: — Videographer, and we did Greedmont Park [Magazine] as well, so we doing a lot of crazy relationship shit. And the relationship with [Juicy J], first he was working with Project Pat, he was bringing him out to Atlanta for shows-
A.ware: And they had the same management.
Corey Davis: And we did a song with Pat, and it just ended up [us] doing a song with Juicy after that. And then it's a similar thing with Danny Brown and [Fool's Gold Records], we been working with those guys for awhile. We didn't know Danny personally, but we knew Fool's Gold, and when we made that record, that's kind of when XXX first came out, he was like, "Man, this would be a good fit for this song."
Everything is real organic. Bilal, that's our homie- he came to town, he's like, "Man, I got a show tonight, I want to get tatted." Came, got tatted, after the show he's like, "Let's go to the studio." So we went to the studio and recorded "Breaking my Heart."
We just try to keep things real fluid. We got some nice features on [Art Rap], we working more so with a lot of Atlanta artists, but you definitely can expect a few from Trindad on there.
DX: Just a technical question, do you have a production team, or do you just get beats from a bunch of places?
A.ware: Well on the Ratchet Shit, it was pretty much Asston Kusher. He's pretty much- I consider him part of Mach Five 'cause he's like our go-to producer. But Art Rap, he has about 5 tracks on there. But shit, man. We even have DJ Burn One on some production on this new project.
Corey Davis: We have live instrumentation. We have a lot, so with Art Rap, we working with probably 10 different producers, 'cause we wanted a more full sound, not something so consistent, so we still wanted everything to flow. So it's just like that real rider, Chicago, almost UGK-type of shit, but it's really incomparable.
A.ware: It's very interesting.
Mach Five Discusses Their Greedmont Park Magazine
DX: You've had some success in the Internet industry. Can you talk a little about Greedmont Park?
A.ware: Yeah that's our baby, man. Like [our] brainchild. One day we just- it was like when bloggers and all the [Wordpress.com] types were big with all the little blogs and stuff. And we just said, "Man, let's do something way better than all that shit." And [where] are we, like five years later?
Corey Davis: Yeah it started out as just a blog- and I think people really got to learn to be just really adaptive and instinctive. We started out like a regular blog, 'cause everybody had blogs and it was cool. Then we [were] like, "Man, what if we take this content and put it in a magazine?" So then we started laying out our magazine and putting it into publication, which took it to another level, and that was around the same time I started experimenting with the cameras. So then we started Greedmont TV, which made it become a full media network. And now with this New Atlanta Movement, most artists are coming to us 'cause they see what we've done for other artists and what we've done for ourselves, and they wanted to turn it into more of a record label/Greedmont Radio aspect, which is something we had in mind but-
A.ware: Now everybody is sort of seeing our vision without really speaking on it. It's something that me and Corey always had planned. Now it's- every other person who digs our music or anything we do, they bring it up, like, "This needs to be a label. Like Greedmont Radio."
Corey Davis: All the artists in Atlanta, they asking us to either present they show, or cover it, or present they project, premiere they video. So it's really becoming a staple for Atlanta and the South and what's going on.
DX: And you mentioned that everyone in Atlanta is checking in and you've got all these people  asking you to put stuff up on the site. Does it ever get hard to balance Mach Five stories versus other stories?
Corey Davis: Definitely, yes. Right now, of course Mach Five is our priority. We just give people guidance and teach them what we've learned, but we still very young ourselves in this game. So we just keep it going really, just trying to balance everything out. I'm a work-a-holic, so I have fun doing everything. It don't matter: someone can call me up at 2 a.m. 'cause I'm probably going to be up painting or something already, and just keep it going.
DX: After the album drops, what's next for you guys?
A.ware: Tours.
Corey Davis: Yeah, we working on our West Coast tour now, and the whole Art Rap Tour. And then a lot of visuals, we really want to push this one visually and tell a lot of stories, so we'll be dropping a lot of videos. There's probably going to be a video for every song, that's my goal, that's what I want to do.
A.ware: There's a story behind every song, so it's definitely a visual project and we want to- I feel comfortable doing a video to every song 'cause as we were recording the project, I saw [every song]. So that's not even an option.
DX: You've done a good job putting out a lot of material in a short amount of time and you've already collaborated with a good amount of people. Who is the next artist you admire that you hope you can collaborate with?
Corey Woods: Man, Andre 3000! He out here in Atlanta. Um….Pharrell.
A.ware: I want to collaborate with Flying Lotus, I've been reaching out to them