In a weird way, the name "dead prez" seems more prolific than the actual catalog of the revolutionary duo. In the 12 years since their classic entry, Let's Get Free, stic.man and M-1 have only released two additional full-length LPs – 2004's RBG: Revolutionary But Gangsta, and now Information Age, which just hit shelves in October 2012. There were a handful of mixtapes sprinkled in between, a couple of collaborative projects, and solo offerings from each, but none truly reached mass consciousness in a way indicative of their massive respect. It's easy to assess why, actually. dead prez never followed industry's new millennium rules of engagement. They never forced product for the sake of consolidated radio spins or drowned their message in a sea of internet fodder hoping to land on some suspect "Hot List." Quite the contrary. The name "dead prez" carries resolute adoration because they've always carried themselves in manner bigger than corporate-sponsored Hip Hop. Whether together or solo, M-1 and stic.man exude "edutainment" in the Chuck D-sense; in the KRS-One sense – placing quality over quantity consistently.
HipHopDX bumped into stic.man shopping for sunglasses in the Little Five Points section of Atlanta. He had a few minutes. We had tape recorders ready. He was nice enough to sit down with us for a few. In this interview in Criminal Records during A3C 2012, stic discusses "Dirty White Girl" (off of Information Age), the upcoming followup to his 2011 solo release, The Workout, and why collaborating with Nas "invigorated his craft."
HipHopDX: How you doing, sir?
stic.man: Excellent, man.
DX: Have you had a chance to take in A3C and all the festivities going down?
stic.man: You know, we performed last year with M.O.P. at A3C. We actually did a song for the soundtrack, so I'm familiar, man. I had a good time. It's good to run into y'all.
DX: It's a great energy. This is my first time in Atlanta for A3C and I'm loving everything about it. My favorite project of yours is The Workout project you released last year. I've been in the gym. I went gluten freestyle this year. I've been going to the gym everyday listening to ["Back On My Regimen (Swole Like Tookie)"]. "I cut out the liquor / Laid off the spliffs / Had a paradigm shift like I met Morpheus." What was the motivation for putting out that project?
stic.man: The shift. The real life shift. I'm three years [in of] no weed, no alcohol – plus five months. I wanted to keep myself inspired to make music and not say the same thing over and over. So choosing things from my life beyond the political views that we've done for 10 years-plus, and getting into more of my daily path as a man, husband, father. We started the RBG Fit Club to continue that motivation and to promote health and wellness from a G-perspective.
DX: Are you working on a follow up to The Workout?
stic.man: Yeah, Workout 2 for 2013 – maybe the end of January. I took a small hiatus on it because we actually got a dead prez album dropping this Tuesday, October 16. It's called, Information Age. It's me and my partner [M-1]. Our first studio album together since Revolutionary But Gangsta. I'm excited to let people hear to the new page that we're at and the new sound and just continue growth and development.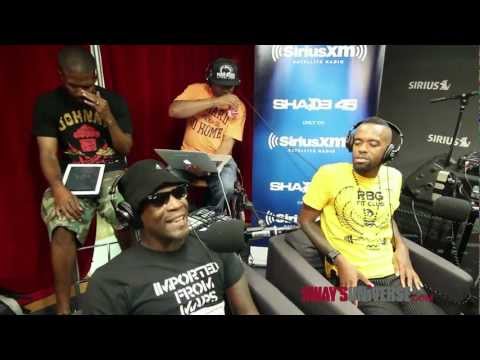 DX: If there is a track that comes to mind first when you're thinking about [Information Age] coming out, what track is that?
stic.man: "Dirty White Girl." The whole album is about awakening, consciousness in different forms. Political awakening. Spiritual awakening. The intellectual world, academic awakening. Street-wise, street knowledge awakening. They all continue growth and learning. "Dirty White Girl" stands out. It's not what the title sounds like it's about. It's actually an anti-drug song. It's just in the gangsta way that we do it and it's Rock'd-out. It's a lot of elements in one.
DX: I think you have an infectious positivity that resonates in everything that you put out. This year, there was a lot of noise on the Internet about your role in Nas' Untitled and whether you actually ghost wrote some of the rhymes on that project. Did you ever ghostwrite for Nas?
stic.man: No. I didn't. I had a blast working for one of the greatest emcees of all time. And the co-writing, idea sharing, production that I was able to do was truly an honor for me. To be in the booth with Nas and see how he just oozed style and sharpness, for me, it invigorated my craft. Certainly he doesn't need a ghostwriter, but for him to appreciate what I do enough to share some ideas and to have the opportunity to do that, that's brotherhood. That's the ultimate, man. For whoever thought up that ghostwriting stuff, that's a rumor.
Purchase Music by stic.man
Purchase Music by dead prez