Aesop Rock has announced the release of his upcoming album Skelethon, due July 10th via Rhymesayers Entertainment.
The quick-tongued rapper's new LP marks his first solo release since 2007's None Shall Pass. The self-produced project will feature guest appearances from Kimya Dawson, Allyson Baker of Dirty Ghosts, Hanni El Khatib, Nicky Fleming-Yaryan, Rob Sonic, DJ Big Wiz and the Grimace Federation.
Check the tracklist and artwork below.
1. Leisureforce
2. ZZZ Top
3. Cycles To Gehenna
4. Zero Dark Thirty
5. Fryerstarter
6. Ruby '81
7. Crows 1
8. Crows 2
9. Racing Stripes
10. 1,000 O'Clock
11. Homemade Mummy
12. Grace
13. Saturn Missiles
14. Tetra
15. Gopher Guts
[March 27]
UPDATE: Aesop Rock has released a full stream of his new album Skelethon, his first solo release in five years. Purchase the album on iTunes or Amazon, and listen to the full LP below.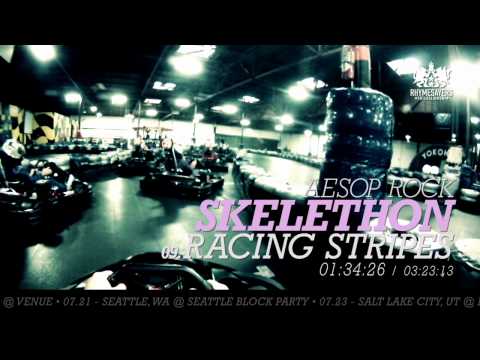 RELATED: Atmosphere, Aesop Rock, Kimya Dawson Plan Record Store Day 10″ Release