This Sunday's vocal acts are all from the five boroughs. The reigning champ of this weekly segment gets two different looks, in a week where he dropped his high-profile mixtape before taking it on the road in Austin. Joined by another dues-paid throwback-sounding emcee with a young fan-base, the two are joined by the latest crew (who also performed at a HipHopDX showcase while at South By Southwest) in the resurgence of East Coast cliques that are unpredictable as they are deep in numbers.
Action Bronson & Party Supplies featuring Roc Marciano – "Pouches Of Tuna"
I understand that I'm probably using up all of my Action Bronson write-ups on these Slept-On pieces, but until they start trafficking better (no longer "Slept-On"), I'll keep on writing about them. Over the past year or so, Action Bronson has been on his Lil Wayne-like work ethic, releasing anything and everything he possibly can. After Dr. Lecter, he went ahead and dropped Well Done with Statik Selektah, and now Blue Chips with production team Party Supplies. All (in my humble opinion) have been solid releases, showing how Bronson's sonic similarities to Ghostface Killah come second to his slick rhymes and fluid delivery. On this particular cut, he and Roc Marciano's vocals pair well with each other. Roc Marc's raspy sneaky sounding voice plays cleanup after Bronson's laid back opener. The simple violins on the beat allow the rhymes to really take center stage. I know the Wu comparisons are getting passe, but hearing these two diversified styles over an orchestrated production really does invoke some old school Wu flavor. It's good to see Action Bronson and Roc Marciano both doing their thing. Hopefully the rest of the world catches on. – Kathy Iandoli (@Kath3000)
Listen to "Pouches Of Tuna" by Action Bronson featuring Roc Marciano
Flatbush Zombies – "S.C.O.S.A."
Tupac wasn't the only thing "back" in Hip Hop last year. For someone who had the Gravediggaz, Geto Boys and "Agent Orange"-era Cage occupying the top of a skimpy list of moments when the genre has felt truly dangerous, I was shocked how qualities that I previously considered anomalies or glitches in the Matrix became downright routine by the time December rolled around. This wasn't something that was restricted to the music either. Watching the visuals that accompanied Mellowhype's "64," Mr. Muthafuckin' eXquire's "Lou Ferigno's Mad" and the Death Grip's "Beware," proved that Hip Hop could be as unsettling, unhinged and unpredictable as Black Flag or the Bad Brains.
But the aforementioned examples were ultimately trumped by Brooklyn emcees Meechy Darko and Zombie Juice along with producer Erick Arc Elliot a/k/a Flatbush Zombies. Watching their videos for "Thug Waffles" and this week's "S.C.O.S.A." (yes, the age-old pastime of "Snorting Coke Off A Stripper's Ass) causes some serious seat-shifting thanks to a contradictory pairing of grimy PCP'd out subterranean sounds and filmmaking where every cut is judicious; the location's space is used perfectly for framing and tracking; and the cinematography looks, dare I say, picturesque. Sometimes when you have artists like The Madbury Club behind the camera using slick production values to capture rhymes where sour diesel collides with the walking dead and some severed heads are sandwiched between Rowdy Roddy Piper and the DC Sniper the results are like a beautifully landed sucker punch. A lesser group would have chosen to match the words with visuals thus taking away their impact. Instead like any good Horror movie you hear the sounds and your head does the "seeing." And there's an awareness that they refused to go this route when at the very end in a wink-wink-nudge-nudge moment we really do see a stripper's ass looking like a powdered yayo donut. – Mike Sheehan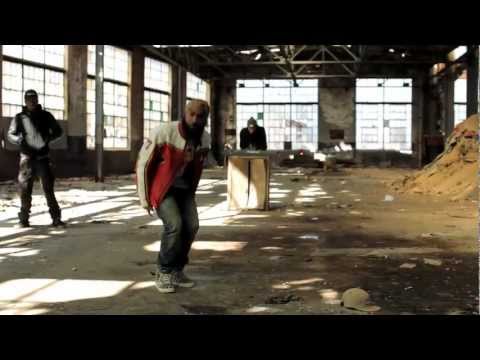 Action Bronson & Party Supplies – "Steve Wynn"
Kathy isn't the only editor at DX taken by Blue Chips. While I never completed the movie in my youth, I'm enjoying the mixtape thoroughly. At South By Southwest this week, the highlight of Bronson's showcase-to-showcase set was the Aaron Neville-sample-based cut from the just-released Complex and Reebok-sponsored tape. As Dr. Lecter showed, Bronson's at his best over groove-loops where he can just wax poetic, and Party Supplies
I also agree that it's time to put the Ghostface comparisons away. For one, I think Bronson takes himself much less seriously – especially compared to early Dennis. Secondly, the Queens emcee has many styles – evident in "Hookers At The Point" versus "Bird On A Wire." To me though, this is just right, and the live show lives every bit up to the mixtape version. Queens dirtbag, Hip Hop foodie or Las Vegas magnate, Action Bronson is the reigning champ of the first nine months of Slept-On Sundays and a dope emcee to me, shout out to his CD in my automobile presently. – Jake Paine (@Citizen__Paine)
Listen to "Steve Wynn" by Action Bronson & Party Supplies