Massillon, Ohio native Stalley is one of Rick Ross' Maybach Music's latest acquisitions. As such, the young emcee has seen his star rise, with multiple high-profile collaborations.
In an interview with irockcollege.com, the rapper gave fans a status update. "I'm doing a lot of shows, traveling around. Getting ready to go overseas, do some shows in November."
The MMG signee then went on to discuss his label situation. "Working with Rick Ross and Maybach Music has been beautiful from the first time I met Rozay. It's just been great. It feels like home. I love my situation. I love being over there, coming out with him…in front of my home state crowd, it was just beautiful. I love every minute of it."
Once on MMG, Stalley wasted no time recording with arguably the label's best-known artist, Wale. "The record with Wale came about [when] he reached out to me and had told me he had a record to get on. I told him 'Cool,' he sent over the track, I put the verse over it, and that was that. It became 'Cook Up.' We shot a video like the next day after we recorded it."
"He's a great dude, a real good dude. That's family, man," he added of the Washington, D.C.native.
"Also, I'm a big fan of K.R.I.T.," continued Stalley. "His production is crazy, he's lyrical, I'm a fan."
Watch the interview below: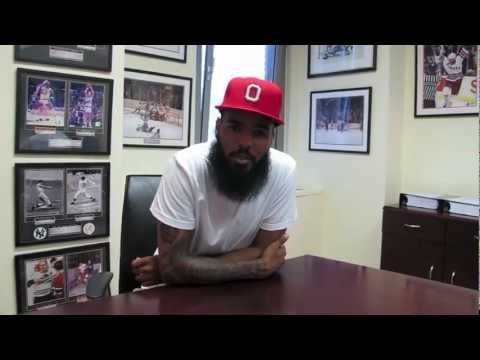 RELATED: Stalley Weighs In On Lebron James, Recalls Playing Him In High School