While Eminem, Lil Wayne, Jay-Z and Kanye West remain Rap superstars, the last two years of Hip Hop have welcomed some new blood to the conversation. Artists like Drake, Wiz Khalifa, Nicki Minaj have released major label debut albums, and conquered the charts, the radio and become household names. Others are patiently waiting, and releasing project after project on independent labels, still to be labeled "new artists."
For the second consecutive year, HipHopDX wanted to acknowledge five of these hard working, super talented new artists, that in actuality, aren't so new at all. Some have major label backing now, others remain in the underground grind. While Hip Hop continuously (and rightfully so) celebrates freshmen talent, DX opted to knight five hand-selected emcees, chosen by members of our editorial staff, that we want to be looked at as great artists, nothing new about it.
From June 4 through June 8, 2012 HipHopDX will post these celebratory editorial pieces each day, unveiling our mystery picks. Do you agree with the choices? Do you agree that they're beyond the "new artist" stigma? Weigh in.
Homeboy Sandman: School Of Health & Human Services
Hip Hop heads are constantly making comparisons. Big and 'Pac. Jay and Nas. Rakim and Kane. It's part of the grander, never-ending conversation about who the G.O.A.T. is, but the comparisons run deeper than that. In Hip Hop, biting is the cardinal sin. Though just about every emcee has been influenced by another, there's a certain threshold, a certain line in Hip Hop you just don't cross. Sure, you can hear Masta Ace and Redman in Eminem's style, but he emulated, rather than imitated, those emcees. Of course, with a thousand mini-Jay-Z and Nas mini-me's running around, this long-standing edict hasn't exactly been followed. It does, however, continue to drive the dialogue amongst the fans.
Homeboy Sandman is an emcee that defies comparison. "There's definitely throwback qualities in the tracks he chooses to that era of sampling, but I don't look at Sandman as a rapper who over-fantasizes the Golden Era of Hip Hop or anything like that. He's progressive in my opinion," says Peanut Butter Wolf, founder of Stones Throw Records, the label that Boy Sand now calls home. Sure, elements of the DXnext alum's style and abilities can call to mind certain emcees. His everyman accessibility can elicit nods to any number of Def Jukies or Rhymesayers artists, while his insistence on having his voice be the focal point of whatever cut he's on was something Eminem was once known for. Still, the totality of Homeboy Sandman's essence as emcee eludes comparison. The intelligence of his rhetoric comes not from hyper-intellectual rhymes about political conspiracies or mythology; rather, it comes from his being a keen, thoughtful observer of the world around him. So what qualities does Peanut Butter Wolf hear in Sandman that led to his signing? "Confidence. Wordplay. Energy. Positivity. Edutainment."
One such example of HBS' seamless mixture of these qualities is found on "Mean Mug" from 2010's The Good Sun, which pokes fun at Hip Hop's tendency toward the hyper-aggressive:
"Mean mug, indecent mug / Peace and love, listen up / Why is your mean mug so prominent? / Are you proud of it? / I don't want no part of it / I don't want to pound on it / I just want to ponder it, why is it so preponderant?/ It's important to find out what's the point of it / I'm not in support of it / At what point do you appoint it / You do know that its poisonous not poignant / Have you deployed it at your place of employment? / If so, which position have you been appointed? / Would you pose with it for a portrait? / That'd be unfortunate / Is it reinforced uh, is it porcelain?"
Rather than make clumsy overtures about "the state of Hip Hop" or other needlessly grandeur notions, Homeboy Sandman's cut about the ice grill uses humor and self-awareness (he readily admits that he's not about that life) to get across a discrete concept in an accessible manner.
What that truly makes Homeboy Sandman stand apart from his peers is his love of and dedication to the craft. For him, rapping has never been a hustle—it's a career. Interestingly, Jay-Z's "I'm not a rapper, I'm a hustler who can rap" mantra is one of Hip Hop's most misappropriated. Jay tried desperately for a decade to get into the Rap game, all the while sustaining himself with his other pursuits. But while Hov's saying was, in reality, more of a "reject-them-because-they-reject-me" sentiment, an entire generation interpreted it to be mean that emceeing isn't a skill that's meant to be mastered; it's simply another stepping stone towards greater riches. That mentality has fewer artists truly seeking to hone their skills, and more looking to sign a lucrative deal with a clothing line. But make no mistake—for Homeboy Sandman, emceeing is craft, and the everlasting pursuit of excellence through craftsmanship is his profession.
Another entry from The Good Sun, "Yeah But I Can Rhyme Though," perfectly captures HBS' essence in this respect. Throughout the song, Sandman presents a stream of consciousness that plays out like an internal dialogue:
"Um, you're not exactly a backpacker / You're not a gangbanger, you're not a swagger rapper / You're not a hustler, but you're not a slacker / Not a half-stepper, but you're not a cappa / You're not a trappa even though you kept a Trapper Keeper / You don't hug the block or smoke a lot of reefer / You're not a pimp, you're not a hipster, even though you got a lot of sneakers / You don't fit into a box (Yeah, but I can rhyme, though)."
The sheer brilliance of the concept lies in the fact that, while one side of the dialogue goes to great depths to assert why someone like Boy Sand doesn't have a place in Hip Hop, Sandman simply replies with his ultimate truth, "Yeah, but I can rhyme, though."
Anyone that's ever checked a Spider-Man comic book knows that the thing that makes him such a fan favorite isn't necessarily the Websligner's superpowers, but that Spider-Man is always Peter Parker. Whether the mask is on or off, Spidey can't help but be a wisecracking nerd, even while he's saving the world. Homeboy Sandman is Angel Del Villar II from Queens, with or without a mic in his hand. He's an Ivy League-educated man, he has a quirky sense of humor, and he astutely scrutinizes his surroundings. "Hold Your Head" from this year's Chimera EP is a prime example of this, where Sandman reveals that he shares many of the same insecurities as everyone else: the fear of mediocrity, the feeling of abandonment, the fact that "Kanye got you mad at your Rav-4." The visuals that accompany the song serve to provide listeners with an even deeper understanding of the song's theme of the fruitlessness of regret: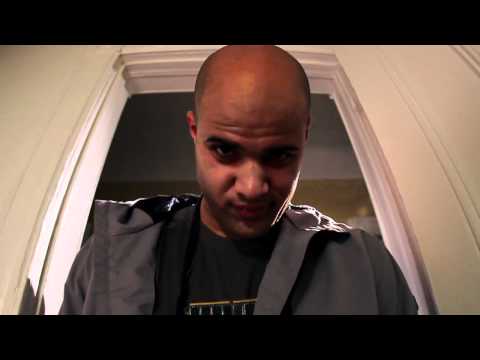 Phrases like "breath of fresh air" get tossed around so much that we've become desensitized to them, but it's hard to describe Homeboy Sandman as anything but. His skill set, dedication, humor, intelligence, and self-reflective approach to music qualify him as one of today's must-listen artists. With two EPs in 2012 and numerous other physical and digital releases in the can dating back to 2007, there's plenty for those uninitiated to explore. For those that do seek his music out, they will be rewarded with some of the most thoughtful music of any genre made in recent memory.
RELATED: HipHopDX's 2012 Graduating Class: Kendrick Lamar and Action Bronson.
HipHopDX's 2011 Graduating Class: REKS, Fashawn, Vado, Curren$y and Freddie Gibbs.
Purchase Music by Homeboy Sandman
" target="_blank">Purchase Music by Homeboy Sandman
Slava Kuperstein is an Ellicott City, Maryland native by way of Odessa, Ukraine who has been writing for HipHopDX since 2006. Follow him on Twitter @SlavaK87.