With so much uncertainty in the world, music fans are in search of a simpler time. Almost nothing brings back early 2000s nostalgia like the idea of mixtapes. The distinction between albums, mixtapes and EPs seems to get blurred more and with each year that passes. Some artists claim they released a mixtape despite it being a studio LP and others will label a 15-track project an EP. Simply put, there's not much rhyme or reason anymore.
But whether it's just a label or artists releasing mixtapes and EPs in the traditional sense, plenty of these projects are still being delivered despite the ambiguity. HipHopDX is compiling the best of the best in an effort to help fans keep track of what drops in 2021.
Best Mixtapes and EPs of 2021 (December – July)
Contributing writers: Trent Clark, Kyle Eustice, Josh Svetz, Dana Scott, David Brake, Devon Jefferson & Jeremy Hecht.
Sin City – Ski Mask The Slump God
Ski Mask The Slump God has dealt with countless tragedies; the commodification and collapse of the once trailblazing South Florida SoundCloud rap scene and the mounting deaths of his friends Juice WRLD and, his closest confidant and collaborator, XXXTENTACION. He admitted how much these unfortunate events have affected him creatively and psychologically, leading to a lack of output. But he's found the motivation to return to the studio and create the music that once made him one of the most beloved rappers out of the scene, dually respected by fans and critics.
Sin City is not a return to form, nor is it an evolution of Ski's skills. Instead, it's comparable to Metallica's St. Anger, an album that needed to be made to keep the band together. But unlike St. Anger, Sin City isn't a wallowing slog of unhappiness and unaddressed familial issues. Ski Mask hops on the mic with his signature speed rapping gymnastics and colorful cartoonish charisma. The tape is rough, raw and at times demo quality, such as the XXX-style acoustic ballad "Lost In Time." But there's also glimpses of the motormouth, carefree punchline and reference factory Ski Mask that helped rise him to prominence, like the Kenny Beats-produced "Merlin's Staff" and the re-link with Ronny J "The Matrix."
Sometimes in order to get back to form artists need a blank canvas to throw paint at. For Ski Mask, Sin City is the rough draft to let him work through his issues, hopefully one day leading him to realize the potential many believe has yet to blossom.
Sheep Hate Goats – Chris Crack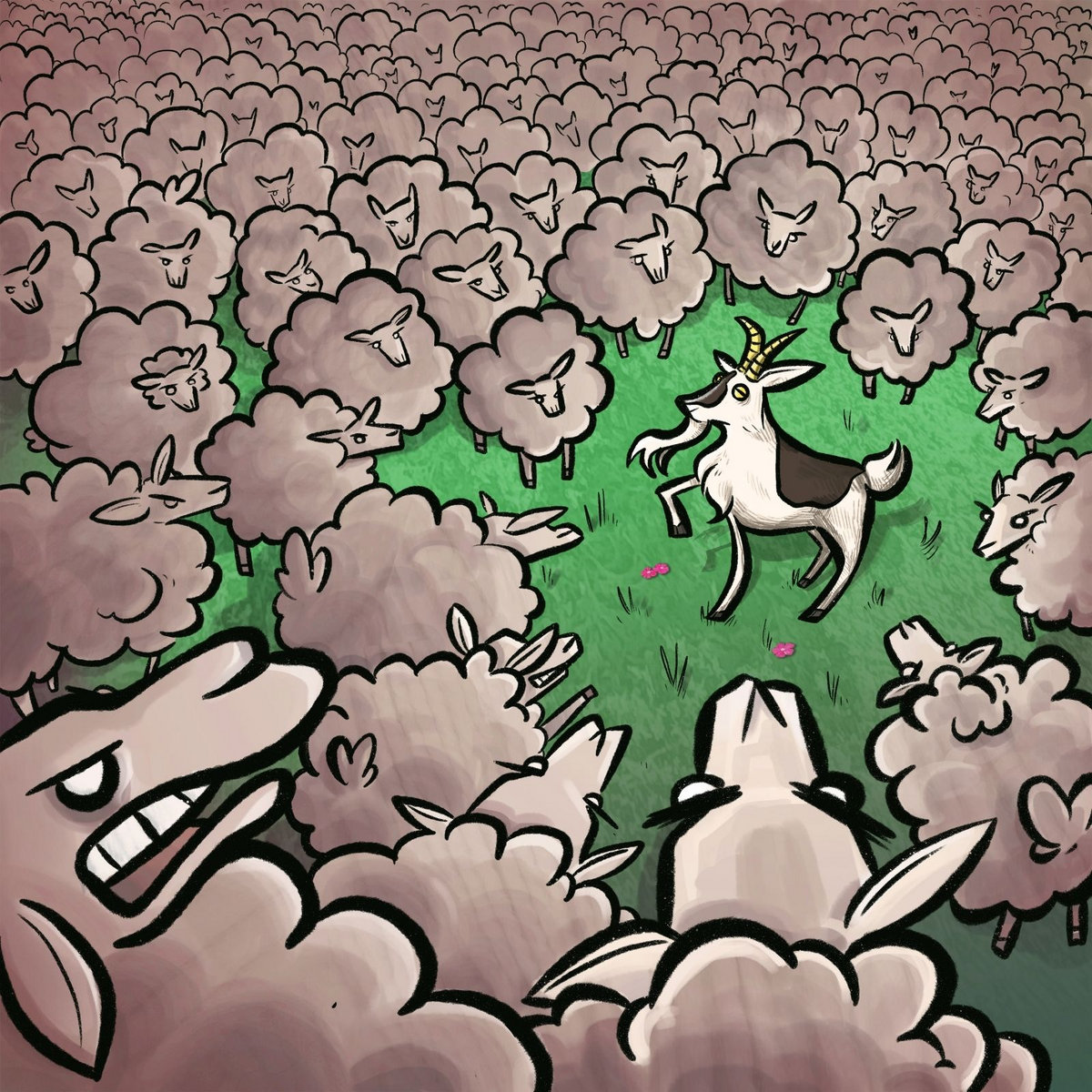 Twisted and mystical, Chris Crack occupies a distinctive lane in Hip Hop. The Chicago MC's latest, Sheep Hate Goats, is full of the esoteric lyrics and unique cadences fans have grown to love in the years since his first full-length LP, Public Domain 4. But Crack has taken time to improve his formula despite his rapid output. His bars have become more introspective and poignant, and his delivery more nimble and electric.
Crack's humor is razor-sharp on Sheep Hate Goats. Track titles such as "Side Pussy Might Save The Marriage" and "Braided Booty Hair " keep him at the top of the mantle as the king of song titles. The raucous lyrics which run through the project also delight: "I told you I'm a big dog so get the pooper scooper," Crack raps on "Don't Check Up On Me, I'm Good." The absurdity within the vignettes Crack presents fades away behind his sharp writing, making Sheep Hate Goats a raunchy but thoughtful ride.
F*CK YOUR FEELINGS – Dro Kenji
From one of Internet Money's hottest prospects, Dro Kenji, comes F*CK YOUR FEELINGS, a 15-track effort full of a post-SoundCloud blend of rageful bars and delicate, emotional crooning. Beginning with the brazen "I'M RICH NOW BITCH!," a toxic party featuring Kenji flexing his overdue success, F*CK YOUR FEELINGS is flush with youthful pride and energy from the South Carolina rapper.
A clear student of Juice WRLD and XXXTENTACION, Kenji finds the perfect balance between homage and individuality, at times embodying the melodic sounds of Juice while remaining staunchly himself. Highlights of F*CK YOUR FEELINGS include the chart-ready "SUPERSTAR" and the quick raps of "TRANCE." With a team of superstar producers at his back, Kenji is ready for rap's center stage.
BOY ANONYMOUS – Paris Texas
 Within music criticism, the term 'genre bending' is often used without hesitation. The over-saturation has led the term to lose most meaning, but if there was ever a time it warranted usage, it's when describing the mysterious and earth-shattering rap duo Paris Texas. Hailing from Los Angeles, Paris Texas burst onto the scene with "HEAVY METAL" earlier this year, and now they've solidified their foothold with their debut EP, BOY ANONYMOUS. 
Dripping with a wide range of influences from punk to underground Lo-Fi Hip Hop, BOY ANONYMOUS is a bold foray into rap's landscape while remaining focused on their mission. The soft and distorted sounds of the opening "CASINO" sets the tone for the rest of the project. Ethereal melodies paired with hard and noisy fuzz creates an unsettling but invigorating sound for the project's 22 minutes. Easily one of rap's most thrilling prospects, Paris Texas is here to stay and we can't wait to see what comes next.
1 Night I Took Acid – BIGBABYGUCCI
 Taking acid can be an empowering experience of clarity and understanding but, dually, a nightmarish introspective battle where your demons and insecurities manifest into hallucinogenic obstacles. Many artists have tried to synthesize the sensations of a transformative trip with varying degrees of success. For every Acid Rap there's an Indicud. But BIGBABYGUCCI's latest mixtape, 1 Night I Took Acid, focuses on experiencing the highs and lows of a revelatory trip, with one foot still in reality. He balances these psychedelic elements with an eclectic blend of digicore, pop-punk, chopped n screwed, dance and trap music.
The harsher ominous beats of "Tuesday" produce visions of thunderstorms and lover turmoil, while "Waste Your Time" is a warped, overly intoxicated night at the club. "Dinero" sounds like the music playing during a high-speed night cruise entering a dimly lit tunnel, and "Money Machine Madness" evokes the feeling of settling into the trip. Although Gucci finds moments of ecstasy, real world problems like a loss of self identity, depression and being betrayed by a lover creep into his good time. It's a fresh mind-bending experience of escapism and introspection: It's just a shame Timothy Leary isn't here to co-sign it.
Fallen Angel – Taleban Dooda
 All rappers should aim to have a debut project as cohesive, focused and disruptive as Taleban Dooda's Fallen Angel. Dooda raps in a melodic style and has an affinity for flexing his range. Even at the age of nineteen, the Florida rapper looks towards the future: instead of chasing trends and honing the project towards one particular sound, Dooda opts for a sampler of various styles, from the cinematic lead single "Chosen" featuring T9ine to the street-centric "Trappin' Ain't Dead" with 42 Dugg.
Clear highlights of the project include the ATL Jacob produced "Finish Him" with Tm88 and "Demon Time," but you can't go wrong with any of Fallen Angel's seventeen tracks.
Benbow Crescent – Cochise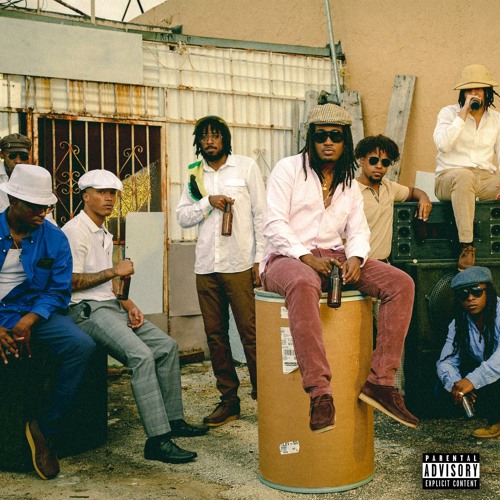 It's been nearly two years since Florida MC Cochise's life changed forever upon the release of "Red Head" and "Hatchback," two tracks which showcased the young rapper's talents on the mic and captivated millions of listeners through the intoxicating joy he exudes when creating music. After signing a deal with Columbia Records, Cochise has just released Benbow Crescent, his debut full-length project.
Cochise's ability to adapt to the various production style on Benbow Crescent is on full display: on the opening track, "PROTEIN/CREATINE" he sounds like Lil Keed, overflowing with energy, his voice crackling as it attacks the microphone. On "Usopp," it appears Cochise borrowed some pages from Pi'erre Bourne's playbook, bouncing across an anime-inspired beat from Nonbruh and Dee B. But the album's greatest moments come when Cochise begins to discover his own voice, like on the playful "Knicks."
SZNZ
– Mother Nature
It's clear SZNZ from Chicago rap duo Mother Nature was one of April's most ferocious mixtapes based on the opening track "ANTISOCIAL" alone. Comprised of rappers Klevah and TRUTH, Mother Nature tapped producer Boathouse to handle the entirety of the mixtape's instrumentals, leaving SZNZ sounding cohesive and tightly knit. The rappers in Mother Nature, also fiercely outspoken advocates for the city of Chicago, sound hungry and driven, murdering instrumentals with ease and unafraid to experiment. The duo also landed features from Cool Kids' Sir Michael Rocks, Brittney Carter and Valee for the excellent collaboration titled "GOOFIEZ." Keep an eye on Mother Nature as the year progresses for what's next as the duo continues to tap into their potential.
Rookie Of The Year – Lil Eazzyy
Chicago rap artist Lil Eazzy was literally "Onna Come Up" before the co-sign from G-Herbo and his deal with Atlantic Records, after he dropped his seven-track Underrated mixtape last year featuring the original version of his viral-hit single "Onna Come Up" — that landed him on Rolling Stone's Breakthrough 25 Chart. In a move clearly rooted in building his legacy and claiming his title as the most valuable newcomer of 2021, Lil Eazzy further confirms the hype surrounding his viral rise on his 14-track Rookie Of The Year effort. With minimal features including G-Herbo and Tay Keith, Lil Eazzy commands the sonic stage as a true star of the show and adds to his already piped-up assemblage of bangers with track such as "Spinnin" and "Ride Together."
"Just Until…" – Cordae
Those who have been paying attention have seen rapper Cordae mature from a promising rapper in the YBN crew to a standalone superstar capable of making waves in the Hip Hop sphere on the strength of his own talents. Just Until…., the most recent release from the Raleigh-born, Maryland-raised rapper, is a four-song taste of what's to come. Featuring only Young Thug and A Tribe Called Quest's Q-Tip, Cordae's Just Until…. contains a wide range of sounds for being only four tracks. Where "More Life" featuring Q-Tip is an introspective look at how far the young rapper has come, the Thugger-assisted "Wassup," produced by Take a Daytrip, 18YOMAN and LEN 20, is full of flexing. On "Thornton Street," Cordae mentions an album is on its way, so watch out for new music from The Lost Boy mastermind. 
Zaytoven Presents: Fo15 – Zaytoven
Zaytoven has become a creative galvanizing force, maneuvering between his numerous artist project collaborations with a universally transferable element of dopeness following in his path following each leap. In 2018, he and Lecrae answered to a higher calling on their Let The Trap Say Amen project. Zaytoven followed up with his 2019 Bad Azz Zay collab with Boosie Badazz and then again last year after assembling artists such as Lil Yachty, Lil Keed, Lil Gotit, Chief Keef, 147 Calboy and more on his A-Team  and Pack Just Landed Vol 2. compilation albums.
The super producer is doing it all over again — this time harnessing the thermodynamic talent of emerging rappers within the bubbling calderon of the Bay Area's music scene on the San Francisco area code-appreciating Zaytoven Presents: Fo15 compilation mixtape. The 10-track release feature rising artists Lil Yee, ZayBang, KxNG LLAMA, Prezi and Lil Bean — who form Fo15.
Pretty Summer Playlist Season 1
– Saweetie
Even though Saweetie has been criticized by industry gatekeepers like Ebro Darden, the Warner Records rapper has also been embraced by countless super stars, such as Cardi B who has indicated her interest in collaborating on a "Rap queen" project with Saweetie. Not to mention her notable link up with Doja Cat for their pre-summer hit "Best Friend" or her recent genre-bending feature on Gwen Stefani's "Slow Clap" single, Saweetie is earning her stripes, and the respect of her peers with each release and subsequent reach across the table. Thus is the case with her Pretty Summer Playlist Season 1 project which she says is all about shining a light on talent she views as "Next Up." Season 1 of the plahylist features Drakeo The Ruler, BbyAfrica and Kendra Jae, among others.
Armani EP – JAHMED
Scary Hours 2 – Drake
In 2021, Drake's only competition is himself. He's been at such an elite level of artistry and fame for so long, that few artists are even comparable. Instead, each Drake release must be judged against his own discography: while 2020's Dark Lane Demo Tapes was not a bad album, it couldn't hold a flame to the rest of the 6 God's catalogue, detracting from the overall value. Scary Hours 2, Drake's latest drop, is rock-solid, even compared to his previous releases. Three songs and two guest features, Scary Hours 2 brought Drake yet another record: he became the first artist in history to debut at all three of Billboard's Hot 100, an almost unbelievable feat. "What's Next" places Drake over a dramatic, synth-heavy beat as Drizzy essentially states that he doesn't know what's coming next, but he's sure it won't let you down. "Wants and Needs," brings together Lil Baby for the first time since 2018's "Yes Indeed." On "Lemon Pepper Freestyle," Drake digs into his past, delivering emotive lyrics in the Toronto artist's signature melodic flow with a nostalgic feature from Rick Ross. If this is just Drake's warm up, the rap game should beware.
ONCE APON A TIME – CHIKA
NOTHING is IDEAL – whiterosemoxie
2020 offerings white ceilings and grae ceilings might have landed whiterosemoxie on new radars, but the Detroit youngster's latest EP NOTHING is IDEAL places him in a new conversation entirely. One of 300 Entertainment's rising stars, whiterosemoxie bends the sounds of digital SoundCloud-era rap with a melodic flow. The four tracks featured on NOTHING is IDEAL might only clock-in at eleven minutes but is massive in impact. One could compare whiterosemoxie's singing to the late XXXTENTACION, but he also shows signs of influence from artists such as Post Malone and Frank Ocean. Though he might share similar tendencies with the popular artists, tracks such as "0006TeslaSpaceForce" and "The Skript" sound uniquely like himself.
Ox – Gabe 'Nandez
To New York rapper Gabe 'Nandez, the Ox is a symbol of strength, stability and determination. It also mirrors the style of the iconic Ruff Ryders collective, headed by DMX, Eve and The LOX. As New York's sound shifts away from the hard-hitting gruff attitude of the Ruff Ryders and settles into Brooklyn Drill and Griselda's coke rap aesthetic, there's an open door for a rabid pitbull to pay homage to the the ryde or die lifestyle. Enter the well-traveled 'Nandez, a student of the game whose favorite era of rap happens to be the Ruff Ryders' prime. On his latest EP OX, 'Nandez flexes his lyrical dexterity with an unrelenting flow that sounds like he's spitting 16s from the stoop. Instead of mimicking DMX's bark or Jadakiss' snarl, he combines his poetic flow with their Five Boroughs grit, delivering a project of pure, unfiltered street raps. Whether he's weaving together references to DragonBall Z, Lyoto Machida and Derek Jeter in rapid succession on the title track, or gritting through his teeth as he dodges questions from the feds on "Sphinx," 'Nandez never runs out of metaphors, similes and allusions to narrate his odyssey.
100 Miles & Walk'in – Rx Papi
Rx Papi raps like he's trapped in a never-ending Adult Swim infomercial at 5 a.m. The first few songs on 100 Miles & Walk'in such as "Rush Hour" and "Yucc" are filled with Papi delivering lines about cooking crack, getting high and walking in this bitch so much his FitBit is scolding him. For a while, it seems like Papi will just continue with these absurdist punchlines without a care. But as the project unfolds, he begins to tell stories about his fractured mental state and past traumatic events, growing more anxious as he delves deeper into his nightmares. He details a night where he was almost shot and killed after performing on "I Got A Show Tonight" and tries to cope with his paranoia on "One Last Dance." The tension builds as Papi's raps grow darker and more disturbing, reaching the peak on the jarring account of an unsettling out-of-body experience on "Dead Man's Letters." Like Too Many Cooks and Unedited Footage Of A Bear, Papi delivers a disturbing, absurd and morbidly funny ride, leaving the listener unsure if they're supposed to laugh or cry.
Only The Generals II – Kevin Gates
More than two-years removed from Kevin Gates' I'm Him effort, the Bread Winners Association bossman makes his long-awaited return with his regal Only The Generals II mixtape. Gates expands the silhouette of the project, which he laid out the blueprint for in 2019 on the six tracks embedded in Only The Generals Gon Understand, with six additional tracks featuring a surprisingly worldly perspective and a vernacular that is more vulgar than ever. Led by the melodic audio-fantasy "Plug Daughter 2," Gates takes his BWA fans on a dense sonic journey  littered with playlist-ready gems such as "Wishing In Morocco" and "Puerto Rico Love." More than ever, the Only The Generals II mixtape proves Gates is still as entertaining and filled with outlandish bars as he always has been.
Unfuckwitable – Babyface Ray
Nothing bothers Babyface Ray. The Detroit-bred rapper shrugs at making $100,000 in a day, women throwing themselves at him and receiving death threats. From being trailed by the cops to sleeping on air mattresses to survive, Babyface Ray remains unfazed in every situation, good or bad. It's this apathy that makes his latest EP — aptly titled Unfuckwitable — tick. On the surface, Unfuckwitable is the typical project every rapper that blows up the year before releases. It's the tape where the rapper goes over his come up and reacts to his newfound wealth and fame. But it's Babyface Ray's ability to narrate these circumstances with a calm indifference that keeps Unfuckwitbale from falling into the common trope. Whether he's blowing Empire Records earnings on "Like Daisy Lane" or stealing a hater's girl on "If You Know You Know," Ray raps without concern. The one time he does peel back the veil on "Change You," he remains unshaken even as he details losing his friend to jail and how a former lover didn't believe in his talent. At any moment during the EP, you get the feeling Ray could cash out his label advance and never pick up the mic again. And even though that's not going to happen, the image of a rap star who doesn't care about being a rap star is one of the reasons Ray is so compelling.   
Lyrics to GO, Vol. 2 — Kota the Friend
Since 2018's Anything, Brooklyn rapper Kota the Friend has been a vital component of New York's Lo-Fi underground, pumping reimagined boom bap through the five boroughs and beyond. Born Avery Jones, the 28-year-old MC has become a fan favorite for his DIY aesthetic and crisp, narrative-based bars. On his latest mixtape, Lyrics to GO, Vol. 2, Kota makes his way through a lush soundscape of rolling piano loops and airy hi-hats. Clocking in at only fifteen minutes, Lyrics to GO, Vol. 2, is a refreshing EP, that evokes the warm air of spring in Brooklyn — a much needed escape from the frozen city landscape in which everyone is currently stuck.
Almost Home — AKTHESAVIOR
AKTHESAVIOR, one half of underground New York rap duo The Underachievers, had a productive 2020, releasing both FLATBU$H ¥EN and Almost Home, a diverse collection of songs that marks a departure from the sounds of his previous solo releases. Fans are presented with moody, ethereal tracks, which the Brooklyn-based rapper glides over with ease. Featured on the record is a familiar assembly of Brooklyn's underground rap scene, with appearances from The Flatbush Zombies, Pro Era's Chuck Strangers and burgeoning artist Kenneth Cash. Of course, there's still the running themes of spirituality and anime which have permeated many of his previous tracks. Almost Home is an excellent example of a rapper's ability to adapt with the times and push their personal craft into unforeseen places.
The World Is Lucki's — LUCKI
Nobody quite sounds like LUCKI, the 24-year-old rapper from Chicago. Even at his young age, he's been remarkably prolific, steadily releasing mixtapes since the age of seventeen. So the confidence he exhibits on The World Is Lucki's is understandable. His latest clocks in at only three tracks but contains not a single skip-able moment. The "Nashcar Dashcar" rapper raps over a cohesive bunch of beats from Wavywess, Okami202, BrentRambo, ggedgar and TheCrazyPart. Lilting behind the cinematic beats, LUCKI spits in a stream-of-consciousness that's reminiscent of drill rap with a West Coast sonic palette. As fans digest The World Is Lucki's, the wait begins for Flawless Like Me, LUCKI's forthcoming full-length album.
After The Rain — Yung Baby Tate
Atlanta's Yung Baby Tate has been dropping glammed-up bangers since 2018's BOYS, but she's never sounded more confident in her sound than on After The Rain, which dropped midway through last December. The lead single, "I Am" featuring Flo Millli dominated on TikTok and has amassed nearly eight million streams on Spotify alone. With her legions of Gen Z fans (who self-identify as 'tots') YBT enters 2021 with an unbridled momentum. All eyes are on the 24-year-old as she continues to push further into stardom.
The Alpha Jerk — KEY! & Tony Seltzer
Atlanta rapper KEY! and Brooklyn-based producer Tony Seltzer make for one of the most exciting duos currently in rap. Where many single-producer albums let the beatmaker fall by the wayside for the rapper's gain, The Alpha Jerk is a true collaboration. KEY! and Seltzer continuously push each other to new boundaries — and the result is the best music of both of their respective careers. KEY! has always operated just outside of mainstream Atlanta sounds, taking bits and pieces and reimagining them through his own eclectic vision. While "Like That" and "My Puppy" are surely highlights, the entire 40-minute listen is a remarkably enjoyable experience.