Nike is doing everything they can to distance themselves from A$AP Bari. The company reportedly cut ties with the A$AP Mob co-founder in light of a disturbing video showing Bari sexual assaulting an unknown woman.
In the video, a naked woman is seen trying to escape a perilous situation in a hotel room. Bari is heard shouting "You fucked my assistant, now you're going to suck my dick."
Bari's VLONE clothing brand teamed up with Nike last year to produce exclusive versions of the Air Force 1 sneakers for ComplexCon. The rare shoes garnered a bid of $94,700 on eBay. More Nike and VLONE collaborations were in the works, but those have obviously come to a screeching halt.
(This article has been updated. It was originally published on July 13, 2017).
Some serious allegations were brought against A$AP Bari — co-founder of the A$AP Mob and creative force behind the VLONE clothing brand — on Thursday (July 13). Bari (real name Jabari Shelton) was in London last week to host a VLONE pop-up shop and allegedly held by U.K. authorities in connection to sexual assault charges at some point during the trip. The rumored assault was partially captured in a graphic video that began circulating the internet on Wednesday (July 12).
Bari has issued a statement to Billboard adamantly denying there was an assault or that he was held by U.K. authorities. He added that the issue was "amicably" resolved.
"A misleading video clip featuring adult content and activity has been released to the public without my knowledge or consent," Bari said. "Comments about myself or anyone being detained or arrested are false. We have resolved this issue amicably among all parties as adults. We were friends before this and will remain friends afterwards.
"Being raised by strong women who taught me to respect everyone, I'm disappointed in the situation as well as myself and will reflect on the situation appropriately," he added.
Warning: Graphic Video
Originally posted by Instagram user @soledout, the video showed Bari demanding oral sex from a seemingly upset naked woman.
"You fucked my assistant, now you're going to suck my dick," said Bari.
"No, no, stop it … Bari, honestly stop," responds the woman as she attempts to flee the room. The 15-second clip ends with the man smacking the woman's rear and shouting, "Shut the fuck up bitch."
Although it's difficult to come to a concrete conclusion, a Twitter user who claims to be the woman in the video added her narrative in two tweets.
"I was forced into bed by Bari and his crew and Bari got upset because I refused to engage in any sexual acts," she wrote on Wednesday (July 12).
That claim has yet to be confirmed and the Twitter user @chasinfoodstmps is a private account that has yet to be verified as the actual victim in the video.
In an Instagram image posted three days ago, Bari appears to be wearing the exact same outfit as the man in the video, suggesting the incident took place at some point on either July 9 or 10.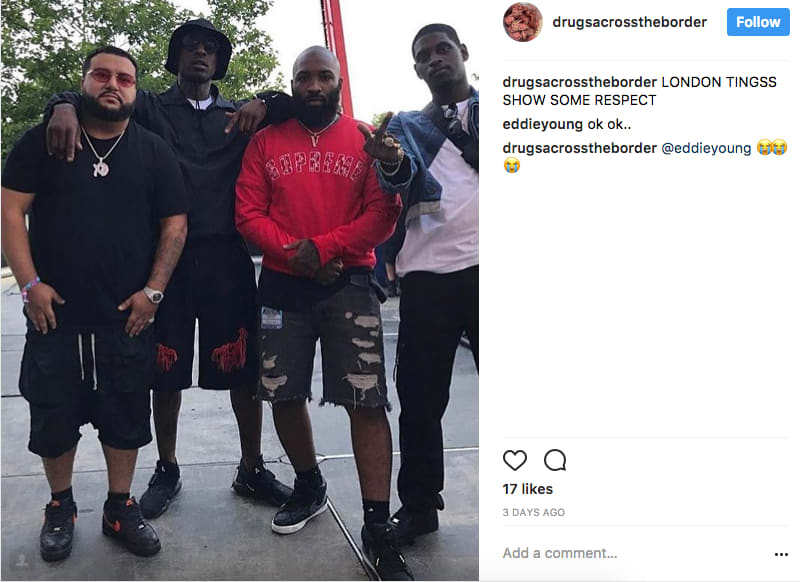 Bari has maintained his innocence since this whole debacle kicked off. In two since-deleted tweets, he wrote, "Cmon Fake The Fake Edit Videos" and "Y'all Gotta Do Better," more evidence Bari clearly denies he was detained by the authorities.
Ian Connor, a one-time fashion adviser for artists like Kanye West and A$AP Rocky who got into a fight with Bari last year in Paris, shared his thoughts on the revelation. We should also note his account was tagged in the posts by the alleged victim.
Tables Have Turnt?

— Ian Connor (@souljaian) July 13, 2017
I'm About To Upload A Video, I Was Waiting For This Day For So Long.

The Universe Gives and Takes but I Knew This Day Would Come.

— Ian Connor (@souljaian) July 13, 2017
Connor's comments about the "tables turning" stem from rape allegations brought against him in June 2016. In fact, the Daily Beast called him the Bill Cosby of the of the fashion world due to the shocking number of woman accusing him of the crime. Amber Rose told Daily Beast — in a separate interview —  that she personally spoke to 21 women who were raped by Connor.
Though Connor alluded to having some type of video, he appears to have changed his mind and come to a more mature decision to "be a better human being."
Being A Better Me.

No Negatives.

I'll Walk Away.

— Ian Connor (@souljaian) July 13, 2017
Revenge Don't Even Feel Good.

All This Shit Is Sad Too Be Honest.

My Heart Not Built To See Someone Do or Get Done Bad No Matter What.

— Ian Connor (@souljaian) July 13, 2017
And Still I Don't Care Too, Even Though He Tried To Do Mine.

I Just Wanna Be A Better Human Being. https://t.co/aHkaXa6ADq

— Ian Connor (@souljaian) July 13, 2017
VLONE unveiled a collaborative Nike Air Force 1 earlier this year that was celebrated by the sneaker community. Two days ago, VLONE also re-released pieces from its Tupac by VLONE capsule and shared a re-up of a much-hyped Scarface shirt.
It remains to be seen how this situation will affect the VLONE brand.