Fresh off the release of September's E.B.A.H. (Evil Brain, Angel Heart), rapper Tech N9ne is back at it with a new project titled Boiling Point. Now, in a recent interview with HotNewHipHop, the Strange Music impresario gave a few details about his upcoming EP. Although he kept tight-lipped about the impending release, which is due out this October 30, Tecca Nina promised fans that Boiling Point will be a darker affair than E.B.A.H.
"It's like this…[my next project is] gonna be like another EP," he revealed. "It's gonna be darker, and it's probably gonna be on Halloween – I don't know."
Tech also reacted to his recent inclusion on The Source's Power 30 list, which also included the likes of Jay-Z and Rick Ross. He said that it was an honor to grace the list as an independent artist, and it's a sign that people are really responding to Strange Music's ethos.
"It's a beautiful thing because we're independent and we use our own money, me and Travis O'Guin," he said. "To see all our work and all our dreams come to fruition – it's a beautiful thing to look and see Jay-Z, Tech N9ne and then Rick Ross and Russell Simmons [on the same list]. That means I'm doing something good and right."
Check out the full interview below.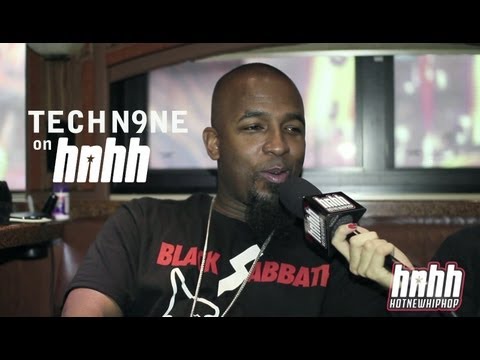 RELATED: Tech N9ne "Boiling Point" EP Cover Art & Release Date