Lecrae is caught between two worlds.
The co-founder of powerhouse Reach Records is struggling to straddle the fence between secular Rap's aversion to any "Jesus talk" and the religious Rap world's sometimes snobbish dismissal of religion-less Hip Hop.  
The first Christian artist to perform as part of BET's Hip Hop Awards Cypher is hoping to bridge that gap with his first-ever mixtape, the Don Cannon-hosted Church Clothes. The free release now available for download at DatPiff.com is an organic yet simultaneously strategic serving for the streets, boasting high-powered production from the likes of 9th Wonder, S1 and Boi-1da, that should ensure those who have yet to cop a copy of Lecrae's certified classic 2008 album, Rebel, or any of his previous (dating back to 2004's Real Talk) or subsequent offerings (including last year's highest charting Christian Hip Hop album ever, Rehab: The Overdose) will certainly be checking for the Houston native's next musical ministry, Gravity, this fall.
HipHopDX spoke to Lecrae yesterday (May 10th), shortly after his tape began its rapid ascent to the nearly 100,000 download mark in a matter of mere hours. The 116 Clique frontman proceeded to provide a breakdown of a few of the 18 tracks on his all-original material mix, illuminating his intentions with a seemingly slanderous verse name-checking four star spitters and explaining why Wu-Tang Clan can rap about religion but he can't. The barrier-breaking emcee concluded his discussion with DX by revealing his role in helping a former cocaine-laced lyricist find his way to God.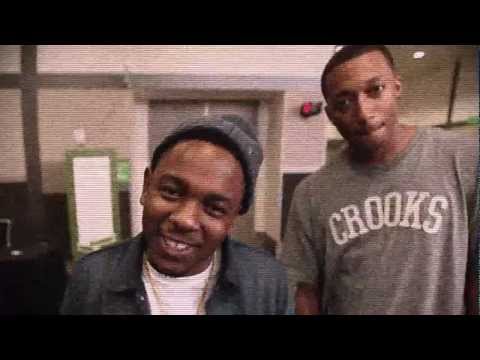 HipHopDX: First off, speak a bit on the concept of the title-track.
Lecrae: It's really just exposing the hypocrisy on both sides of the fence. You got individuals who never wanna speak about the hypocrisy in religion and in church. And, that's a deterrent for a lot of people is the hypocrisy. But then, on the other side of the fence, you got individuals who say, "Well, if y'all gon' be messed up, I'ma be messed up," without investigating to see if there is actually a community of people who really don't wyle out ….
DX: And you were basically saying that hypocrisy in the church shouldn't keep folks away from Christianity?

Lecrae: Yeah, absolutely. I deal with it on a regular basis, with me being a Hip Hop artist and a Christian. And so people [in the church] see me and they immediately say, "Oh you got visible tattoos, and you got Hip Hop clothes on." So they instantly judge me right alongside all the Hip Hop that is misogynistic or violent. And I'm not like that, but I catch the flack for that. So it's the same type of thing.   
DX: Well let me inquire a little bit about your own possible hypocrisy. Is there porn on Lecrae's laptop? [Laughs]
Lecrae: Nah, nah, nah. [Laughs] I was kind of speaking in third person [in the song]. But, the reality is that there's a lot of people who think that being a Christian means that you're perfect and you have it all together. And that's not reality. So, has Lecrae ever struggled with pornography? Absolutely. And so I'm a work in progress.
DX: I know your lyrical aim is to not come off as holier-than-thou, but do you worry at all that the self-examination that you ask folks to do of themselves in your rhymes throughout this mixtape might come across as a sort of moral certitude that'll turn some listeners off?
Lecrae: Yeah, I'm sure it will. And that's not my intention, but everybody's at a different place. And everybody has presuppositions, [but] I think if they give me a chance and actually sit with the mixtape for a second they'll see I'm not somebody who has it all together.
The whole point of Church Clothes is to say not to put on airs. Don't put on airs for me, don't put on airs for God. I'm definitely gonna accept you as you are, and that's definitely God's agenda as well.
DX: I don't know if you know but you may have unintentionally turned off fans of a few of the biggest names in the game with your line on "Gimme A Second": "Cole talk that college talk / Wayne talk gangs, Jay be talkin' money, mayne, and 'Ye talk fame / And people say I talk about the same ol' thang." Were you really trying to say with that line that Jay-Z, J. Cole, Kanye West and Lil Wayne all only rap about "the same ol' thang"?
Lecrae: Nah, I was just articulating that there's a consistency in their rhymes about those things but they don't catch any flack for that. Like, you'll hear J. Cole more than once talk about college, Sallie Mae loans and so on and so forth, you'll consistently hear [Lil] Wayne reference his gang, and [Jay-Z], money and [Kanye West] the woes of his fame, but nobody ever gives them flack because that consistently pops up in their subject matter. Yet, if my faith consistently pops up in my subject matter I get flack for it.
DX: Another line of yours that really jumped out at me was from the very first track on the tape, "Co-Sign": "If Wu-Tang can spit Five Percent gems, I can talk about him who died for my sins." Do you believe there's a double standard that's existed in Hip Hop over the years that's condemned rhyming about Christianity while accepting Islamic-influenced verses?
Lecrae: Absolutely. And some of it's probably Christians fault, I'll be honest. Some of it is probably the holier-than-thou, the nose turned up in the air caricatures that have dominated Christianity. I said in "Church Clothes" about "Al and Jesse don't speak for me." A lot of people see Christianity as those are the caricatures that fit the model, and I'm a different picture. I'm something clearly different. [But] I think there is a double standard where it's like that's [still] unacceptable, and you easily get shafted because of your Christian views.      
DX: And you think the Five Percenters have been a little more subtle maybe, not as overreaching in their message?
Lecrae: Well, you can go all the way back to Brand Nubian, which was overt, or the messages of X-Clan and it was acceptable. But I think a lot of that had to do with their fight in the struggle for the urban [community]. And that's really what I'm trying to come off as as well.
So if you listen to the context of my project, songs like "Cold World" where it's like, man, I'm concerned about our culture, our society … I liken myself to a young Dr. Martin Luther King. Like, nobody was really up in arms that he was a Christian because he was for the people. And that's really how I feel like I represent; I'm for the people.
DX: I wanna wrap up this quick Q&A by talking about your talks with your "Darkest Hour" collaborator, No Malice. Is it true that he sought you out to discuss his conversion to Christianity?
Lecrae: Yeah, he did. I mean, from his perspective [No Malice has] been an individual who's had lofty thoughts of God. That's why every [Clipse] project – Lord Willin' – had those type of spiritual references. But he hit me up just saying like, "As of late, man, I'm really serious about this." And so he just called me to kinda build a relationship and to talk and to just form a bond and work through some of those issues. And it's been dope.
DX: Did you ever think you'd be in that position to artists, being sort of their spiritual advisor?
Lecrae: Honestly, that's really one of my hopes is to be at least a [model] of that in culture. Like, people respect Bun B and I respect Bun B because of how he's stepped into education. So you know you can talk to Bun B about issues outside of Hip Hop. And that's kind of one of my aspirations is to be an individual who says, Man look, I have something to bring to the table in regards to faith and Christianity within Hip Hop culture, and so if you're looking for that within Hip Hop – The same with Rev Run. You know Rev. Run for Hip Hop but you know you can also step to him outside of that and talk to him about things of faith and spirituality.
DX: And it should be noted before we go that you're not just motivating rappers, you basically are the musical motivation behind a bunch of athletes. You got Jeremy Lin showing love, and I saw you had a Twitter exchange with Tim Tebow. All you need is a baseball player now and you'll be mentioned on SportsCenter year-round. [Laughs]  
Lecrae: [Laughs] Yeah man, those [guys] are family. And I salute them because they're bold enough to stand for what they believe in. And in the same way nobody looks at Jeremy Lin as a Christian like, "Oh, he's a Christian basketball player" and they look at him as a basketball player who happens to be a Christian, hopefully that trend will change in Hip Hop and they'll see me as a Hip Hop artist who [happens to be] a Christian as well. So some of the stigmas and presuppositions will fade away.
Purchase Music by Lecrae
Purchase Music by 116 Clique
RELATED:Trip Lee Breaks Down The Good Life, Meeting LeCrae In 2004