What's really good? Reach Records rapper Trip Lee's answer might surprise you. On the verge of the release of his fourth solo album, the Dallas, Texas native talks with HipHopDX about The Good Life, passing LeCrae a mixtape that he subsequently believes was wack, the upcoming Unashamed documentary and his time at a breakthrough South by Southwest showcase.
HipHopDX: Tell us about The Good Life.
Trip Lee:The Good Life is my fourth album. It comes out Tuesday, April 10, and I'm really excited about it. It's my fourth solo album. And with this concept of The Good Life, I know everybody has an opinion of what the good life is, especially Hip Hop. Hip Hop has very strong opinions about what the good life is. So I actually wanted to do a whole album where I actually challenge people's ideas about what the good life is, and paint little snapshots of what I think the good life is, you know, what it means to actually live the way we were created to live.
I did that through a lot of different angles on this album. I got a song called "Robot," where I say that I'm not a robot and I don't have to be like everybody else. Basically, I've been freed not to live in light of lies. I have a song called I'm Good with LeCrae talking about how we're rooted and we're grounded in something deeper. All these different things I use to paint different snapshots of what the good life is.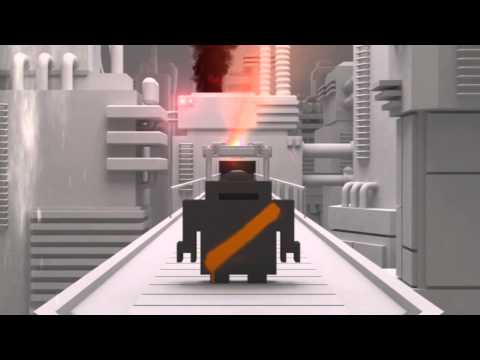 DX: And there's a video game for the "Robot" single, right?
Trip Lee: Yeah, we did a video game for "Robot."
DX: And you finally beat the game?
Trip Lee: It's a hard game, man. You would think it'd be nice and easy. That mug is a little hard. It's fun, man. People have been enjoying it, and hopefully it brings home that "Robot" point.
DX: What do you hope people take away from this album?
Trip Lee: I hope that people walk away from this album with their ideas of what the good life is challenged, and I hoped they leave challenged by the way we were created to live in light of truth instead of living in the light of lies. You know, I can just remember thinking that the good life was trying to stack as much paper as I could, get as many females as I could, or whatever, then my eyes were opened to the truth. I don't want to live in light of those lies anymore. I actually want to pursue what I know is true. I hope it challenges people to live the way we were created to live.
DX: So many of the most recognizable names in Christian Hip Hop are found on the Reach Records label. What's it like being an artist on Reach?
Trip Lee: I love being an artist on Reach [Records]. There's not another group of dudes I would love to work with more, you know. I've been privileged to be part of this since it first started eight years ago now. I love Reach. I feel like the Lord has opened doors for us to do some stuff we'd never thought we'd do, to have platforms we never thought we have. We're really grateful for that. And I don't think that it's just 'cause we're tight. I do think the Lord has given us gifts. He's just been really gracious to us in that sense.
I'm really glad to be a part of Reach Records. I hope the Lord continues to open those doors.  I think the new dudes we got signed to  the label, too – Pro, K.B. Andy [Mineo] – I mean these dudes are killing it.  One thing I love about Reach is that everybody is a beast. Everybody can spit. We don't have a weak artist. A lot of crews have that weak artist, but I don't think we do. I'm grateful for that, and I love rapping with these dudes.
DX: Just talk about how you met LeCrae and what that relationship is actually like now.
Trip Lee: I met LeCrae in about 2004. I met him at a concert, and I loved it. I found a way to connect with him afterwards. You know, I had done this mixtape that I would probably be very disappointed if anybody heard right now. It's not good,  but I thought it was good. I was doing this little mixtape release party, and I found a way to get connected with him. I asked him if he would come and rap. This is before anyone even knew who we were for real. He came out and he rapped; him and Tedashii did. I just built a relationship with him after that.
He asked me basically if anyone was mentoring me. Both of us were Christians. And I wanted to continue to grow in following God. He was one of the dudes that was really instrumental in me being a man of God and teaching me stuff. I was really appreciative of that. Our relationship has evolved over the years from mentor-mentee to just peers serving alongside each other. But I'm really grateful for that dude. The Lord really used him in my life.
DX: Speaking of opportunities you never thought you would have had, talk about your experience at South by Southwest.
Trip Lee: It was good, man. I didn't get to be there for the whole week like most of the dudes did. I was coming off a tour. But my time that I was there, I loved it, man. That's one of the environments I would love to be in more, just among great music and among the music industry, where we could just continue to infiltrate that more and more being around mainstream stuff.
The showcase itself, I didn't know what to expect at first. We were the first quote-unquote "Christian label" able to have a showcase at South By Southwest. I didn't want to assume it was going to be crazy, but, you know, the line was wrapped around the corner outside. It was crazy. It was a crazy concert. I thought it went really well. And I was just really grateful for that. I was just hoping – I know a lot of our fans were there – I was just hoping that some people that were not fans of us or some people who may even have a different worldview would peek in, hear what we had to say, and kind of check us out. So often people don't want to give us a chance. They think, "Oh, Christian Rap." They put us in some little box where we're "not tight" and our music is "corny." They won't give us a chance. If they listened to the music, the music would speak for itself. We actually do good music.
On top of that, we have something to say. I'm hoping it was that kind of opportunity and some people got to check us out. I hope we get the opportunity to do it again. We loved it, and I would love to be there for the whole week and be able to link and network and connect with more folks.
I know people who had been there all week like LeCrae and Andy got to network and connect with a bunch of dudes in the Hip Hop community. We don't want to be off in our own corner somewhere. That's never been our goal. We want to be part of the Hip Hop community, and we also want to impact the Hip Hop community.  That's what we want to do.
DX: What is the state of Christian Hip Hop right now?
Trip Lee: I think, you know, some people think of Christian Hip Hop as its own genre. Some people don't. You know, I think it could go either way. If you want to think of it as a genre, that's fine. Or if you want to think of it as there's some people within Hip Hop who are Christians, who are intentionally communicating from a Christian worldview, that's how I would probably describe myself. And I think among those Christians in Hip Hop intentionally communicating Christian worldview, I think the doors are opened wider than they've ever been. When you think about how many dudes are dropping albums, and at the very least, people are really paying attention to them.
They're hitting charts, and up in blogs, that kind of stuff, now the "New & Noteworthy" on iTunes; that's cool, man. I think about albums that have come out recently like Swoope's [Wake Up] album or RMG's [Welcome To The Family] album, where they have gotten some love on iTunes and some different places. That excites me, man. And you think about LeCrae's album coming out. He's got this [Church Clothes] mixtape coming out with Don Cannon. The platform continues to widen and widen and widen.
What I would like to see is Christians in Hip Hop, I would like to see us do good music. I would like so see us strive for excellence in the music that we do, so people can see that just because you're Christian doesn't mean your music has to be wack. One of my things the whole time I've been doing music is, "Yes, I'm a Christian, and yes, I even intentionally communicate truth about God, but that doesn't mean my music has to be wack." I want my music to be tight.  I have to work harder than other people, because I already have two strikes against me, because I love Jesus. And I'm going to be unashamed of that in my music. People are going to put me in that box. I know I got to work harder for my music to be good. I want Christian Hip Hop to do that.
In addition, I want dudes that are Christians within Hip Hop to also not be ashamed of who we are; to intentionally communicate who are and what our worldview is and try to make an impact in the world and in Hip Hop.
DX: You grew up in Dallas, in Cowboys' country. Now you're in Washington D. C., Redskins' territory. Talk about how you landed in D.C.
Trip Lee:  Yeah, I grew up in Dallas. I love Dallas. It still feels like home to me in so many ways. I can't shake the Dallas in me. I moved to Philadelphia in 2006. I went to college in Philly, and I spent four-and-a-half to five years there. It was a good season for me in Philly; good schooling, good training and I met my wife there.
Then I moved to D.C. a year-and-a-half ago; January of last year. I actually moved here to do an internship with a church. Then I just decided to stick around. I thought it was a good place for my family to be.
I like D.C. I mean, I am in enemy territory. It's a lot of  Redskins fans out here hatin'. [Laughs] I was walking down the street with a Cowboys hat on. I thought this dude was fittin' to roll up on me and take me out. He just wanted to boo me. The receptionist at the doctor's office boos me when I walk in, so you know I'm being brave with my life right now.
DX: You've been all over almost the whole NFC East in Dallas, Philadelphia and Washington. What's next for you?
Trip Lee: The Good Life is coming out April 10. I'm excited about that. I'm doing The Good Life Tour. It will be me, Swoope and some special guests in different cities. The Good Life Tour, I'm really excited about that. Swoope is a beast. I'm excited to go on tour with this new music, and a live band, giving people the music in a way they haven't heard it before.
I really have a desire to put on great shows, so I'm preparing for that. I'm writing a book that goes along with the album. The book is going to be called The Good Life. That's coming soon. I'm very excited about that. The album, like I said, it takes little snapshots of what I think the good life is, but the book will be able to give a thorough explanation.
It will be a book anybody could read and ask themselves, "What is the good life?" and "How can I live the good life?" Like I said, we've been told so many lies about it that I want to help us get to the truth about what the good life is. Those are things that are next for me.
Another thing is my wife and I have been married for three years and we have a son on the way. That's the most important thing that's going to be going on with me next. Praise God for my wife, and I am so excited to be able to have a son and be able to raise him.
Purchase Music by Trip Lee