While in Austin, Texas for SXSW, Machine Gun Kelly spoke with infamous interviewer Nardwuar, who surprised the Cleveland, Ohio native with a handful of records. During the chat, Nardwuar handed over an autographed Anti-Flag album, which MGK claimed was one of his favorite bands as a kid.
"This was probably one of my favorite bands growing up, definitely a huge influence on me in middle school. I fought to get the theme song for our DVD we have coming out. God dude, this is fucking nuts," he said, giving Nardwuar a hug.
He also accepted a copy of Ludacris' Word of Mouf album, which he says was one of the first rap albums he ever heard.
"I was actually on a road trip and me and my friend were in the backseat. His dad was taking us. In my CD player was Limp Bizkit, Chocolate Starfish and the Hotdog Flavored Water. And in his CD player was this record right here. He was like, 'Dude switch with me.' And we switched and I listened to this, and I heard 'Roll Out' and everything else on here. I was like, man, fuck that shit, I'm going to listen to this. This and DMX were what started me up. "
Watch the full interview below.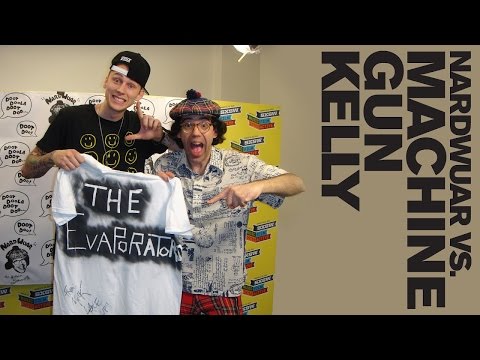 RELATED: Mac Miller & Machine Gun Kelly Discuss Garnering mtvU Woodie Award Nominations