Hex Murda's resume basically reads like a who's who of Detroit Hip Hop talent. In addition to managing Guilty Simpson and Carlisle Von, he co-manages Random Axe, Black Milk, and Danny Brown. He also served as executive producer for Random Axe, Tronic, Caltroit, The Preface, and Point of No Return.
In 2009, Hex survived a Pontine Stroke, which carries with it a 7% survival rate. But that hasn't stopped one of the most prominent figures in Detroit Hip Hop from maintaining his craft (as well as brutalizing some of his favorite targets on Twitter via his account, @hexmurda).
Hex recently chopped it up with HipHopDX to discuss parallels between modern-day Detroit and New York in the early 90s, which artists from the D fans are sleeping on, and slew of other topics, some of which stray from his beloved Rock City.
HipHopDX: You occasionally address this a bit via Twitter, so I hope I'm not overstepping my bounds, but how is your recovery progressing?

Hex Murda: First of all, Big Proof and J.Dilla forever. I'm still fucked up. Still in a wheelchair, still can't talk normal, but still here. Fuck it.

DX: I often hear comparisons between where Detroit Hip Hop is right now and where New York Hip Hop was in '94: raw, gritty emceeing and production. Is that a fair comparison in your opinion, or is it a limiting one?

Hex Murda: I think that's a fair comparison. Especially the way some Detroit niggas rhyme. They really emphasize lyrics and the art of emceeing. Even some of the production can be traced through Dilla to New York based influences like Pete Rock and DJ Premier. Others are heavily influenced by early West Coast shit. But make no mistake, this is muthafuckin' Motown. Whatever sound they choose, they make it work.
DX: How did you get started with ShowOFF Radio and Shade 45?

Hex Murda: I've known Statik Selektah for years and he wanted me on his show from the dumb shit he saw me tweeting. He uses a computer to give me a voice, and voila. I'm on your radio popping shit. Actually my dog Rude Jude, who I've known even longer than Statik, was trying to get me on his show the All Out Show, but Statik came with the MacGyver / Mission Impossible shit for me to be heard first. Shout out to my Showoff niggas. Statik, SammyNeedles, Valerie Lora, Wais P, Saybz, Bedlam, and Wreck. And to Shade45 Sirius/XM. Paul Rosenberg, Reef, Mills, Jude, Sear, Al Lindstrom, Tony Toca, Sway, Devi Dev, Evil Dee, Matt Fastow, etc.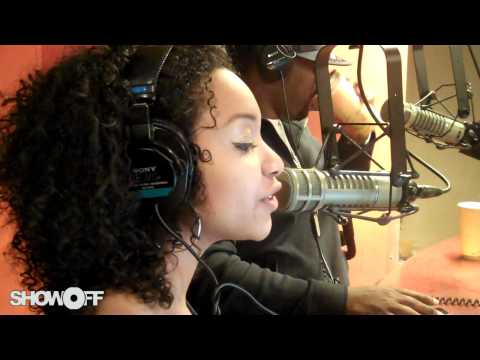 DX: A few months ago, you and I shared on Twitter the somewhat unpopular opinion that the best emcee to ever come out of Queens is not Nas, but is in fact Pharoahe Monch. What makes Pharoahe such a talent, in your opinion?

Hex Murda: That nigga Pharoahe Monch is the total emcee to me. His lyrics and his content are on some astronomical shit. And his live show with Boogie Blind, [Mela] Machinko, Lenesha Randolph or Showtyme is awe-inspiring. You can definitely tell why he's one of the greats. I ain't the biggest Nas fan, anyway. As far as Queens emcees go, I would probably take Prodigy or Kool G.Rap over Nas. It ain't his fault; dog just can't top Illmatic.
DX: Speaking of Nas, I'd like to briefly turn to Elzhi's ELMatic. Many were skeptical of what Elzhi could bring to the table by revisiting Illmatic, which is often regarded as Hip Hop's best album, but it was met with considerable acclaim. What do you think made it such a success?

Hex Murda: Elzhi can rhyme his ass off, flat out. Niggas had to respect his otherworldly ability as an emcee. With that said I'm not a proponent of rappers re-doing other rappers albums. I don't give a fuck how you flip someone else's LP, its still that person's shit. There are very few emcees skilled enough to pull this off, Elzhi just happens to be one. I myself say leave the classics alone. I heard Ready To Die when BIG did it, I don't need to hear Yung Lil Generic Jones give it a whirl.
DX: When we last interviewed you, you had mixed feelings about Eminem's Relapse album. Did you think differently of Recovery?

Hex Murda: Eminem hit Recovery out of the park. Relapse only had about three records I really fucked with: "Underground," "Medicine Ball," and 'Beautiful." I let Recovery play in its entirety with no skips, and it stayed in the disc changer, along with How I Got Over and the Random Axe CD before it was released. To me, Recovery is the best Eminem album since The Marshall Mathers LP. Understand this: when you're listening to Eminem you're listening to one of the greats. For real.
DX: Which artist do you feel no one is talking about, but everyone needs to be up on?

Hex Murda: Well, I'm from Detroit so I can't name just one. Everyone pretty much loves or hates Danny Brown by now. I'll have to say either Carlisle Von or Fat Ray. Von has had some records posted on this very site, and Fat Ray had a collaboration album with Black Milk called "The SetUp" that niggas NyQuiled on. That shit's crazy.
DX: With Bad Meets Evil's Hell: The Sequel, Black and Brown, Elmatic, Random Axe, Success is Certain and the Slaugtherhouse EP all making waves, would you call 2011 a breakout year for Detroit Hip Hop?

Hex Murda: I dunno if it was as much a breakout year as much as it was a defining year.This year we kinda just kicked up a little dust and let niggas know where we stand. I won't call it a breakout year until Detroit artists chart high and their lives change. It was definitely a breakout year for Royce, because [Bad Meets Evil] charted high [and] he received a plaque. Eminem unleashed that man upon the mainstream and he served notice that he was in the building. Now the dust has settled and everybody is back around their respective cauldrons brewing up some shit.
DX: Any chance you of and Big Ghostfase collaborating to review the next Drake release?

Hex Murda: Naw, that's my man Ghost's lane. He's got an affinity for that shit. And just to clear up any misconceptions – I don't hate Drake. I never even met the nigga. I just think he makes Monistat Music.
DX: You're evidently a big football fan. Where do you see the Lions ending up this season?

Hex Murda: Definitely a big fan of both the Michigan Wolverines and the Detroit Lions. I'm also a realist. The Lions are 7-3 with home games left against Green Bay, the Chargers, and Vikings, and away games versus the Saints, the Raiders, and Green Bay again. In my opinion, the best case scenario is some sort of split of the last six games, resulting in a 10-6 finish and a playoff berth, which is what I'm hoping for.
DX: Anything else that the world needs to hear?

Hex Murda: Fuck the world.
DX: Thanks for your time.

Hex Murda: Fuck you.