After what both he and Nas described as a very organic collaboration in Distant Relatives, Damian Marley found himself in somewhat unfamiliar territory with Mick Jagger, Joss Stone, A.R. Rahman and Dave Stewart as part of the group SuperHeavy. Nonetheless, Marley sounds as if the project was a positive encounter.
"For me, it was a great experience to get together and experiment with other musicians," Marley told Billboard. "I wasn't familiar with everyone else's music before the project."
Jagger added that the night before the group initially went into the studio for the first time, they didn't have any finished songs. Stewart and Jagger admitted the prospect of having no finished material was "a bit worrying," but purposely opted for that method in hopes of fostering a more collaborative spirit among all involved. Perhaps the strategy worked, as Jagger found himself entering new territory behind the microphone. He was spitting rhymes.
"I was just copying Damian," Jagger told The Hollywood Reporter. "I do a little bit…I went toasting, we call it, but it is the same thing [as Rap]. Damian was doing this really good toasting, West Indian rapping, so I thought, 'I could do that. It can't be that difficult.' It actually was quite difficult. With a bit of practice, it is all right. It is a laugh."
There may have been another element to help overcome the difficulty. Jagger recently told GQ there were plenty of libations on hand during the recording process.
"Because one martini turns into two, you know," Jagger explained. "That would begin the party sequence of the day. Everyone in the control room dancing."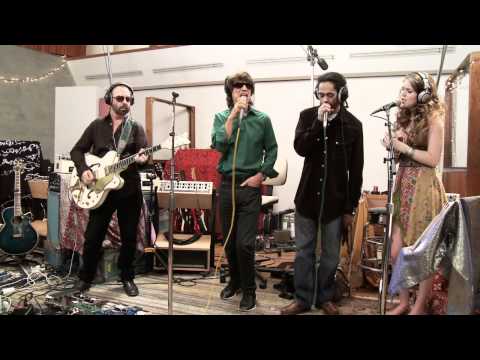 RELATED: Damian Marley Forms Supergroup With Mick Jagger, Joss Stone