As Valentine's Day approaches, I expect to be bombarded by every manner of Hip Hop love song from LL Cool J's "I Need Love" up to the latest Drake fare. It makes for an interesting discussion because Hip Hop love songs are polarizing. While all Hip Hop love songs are clearly not created equal, both the artists that create then and the listeners they're intend for have an interest in either romance and/or sex. So we end up with a myriad of songs dedicated to both topics. Artists like LL Cool J, Fabolous—and more recently, Drake—can seemingly dedicate half their career to creating popular songs that explore matters of the heart. Common sense dictates that these songs also appeal to the lesbian, gay and transgender community too. But, as it currently stands, Nicki Minaj is the closest thing Hip Hop has to a Lady Gaga type artist that openly courts the LBGT community. But that's another editorial for another day.
For my money, I'll always prefer innovative Hip Hop love songs that at least fool me into sounding sincere. But regardless of the kind of Hip Hop love song you or I might prefer, there are likely exceptions that blur the lines. I'm interested in the friction caused when the decidedly masculine genre of Hip Hop tackles affairs of the heart. I'd go further and argue that there are essentially three main factors that spawn the Hip Hop love song: increasing one's money/status, attracting fans with sex appeal and a genuine interest in creating works that explore love and/or sex.
The Dilemma Of Radio Appeal
"R&B studs kill me with they hardcore ballads / Love songs that's violent / Them niggas whole style is salad / I hate to staple the singles together / But in my head it's been ringing forever / And a day / If you grew up on Marvin Gaye / Why all you sing is booty this / And freak me ba-bay…" –Common, "Real Nigga Quotes."
According to the Recording Industry Association of America's 10-year Consumer Trends Report, women have been purchasing more music than men in all genres during seven of the last 10 years. Generally, the gap has been no larger than 3%. I wonder if such reports are the reason labels or artists themselves feel the need to keep churning out these horrible songs. After all, 3% becomes a rather large number when you're talking about the billions of dollars spent on legal music purchases.
There's a commonly held belief among many decision makers in the recording industry that two things will always win—appealing to young women, and making music as simple and catchy as possible. Yet, no one in the recording industry has been able to prove that women are more likely to buy a single or an album if it is geared toward what people assume they like. If you've ever seen an Immortal Technique or M.O.P. show packed with women, then that "female friendly" line of thinking outlined above seems rather insulting, right? In 2011, with the respective examples of Lupe Fiasco and J. Cole, I saw how making simple, stereotypically "female friendly" material can impact an emcees bottom line.
For the last two years, I've had both a professional and a personal interest in J. Cole's career. The people that regularly visit HipHopDX like him, but I'm also a casual fan of his music. While I still think Cole is a dope emcee, I became less of a fan after hearing "Work Out," "Can't Get Enough" and the album that spawned those two singles. I suspected someone at Roc Nation pressured him into making such material, but I was wrong. Luckily, Cole does a lot of press. So there's no need to guess why he made "Work Out" and "Can't Get Enough," because he had enough balls to tell everyone why.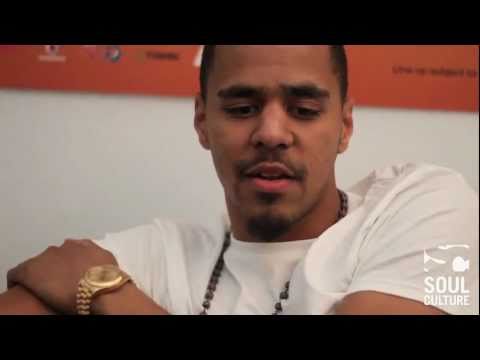 "Sometimes as a fan, what you expected your favorite artist to do is not what's always best for them," Cole explained in an interview with SoulCulture UK. "I've seen the comments like, 'Man, why didn't you come out with a real record where you was really rapping hard as your first single?' And I'm like, 'My man, it's called 'Who Dat.' I did that last year; it didn't work. Do you hear 'Who Dat' on the radio or in the club? I love 'Who Dat,' and I'll perform that song for the rest of my life. But the fact is that could only get you so much…What I've learned allowed me to make a record like 'Work Out,' which is radio-friendly, club friendly and summertime friendly. But if you wanna ride around listening to just Rap shit, I have 'Return of Simba' for you. I have a lot of things for you."
Lupe Fiasco And J. Cole's Complex Compromise
"Turn it to the radio / Listen for a minute / Yo G stick a fuckin' tape in it / 'Cause all the radio do is bang old / Fat R&B love triangle / Now if you're out there kickin' it with the brothers / You don't care about lovers / You wanna hear a young nigga on the mic going buckwild / Going and flowin' and throwin' new styles…" –Ice Cube, "Turn Off The Radio."
Conversely, Lupe Fiasco's LASERS is an example of an artist begrudgingly making simpler, more catchy music. While it seems pretty clear to me that Cole's "Work Out" and "Can't Get Enough" targeted one kind of female listener while also achieving the stated goals of simplicity and repetition, Lupe either didn't want to or couldn't adhere to the stereotypical "female friendly" formula. Lupe wisely passed on singles such as "Nothin' On You," but many felt some of his LASERS singles were out of character. Those feelings were confirmed when Lupe went on record with Details magazine, Complex.com and the Chicago Sun-Times detailing his frustrations.
"I was specifically told don't rap too deep on this record," Lupe told the Sun-Times. "That was a specific order from the top. 'You're rapping too fast or too slow, or it's too complex.'"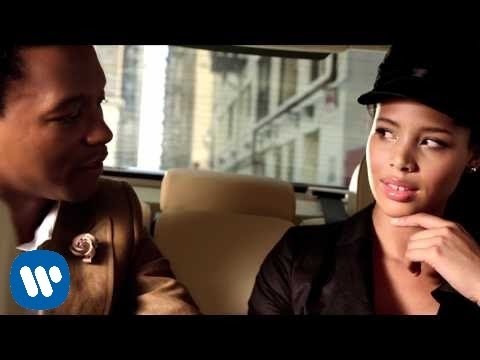 For what it's worth, both Lupe Fiasco's forced compromise and J. Cole's voluntary, strategic compromise achieved their respective goals. Sales numbers are far from being totally objective, but they're a good indicator. In terms of the numbers, Cole's right. "Work Out" is still currently on the charts. Since being released in June of 2011, it's been on Billboard magazine's Hot 100 singles chart for 22 weeks and has peaked at the number 13 spot. "Work Out" has been certified as a gold-selling single by the RIAA after moving over 500,000 copies. Conversely, "Who Dat" disappeared from the charts after 13 weeks, and it failed to crack the top 20 after peaking at the number 32 spot on the Hot 100. If you prefer a more complex take from Cole, there's "Too Deep For The Intro" or "Girl Of My Dreams."
In Lupe's case, Atlantic got a more marketable record, as LASERS has gone on to enjoy commercial success—with "The Show Goes On" reaching multiplatinum status. Even the visibly forced Hip Hop love song "Out Of My Head" managed to spend nine weeks on the Hot 100 while peaking at the number 40 spot.
Both Cole and Lupe have likely gained some followers to supplement the core fans he may have lost by "not being too deep." And while I think these watered down love songs are poor representations of Lupe and Cole's lyrical abilities, that's completely subjective. The millions of people that paid for those songs obviously feel differently on the matter. If more emcees were as forthright and honest in their interviews as Lupe and J. Cole, I suspect we'd find the same holds true of many of the Hip Hop love songs we hear on the radio.
The Rise Of Drake And The Hip Hop Dandy
"What up / To all rappers shut up / With your shuttin' up keep a shirt on / At least a button up / Yuck / Is they rhymers or strippin' males / Out of work jerks / Since they shut down Chippendales…" –MF DOOM, "Beef Rap."
Before going any further, I should remind anyone still reading that everything prior to and after this point are strictly my opinions. I may try to support them with anecdotal evidence or statistics, but I'm not trying to pass any of them off as universal truths. That being said, I think the worst purveyor of the current Hip Hop love song is the dandy. Much like the dandy archetype laid out in Robert Greene's The Art of Seduction, the Hip Hop dandy draws the attention of female fans and the ire of male ones. If you think I'm hinting at the likes of Drake and LL Cool J, you're correct.
Drake isn't oblivious to the criticism either. On "Lord Knows," he rhymes the following, "I'm hearing all of the jokes / I know that they trying to push me / I know that showing emotion don't ever mean I'm a pussy / Know that I don't make music for niggas that don't get pussy / So those are the ones I count on to diss me or overlook me…"
To buy into Drake's "Lord Knows" rhetoric is to assume a few things. The first would be that people mistake some of his effeminate actions and lyrics with not being a successfully promiscuous, heterosexual male. Another assumption or inference would be that artists that don't openly and overtly court females in their music the way Drake and LL Cool J do aren't equally successfully promiscuous, heterosexual males. Or, to put it bluntly and use Drake's own words, you can still "get pussy" without being overly emotional. The last assumption would be that some women dont enjoy using men strictly for sexual purposes too. The irony here is that Drake's own alleged dalliances with Rihanna disprove that assumption.
The uber-macho emcee that lives by the credo of "we don't love these hoes" would argue that the approach matters. Dandies complain about being labeled as pussies or soft, but they often invite such criticism by claiming to want monogamous relationships on one song only to court the same strippers and groupies the uber-macho emcees also seek. So the two groups often snipe at each other, assuming only one approach is successful. But if both groups have the stated goal of romancing or sport fucking as many women as possible, does it really matter how you achieve that goal?
Dandy godfather, LL Cool J has made a career out of balancing ballads and battle rhymes for decades. If you take a look at LL Cool J's 22 highest-charting singles listed below, only five of them ("Headsprung," "Mama Said Knock You Out," "Father," "The Boomin' System," and "4,3,2,1,") weren't aimed at the ladies.
"Hey Lover"
"Loungin'"
"Control Myself"
"Luv U Better"
"Around The way Girl"
"Doin' It"
"I Need Love"
"I'm That Type Of Guy"
"Headsprung"
"Mama Said Knock You Out"
"Father"
"Hush"
"Paradise"
"Back Seat (Of My Jeep)"
"Ain't Nobody"
"The Boomin' System"
"Phenomenon"
"4,3,2,1,"
"6 Minutes Of Pleasure"
"Imagine That"
To be fair, the man's nickname is "Ladies Love Cool James," so he isn't making his desire to cater to the female audience a secret. As for the rest of the major labels and the artists that attempt to shoehorn themselves into this subgenre, what's their excuse?
I suppose it's a question we may never know the answer to, because at some point logic goes out the window. On "Swishas And Dosha" the late Pimp C rhymed, "You in love with a stripper / She pullin' down my zipper / That hoe is payin' me / Bitch don't try to play with me…" Yet Drake can fashion himself as a "Young Sweet Jones" while simultaneously trying to turn the same brand of stripper into an honest girl on "Houstonlantavegas," and 90% of the Rap game co-signs such behavior.
What's Love Got To Do With It
In the end, I hate "Work Out," "Out Of My Head" and "Houstonlantavegas" equally. Save for Drake's decidedly non-Pimp C behavior of saving strippers, I don't have a problem with any of the emcees that make the above tracks. My issue is with the entire cottage industry of dumbed-down Hip Hop love songs. Such songs are a fiscally great idea. Love songs in any genre can potentially double your purchasing audience—it's not rocket science that both men and women buy music. And people have been simplifying commercial music in hopes of broadening their audience since the 19th Century days of Tin Pan Alley.
But to simplify something as complex as love and or human sexuality, and to assume all females will buy one of these simple songs if you just put Trey Songz on the chorus seems rather insulting.
There are upwards of 8 billion people on this planet, and when we have sex with each other, shit happens. Songs like "Work Out," "Out Of My Head" and "Houstonlantavegas" are basically just touching the surface of all the issues that happen after that post-coital cigarette gets lit. To me, those songs are more about boosting sales than anything remotely related to love or even sex for that matter. Sales and chart positions shouldn't be the only way we measure an elite emcee. But that's essentially what happens when an artist feels compelled to make a wack Hip Hop love ballad to increase their sales. There's actually plenty of great Hip Hop songs that deal with sex, love and romance—from Ghostface Killah's "Wildflower" to Jay-Z's "Excuse Me Miss" and Mos Def's "Miss Fat Booty"—to name just a few. But more often than not, labels would rather invest their money in promoting tracks that aren't "too deep" or "too complex." And as long as that's the case, artists will compromise for all of the above reasons and more.
Omar Burgess is a Long Beach, California native who has contributed to various magazines, newspapers and has been an editor at HipHopDX since 2008. Follow him on Twitter @FourFingerRings.