"Celebrating coming from nothing to winning Grammys and rappers winning Oscars / And they say rappers shouldn't act / Nah sucka / We see Samuel L. Jackson like what's up mo'fucka…" –Ludacris, "On Top Of The World" by T.I. feat. Ludacris and B.o.B
Samuel L. Jackson was never a fan of the rapper-turned-actor Hollywood takeover. Nia Long, neither. Anthony Mackie once equated an acting emcee to a janitor performing surgery. Taye Diggs copped to losing roles to "Hip Hop artists." Even Bow Wow brazenly stated that he hates watching rappers in movies.
The Golden Era's Big-Screen-Boom—featuring House Party, Boyz-N-The-Hood, Juice, the Friday series, half of anything featuring LL Cool J, anything featuring Will Smith or Queen Latifah—ignited isolated fires of resentment throughout Black Actordom. Stories of thespians lashing out at "Raptors" snatching gigs littered the World Wide Web. Once Tinsel Town realized the selling power of an emcee's mean mug in a movie, the few black roles were no longer reserved exclusively for the few black actors. To Hollywood, a black rapper with a platinum plaque worked twice as fine.
The Rise Of The Raptor (Rapper/Actor)
Now, the irony of Nia Long and Anthony Mackie dropping issues is unavoidable. With Friday and 8 Mile respectively, both actors arguably received their biggest break sharing the screen with a headlining rapper-turned-actor. Not only would Taye Diggs dial back his statements a few years later, but he also took time to chide Long for her assertion that singers should sing and rappers should rap—fulfilling full-blown hypocrisy in the process. And Bow Wow is much more "actor" than "rapper" (for whatever that means).
Facilitator aside, the position resonates. Black Hollywood is now more crowded than the post-Great Recession unemployment office. Technically trained actors compete regularly for roles right next to rappers and singers who often times have little or no experience. Talent is no longer paramount, and box office draw reigns supreme.    
To be fair, raptors who earned their way apprenticing through television and drama classes were never highly targeted by the frustrated. Will Smith and Jamie Foxx and Queen Latifah and Ice Cube and Mos Def were never the rule. They, along with a handful of others, have always been considered the exception. They, along with a handful of others, accepted the access and the accountability. The gripes extend towards perceived exploiters pimping a system without contributing to it earnestly, undercutting a culture from the outside. The gripes extend towards studios too willing to cast Rapper X strictly off broader name recognition. For betterment or detriment, in this Industry of Cool, artistry lives secondary to bankability.
"Kids that go to acting school deserve a chance," Jackson said in his 2008 interview with Angela Yee. "And their chances are diminished because they bring people from another venue to get jobs and they're not proven. You're afforded an opportunity just because and it's in the way of somebody who really needs the opportunity."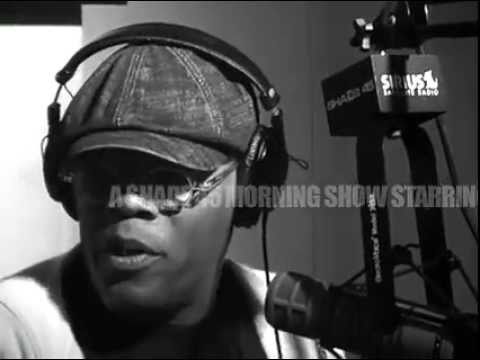 When Star Power Trumps Skills
"It's over straight through / Finished / Hey you look like that nigga that played in Menace / That's me but I'm not celebrity stricken / They be choosin' / Figuring I must be oozing with that bubblin' dough / They be sayin' oh he look right / Plus his flow sound tight…" —Saafir, "Just Riden'"
Look back at Jackson's quote above, and remove "Kids that go to acting school," and replace it with "DJs paying dues." Samuel L's Hollywood assessment easily fits the economic environment many trained DJs are now forced to navigate. Stories of porn stars, singers, reality television personalities and…gulp…rappers snatching high-profile, highly lucrative deejaying gigs litter the World Wide Web. Sasha Grey stepped behind the turntables. Macy Gray, too. Jersey Shore's Pauly D finished eighth in 2010's America's Best DJ poll—ahead of Mixmaster Mike (of the Beastie Boys), Diplo, Grandmaster Flash, DJ Rob Swift (of the Xecutioners) and 38 others. Q-Tip, ?uestlove, Talib Kweli can all be found spinning at popular New York City nightspots. Technology opened the door for anyone to easily be their own deejay hero. Now, like movie studios before them, party promoters have realized the drawing power of a celebrity with Serato manning the ones and twos. Crazy techniques like blending and mixing and scratching and knowing how to read a crowd takes a backseat to star power.
"I think all this fake, phony DJ model/actor/fill-in-the blank is a bunch of bullshit," Ego Trip's Chairman Mao, stated in an interview with BrooklynBodega.com. Mao's been an avid crate digger longer than he's been a journalist. For nine years, he was the resident DJ at APT, one of Manhattan's trendiest night clubs. "The fact that some of these other folks get hired to do gigs instead of people of who've actually been doing it for a minute and are good at it is kind of a drag."
"I spent hours and hours scratching until my arms got tired and there's a new person and they look a certain way, male or female—the pretty boy white kid or the good looking exotic girl—and boom, all of a sudden they're doing shit," says K-Salaam (of production duo, K-Salaam & Beatnick). "What's that say about our culture when the art of DJing has turned into water, like nothing?"
Hot97's DJ Mr. Cee tracks the drastic change in the deejay game back to turn of the century. As he describes it, a lack of unity led to severe price undercutting within the DJ community. "If you can get this guy for $2,500, another guy is going to say, 'I can do it for $1,000,'" he says. "If you can get one guy to say they're going to do it for $1,000, another guys is going to say he can do it for $700. That's what kind of got it diluted."
Technological Advancements As A Crutch
"Yo DJ ain't no DJ he just make them fuckin' mixtapes…Yo DJ ain't no DJ he just hit that instant replay…" –Big Boi f. Yelawolf  "You Ain't No DJ."
Advancements in technology also severely leveled the landscape. Vinyl emulation software like Serato allowed DJs to digitally get busy with audio files on their laptops. No more crates. No more records skipping. No more judging key pitch by ear. Computer programs minimized the hassle, making it easier for trained DJs (and anyone else) to rock a party, and more difficult for partygoers to tell who's wack.   
"People can't really decipher the skill," says DMC champion, Mista Sinista of DJ collective, The X-ecutioners. "When you use straight vinyl, you have to match [the songs] up. There's no key pitch to make it match up. If something jumps, you have to be able to recover to correct it. With Serato, you can set it to where it doesn't jump. So the people can't really tell anymore."
Completing the trifecta is a society zonked-out on celebrity lifestyle. Why put a fashion model on the cover of a fashion magazine if a sexy actress is more recognizable? Why write a script for a television show if a bunch of NBA ex-wives are available? Why book a dues-paid DJ with the skills to take any party in any direction if Beyonce's sister is down to share her iPod?
"The promoters started looking at us as 'Nigga DJs,'" says Mr. Cee. "I can be a white DJ or a black DJ or a hispanic DJ, but because I'm known to be a Hip Hop DJ and I'm known to be aggressive on the turntables, we're looked at as the 'Nigga DJs,'—the DJ that gets the crowd too hyped up and too riled up."
He continues: "Realistically, there's a lot of well-known, pure DJs out here, but their names is bigger than their faces from a global perspective. When you're dealing with an artist—a rapper or a singer—they're already known because they already went platinum. If you just give some of the pure DJs a shot to do those type of parties, we know how to go hard and we know how to pull back. But some of the promoters look at us as too aggressive—what I call 'niggerish.' That has a lot to do with it, too."  
Like Will Smith and Queen Latifah, Ice Cube and Mos Def in the acting world, gripes are rarely extended towards responsible DJs that happen to be better known through other endeavors. Idris Elba deejayed before he became an actor. Reggie Noble deejayed before the world knew him as Redman. And even though he still catches mad flack, Pauly D says he started deejaying in Rhode Island years before "Jersey Shore" jumped off.
Whichever way you spin it, deejaying is the latest gimmick of the minute and everyone is running to the Fountain Of Quick Cash. With a truncated sales environment and 360 deals swirling around, music money ain't what it used to be. The side-hustle is the new bill-payer. Pseudo celebrities are landing DJ gigs, as Samuel L. states, just because. Talent be damned. If someone's hot, they will come.
But despite the parallels between rapper-turned-actors and this current flock of celebrities-turned-DJs, no, DJs are not the new Black actors. DJs have it worse. At least Black actors can always start deejaying.
Justin "The Company Man" Hunte is currently the Managing Editor of BrooklynBodega.com, host of #BodegaRadio and #TCMS on PNCRadio.fm, and contributor to several online publications, including HipHopDX, TheWellVersed.com, and Patch.com. He is a Brooklyn resident. Follow him on Twitter @TheCompanyMan.