Paper Tiger, producer and live deejay of Doomtree, has announced his latest solo project, Summer EP.
The project will be released on August 14 on Doomtree Records. Fans can listen to a preview of the EP on Prefix Magazine for the premier of the first single "Gold Pass," and can check out a promo video below: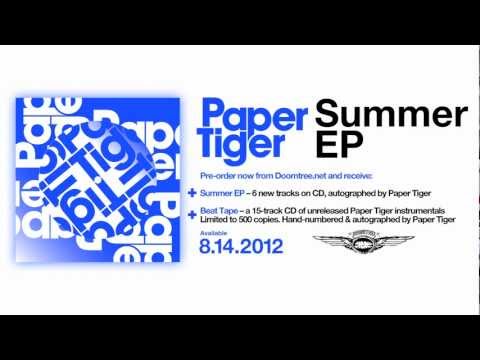 Summer EP is currently available for preorder at the Doomtree webstore. Preorders will include an autographed copy of Summer EP, and a limited edition beat tape CD titled Beat Tape, featuring 15 never-before-heard Paper Tiger instrumentals.
Only 500 physical copies of Beat Tape have been manufactured, and each one comes hand-numbered and autographed by the producer.
In other news, Cookbook's album The Smell of Success is set to drop on July 31.
The album's lead single, "The Party's Still Jumpin'," is featured in a national Suzuki commercial, and he has worked with artists such as UNO Mas and Evidence of Dilated Peoples in the past.
In 2011, Cookbook released the mixtape Original Recipes, which was mixed, chopped, cut, and blended by DJ Revolution of the World Famous Wake Up Show.
Finally, Hip-Hop Chess Federation (HHCF) has announced that it has teamed up with Step Up Dance Revolution to host an All Styles dance battle on Sunday (July 22) at the Alum Rock Youth Center in San Jose, California.
There will be cash prizes, and a trophy award will be given to the winner of the battle, which takes place at 137 N. White Road. The event is called "Your Own Step." A portion of the proceeeds from the event will go to the HHCF Back to School Project, which provides school supplies to children in the Bay Area.
"Our organization believes that all elements of Hip Hop (deejaying, rapping, graffiti and dance) are nonviolent forms of social empowerment " said HHCF Founder Adisa Banjoko. "Step Up Revolution shows how young people can take their artistic passion and better their communities. The California Dance Community is overflowing with talent and we expect a huge turnout. Every minute young people are with the HHCF is another minute we keep these wonderful kids off the streets. San Jose is known for its club and dance scene. Its going to be powerful."
Dancers of all ages are welcome, and can register here.
RELATED: DX News Bits: Mos Def, Hip Hop Chess Federation, Rapper Spelling Bee