Nas has revealed that his new album Life is Good will release on July 17th.
Esco broke the news on Twitter, stating that the project will touch down in time to ride out through the end of the summer. "'LIFE IS GOOD' – JULY 17TH, 2012!!! #LIFEISGOOD717," he wrote, adding a link to his official Tumblr page that also shared the release date.
Additionally, Nas will release his new single "Daughters," produced by No I.D., to digital retail on May 1st. The artwork can be seen below. His video for "The Don" will drop on April 27th.
The Queensbridge native has been at work on the project since early last summer. So far, he has released several cuts including "Nasty,"
"The Don"
and "Black Girl Lost Pt. 2,"
the latter of which will not appear on the project.
[April 24]
UPDATE: Nas has revealed the cover art for his upcoming album Life is Good via a trailer. Watch the trailer and check out the album cover below.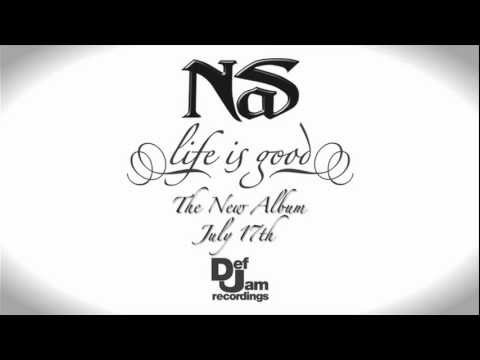 [June 4]
UPDATE #2: Nas has revealed the artwork and tracklist for his upcoming album, Life is Good (via RapGenius). The work notably features a reunion with mentor Large Professor, as well as production from the late Heavy D, as well as No I.D., Salaam Remi and Buckwild.
1. No Introduction (Produced by J.U.S.T.I.C.E. League)
2. Loco-Motive feat. Large Professor (Produced by No I.D.)
3. A Queens Story (Produced by Salaam Remi)
4. Accident Murderers feat. Rick Ross (Produced by No I.D.)
5. Daughters (Produced by No I.D.)
6. Reach Out feat. Mary J. Blige (Produced by Salaam Remi, Rodney Jerkins, DJ Hot Day & Nas)
7. World's An Addiction feat. Anthony Hamilton (Produced by Salaam Remi)
8. Summer On Smash feat. Miguel & Swizz Beatz (Produced by Swizz Beatz)
9. You Wouldn't Understand feat. Victoria Monet (Produced by Buckwild)
10. Back When (Produced by No I.D.)
11. The Don (Produced by Salaam Remi, Heavy D & Da Internz)
12. Stay (Produced by No I.D.)
13. Cherry Wine feat. Amy Winehouse (Produced by Salaam Remi)
14. Bye Baby (Produced by Salaam Remi & 40)
Bonus Tracks for Deluxe Edition:
15. Nasty (Produced by Salaam Remi)
16. The Black Bond (Produced by Salaam Remi)
17. Roses (Produced by Al Shux)
18. Where's The Love feat. Cocaine 80s (Produced by No I.D.)
19. Trust (Produced by Boi 1da) (iTunes Bonus Track)
20. The Don (Don Dada Remix) (Produced by Salaam Remi & Heavy D) (Japan Bonus Track)