Twenty years ago the outcry from Rock, Jazz and Soul artists against rappers who had sampled their past works was deafening. The protest (and eventual legal action) from scorned singers and musicians claiming they had been robbed for their creations without due credit or compensation culminated in Biz Markie being forced by a federal judge to take his 1991 release, I Need A Haircut, off store shelves for failing to clear the well-known piano sample used in his remake of Gilbert O'Sullivan's "Alone Again (Naturally)."
Two decades after the sample clearance wars that would start the culture on its gradual journey towards the largely sample-less music of today, a familiar battle over music rights has reemerged, only now rappers sampling the past works of other rappers has ironically reignited the debate over what is due to whom, if anything at all. And leading that discussion is the recent usage of the triumphant horn that sets off the Lords Of The Underground's timeless two-stepper, "Funky Child," for 2012 XXL Freshman Class member French Montana's breakthrough smash, "Shot Caller."
The Newark, New Jersey based mic-passing duo of Mr. Funke and DoItAll, along with their Cleveland, Ohio born deejay, Lord Jazz, rocked atop almost flawless horn-blessed boom bap crafted by the legendary Marley Marl and his protégé K-Def for L.O.T.U.G.'s classic debut, 1993's Here Come The Lords. The album spawned two hit singles in the B-Boy anthem, "Chief Rocka," and the aforementioned "Funky Child," making the Lords instant favorites of purveyors of Hip Hop culture worldwide as they, for a time, came to dominate the musical landscape alongside their Garden State brethren Redman, Naughty By Nature, Queen Latifah, Poor Righteous Teachers and The Artifacts (whose recent reunion was arranged by DoItAll) during the brief but memorable New Jersey Drive era in Hip Hop.
And while 1994's "Tic Toc" and "What I'm After"-anchored Keepers Of The Funk failed to continue the supercharged momentum the group had gained with their debut, (in part to their sophomore effort's less playful, harder-edged approach), the Lords Of The Underground have managed to maintain their esteemed position in the culture nearly two decades later.

One of the esteemed members of the Lords, Dupre "DoItAll" Kelly, recently spoke with HipHopDX to discuss his group's current endeavors (which include finishing the long-discussed 20th anniversary album from the trio overseen by their original producer, and releasing a part two to DoItAll and Lord Jazz's Heartbeat Of The Ghetto mixtape series). The Co-CEO of 211 Media Group (where he is currently preparing releases from his own stable of artists, including Prince Ak, The 0-50 Boys, Senica Da Misfit and others) also replied to the requisite questions regarding L.O.T.U.G.'s response to their "Funky Child" being adopted by French Montana, in which DoItAll revealed not only the group's plans to fight for their musical rights, but the rarely known real origins of that hit-making horn that is blowing the sample debate back on to the radar.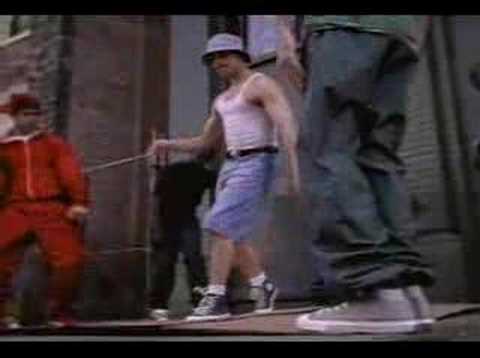 HipHopDX: Before we get to the "Shot Caller"/ "Funky Child" discussion, I gotta ask how long you think it's gonna be now before somebody flips "Chief Rocka" into a new hit?
DoItAll: It's all a blessing, man. As long as they pay that publishing, we good.
DX: Have they been paying that publishing?
DoItAll: Nah, uh-uh. French Montana and them, they used the record without our permission but it was a mixtape record, and when it's a mixtape record you really can't do anything about it, unless you go to the artist. And it wasn't that deep, 'cause Harry Fraud, who produced the record, called me and was telling me how he's a big fan and how he sampled the record and all of that type of stuff. But now that they selling the record and he generating all of this airtime and – it's generating money. It's not like it's not generating money, so now we about to go in and take a little piece of that.
Now that he's signed to Bad Boy [Records] it's a [new push for] "Shot Caller." They got the remix and all of that. But they gotta come talk to us. And honestly, I like French. They camp cool. I ain't never had a problem with Diddy. I think Diddy will do the right thing. I think they'll do the right thing. Harry Fraud and them actually reached out to us for a remix, but I think it was done out of respect after the fact. It shoulda been done beforehand, and not like an afterthought. And I think that they knew that they was gonna get the deal and they knew all of these things was gonna come and they knew it was gonna go public, and then now once that happens [they're like], "We got the right to whatever you made, and now we can make up our own price." And I think that's when they tried to reach out like, "Oh, we tried to reach out." It's like, c'mon man. But, I don't have no love loss for them, as long as they do the right thing then we good. I wish 'em well with "Shot Caller," 'cause if "Shot Caller" does well then Lords Of The Underground do well with it.
DX: One way or the other it's definitely helping out y'all's brand. Four million views on YouTube for that "Chief Rocka" video. Either everybody who copped Here Come The Lords back in the day has watched that video several times over, or y'all have a new generation checkin' for L.O.T.U.G. something serious.
DoItAll: Honestly, I think it's a little of both. We've been going on the road. Usually we'll go on the road about three times a year overseas, but now we stay on the road damn near every two weeks. And I'm talking about a group of shows. And I think it's a new generation 'cause at our shows it's like 16-year-olds to 20-year-olds. So that's damn sure not the people who bought it in the past.
And then you talk about last year you had [N.O.R.E.] talking about us in "Electrolytes" with Macy Gray. He mentioned us in there. Then you had Snoop Dogg mention us last year in his single, ["Boom"]. And then you had Freeway do a freestyle over "Chief Rocka." Then you had Jadakiss doing a freestyle over "Funky Child." So it was just like let's use Lords Of The Underground's beats. And then French Montana ending it off with "Shot Caller." So, it's just crazy, man. But, you know, as long as it keeps the brand in people's minds and we able to stay on the road and we're able to get ready for this 20th anniversary album, we good, we ain't trippin', man. As long as they pay homage, and it's done in a respectful way, we're not really trippin'.
DX: You mentioned the producer of that joint, Harry Fraud. He had to have taken that horn sample from the "Funky Child" instrumental and not from the original Thomas Bell Orchestra sample [of the 3:43 mark of "A Theme For L.A.'s Team" from The Fish That Saved Pittsburgh Soundtrack]. I honestly don't know how K-Def isolated that horn 20 years ago.
DoItAll: I know he took it. I spoke to Harry Fraud verbally over the phone, and he told me he sampled ["Funky Child"].
But people don't realize, that horn, it's not even sampled from the original [Thomas Bell] record. We had that horn played over by … um … I wanna say Maceo [Parker]. Who played horns for James Brown? Yeah, Maceo played that horn over for us in the studio. So that's Maceo playing that horn over for us. Marley Marl called him in because [Thomas Bell] wanted like a 100% for sample clearance. So we had our record company call – our man Stan Winslow was cool with Maceo and the James Brown camp, and he called him in and he played it over. So we already know that's our record. He can't even lie about it.
DX: K-Def, he found crazy horns for that first album. Were they all samples or was he bringing in live players?
DoItAll: They were samples. The only live one was "Funky Child," because of the clearance situation. That was the only live one … out of the songs that he produced anyway.
DX: Yeah, let's clear that up real quick 'cause I just did an interview with MC Shan, and I don't know if you've been following that saga: that he's breaking down some of the stuff that Marley didn't do for The Juice Crew. Did Marley really produce anything for y'all or was it all K-Def?
DoItAll: Yeah, [Marley Marl] produced everything for us except – I get it when people just don't know [how records are produced]. But I was in a room with Quincy Jones one time, and my theory used to be if you don't touch an instrument or if you don't touch a beat programmer then you're not a producer. That was my theory before I sat in a room with Quincy Jones. Quincy Jones came in the room with producers and told them everything to do: told them to put this like this, put that like that. I'm like, "Yo, he didn't touch anything but he's still the producer."
So then I started equating it to hip hoppers. If Marley Marl sit in the room with you and say do this, put this here, do that, who produced the record? K-Def definitely came with the "Chief Rocka" beat, "Here Come The Lords," "Funky Child." Those were K-Def, everything else basically was Marley. And we sat there and seen him do it. But even with the stuff that K-Def did, Marley made those records better. You gotta remember that K-Def was a young kid. He didn't know what he was really doing. He was just making beats; he was a beat-maker.
So, it just kills me when people get mad at somebody they say, "Oh, he didn't produce this." Even back in the Shan and [the Juice Crew] days, Masta Ace – and this is out of Masta Ace's mouth – he told me a story how they used to bring records to Marley, but didn't know how to produce nothing. They just had an idea [like], "I want this sampled." And then Marley would produce and bring everything to life. So who actually produced it?
DX: While we're speaking of Marley … You mentioned the 20th anniversary Lords album. Wasn't Marley supposed to executive produce that?
DoItAll: Yeah, it's still going down, he's still executive producing it, along with us. We just got our verse from Busta Rhymes. He's on the album. And, we just gonna make it tight first. We working.
DX: Is there extra urgency with the French Montana joint out there to capitalize on the renewed momentum?
DoItAll: Nah, not really. We do this Hip Hop thing because we love it. We're not trying to be all over the radio anymore. We're not trying to be all over what ever the hot media outlet is. If it happens that's good. But what I'm trying to say is that we're not competing against whatever group is out there or whatever artist is out there. We've done it already. Do we still do Hip Hop? Yes. Do we still tour? Yes. But this might be the last Lords studio recorded album, because we all have other lives that we're living. Are we breaking up? No. We're gonna still be a group, but it's just time to explore other things and other avenues to help keep our brand alive and keep our legacy alive.
I mean, an album is not even an album anymore anyway. When you put it on iTunes you get to download which song you want. It's not like you're listening to interludes or getting into the story of the group anymore. That's gone. It's microwave Hip Hop now. You can just stick something in the microwave and get it out fast. It's crazy now what the music scene has become.
There's still great music out there though. I think I still make great music. I think Mr. Funke still makes great music, and Lord Jazz too. Them my brothers forever. But, Lords Of The Underground, we're just happy that we were able to make classics and people respect that enough that we stay on the road with 60 – 100 shows a year. We're just fortunate to do that.
Purchase Music by Lords Of The Underground
Purchase Music by DoItAll