During last night's (February 5) Super Bowl halftime show, singer M.I.A. gave a middle finger gesture and delivered an uncensored verse to Madonna's "Give Me All Your Luvin'"
, which she and Nicki Minaj are both featured on.
Following the game, NBC, who broadcast the event, issued the following statement, "We apologize for the inappropriate gesture that aired during halftime," said a spokesperson. "It was a spontaneous gesture that our delay system caught late."
The NFL added, "The obscene gesture in the performance was completely inappropriate, very disappointing, and we apologize to our fans."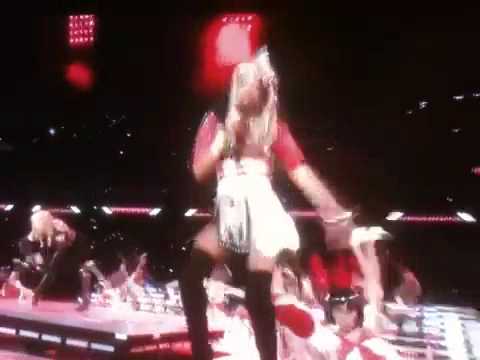 M.I.A.'s uncensored lyrics to the song are as follows:
"Sw-sw-swag shh
No one gives you this
Supersonic bionic, uranium hit
So I break 'em off tricks
Lets pray that it sticks
I'ma say this once, yeah I don't give a shit"
M.I.A. has yet to release a statement.
(February 6)
UPDATE: TMZ.com has spoken to sources reportedly close to the incident who have said that singer M.I.A. will be responsible for any fines the FCC issues to NFL for the middle-finger and lyrics incident. Because the sporting event is through the NFL, not NBC that network is not responsible. Those sources told TMZ that the Interscope Records singer signed a contract prior to her performance.
(February 8)
UPDATE #2: Madonna has finally broken her silence on M.I.A.'s middle finger stunt at the Super Bowl, slamming Maya for ruining the positive vibe of the performance.
"I understand it's punk rock and everything, but to me there was such a feeling of love and good energy, and positivity, it seemed negative," she told Ryan Seacrest. "It's such a teenager … irrelevant thing to do … there was such a feeling of love and unity there. What was the point?"
M.I.A. has since personally apologized to Madonna for flipping the bird.