Big K.R.I.T. was originally set to release his debut Live from the Underground on September 27th, but decided to push it back on his own terms. During an interview with WCGI's DJ Moon Dawg (via FSD), the Def Jam signee revealed that the LP will arrive in January 2012 and that its delay was due to sample clearance issues.
"Live from the Underground will drop 2012, first quarter, next January. It originally was supposed to come out September 27th. I pushed it back because of sample clearances. I realized I've given away a lot of free music. It's cool to sample anything you want when it's free. Retail? They're not having that," he said. "So reaching out to people as far as sample clearances. There's one feature I had the opportunity to try to get on the album. It is going down and I will not say who it is. Nobody will figure this out anyways. It's an amazing feature. It's crazy. I produced a lot of the stuff."
He also explained how his recent feature and production on T.I.'s "I'm Flexin'"
came to be, stating that Tip reached out to him two days after he got out of prison.
"He reached out to my folks Sha Money just on the producer, beats. I was like, yeah man, I got two records. At the time, I was getting ready to go on the road, I was still working on my album, I hadn't been producing much for other artists. I sent him two tracks, he picked 'I'm Flexin.' It had a vintage vibe and I think when he heard it, he knew exactly where I was trying to go with it as well. It just worked out."
Watch the full interview below.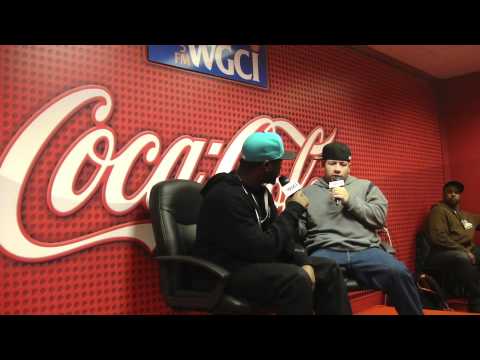 [October 28]
UPDATE: Big K.R.I.T. has revealed the cover art for his upcoming Def Jam debut, Live from the Underground, releasing June 5th.
UPDATE #2: The tracklist has been revealed for Big K.R.I.T.'s Live from the Underground, releasing June 5th (via RR).
1. LFU300MA (Intro)
2. Live From The Underground
3. Cool 3 Be Southern
4. I Got This
5. Money On The Floor
feat. 8Ball & MJG and 2 Chainz
6. What U Mean feat. Ludacris
7. My Sub (Pt. 2: The Jackin')
8. Don't Let Me Down
9. Porchlight feat. Anthony Hamilton
10. Pull Up feat. Big Sant & Bun B
11. Yeah Dats Me
12. Hydroplaning feat. Devin The Dude
13. If I Fall feat. Melanie Fiona
14. Rich Dad, Poor Dad
15. Praying Man feat. B.B. King
16. Live From The Underground (Reprise) feat. Ms. Linnie
(May 13)
UPDATE: NPR.org has a "First Listen" free album stream of Big K.R.I.T.'s debut album, Live From The Underground. The album releases June 5 on Cinematic/Def Jam Records.
RELATED: Big K.R.I.T., Tech N9ne, Murs Featured On Beatnick's & K-Salaam's Next LP