The Hip Hop Chronicle UK's Sumit recently caught up with famed Roc engineer Young Guru to discuss his early career with the Madd Rapper and Roc-A-Fella Records. During the interview, Guru spoke on his friends and frequent collaborators Jay-Z and Kanye West's recent project Watch the Throne. The storied engineer said that the RZA co-produced track "New Day"
perfectly excapsulates the importance of the album to Hip Hop music, as the two emcees contemplate the futures of their unborn sons.
"[It's] a new day [with Watch the Throne]," he exclaimed. "Incredible, man. You've never heard two rappers talk about unborn children, and the persective that they come with it [on the song 'New Day'] is so personal to them that it makes a great record. Kanye is basically coming and saying, 'I'm going to make sure that my son doesn't make the same mistakes that I do,' so that's the references to, 'I'm trying to find love in the strip club'…Jay is coming from the perspective of, 'Well, I didn't have my father [around growing up], so I'm going to make sure that my son, I'm going be there for him.' I say this to Jay all the time, that, How did the [number of records sold] work out so easy for him? It seems like it's magic, but in [his] mind, it's like, 'Okay, my first album came out when I was 26, so then, that's…when I became a man. That's my job to cut that [check] in half for him so that at 13, I [can] eat a black bar mitzvah."
Young Guru also spoke on the recent Spike Jonze-directed music video for Jay and 'Ye's single "Otis." He said that the video feels like a throwback to the early era of Hip Hop in that the two emcees appear to have enormous fun in shooting the video, particularly while chopping up the Maybach featured in the video.
"My mind is always going to analyze [a song or video]. I'm looking to see what the the stars on the flag," he said. "But when I look at [the 'Otis' video] overall, it just looks fun. It looks like it goes back to that real early Hip Hop [style]. You see Jay's got his arm around Kanye, they're smiling, they're having a great time. There's not this super [style to it], like, let's change the scene a million times. They break down the [Maybach] car, and they have a ball."
Check out the full interview to see Guru speak on his days at Bad Boy and much more.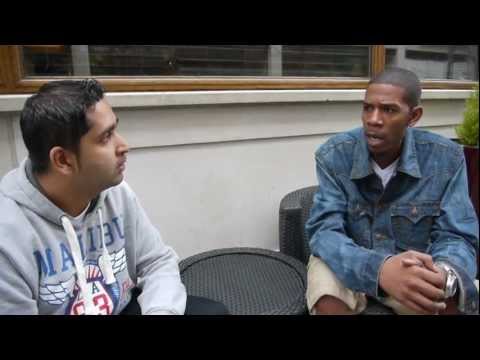 RELATED: Jay-Z & Kanye West's "Watch The Throne" Breaks iTunes Sales Record