The New York Daily News is reporting that singer Alicia Keys and long time rumored boyfriend, producer Swizz Beatz are going to tie the knot. Keys' received a 7-carat engagement ring for her 29th birthday on Monday from Swizz, and according to US magazine, the couple is now celebrating in Hawaii. Sources told US magazine that the Grammy award winning singer feels "blessed".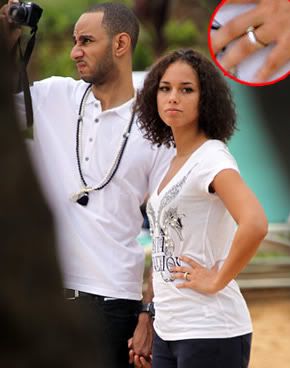 Speculations that Keys and Swizz Beatz were romantically involved were confirmed in May of 2009 when Swizz admitted to the media that they were dating. Although the producer is going through a bitter divorce with his wife, R&B singer Mashonda, he continues to deny allegations that Keys is the reason for the dissolved four year marriage.
In September, Mashonda wrote a letter confronting Alicia Keys, "You know what you did. You know the role you played and you know how you contributed to the ending of my marriage. You know that I asked you to step back and let me handle my family issues. Issues that you helped to create." She continued, "If it's so, that you and my husband are meant to be together, then God bless you both and I hope you never have to deal with what I did. I would not wish it on my worst enemy. If you two being together forever is the case, it's more of a reason for us to get along, because I'm not going anywhere. There's a child to be raised." Mashonda and Swizz have two children together.
On Thursday, MTV News reported that other sources have confirmed the newly engaged couple did in fact purchased Lenny Kravitz's penthouse for $14.5 million, a rumor which had been speculated earlier in the week.
At this time, Keys' rep is denying the engagement.