JAY-Z launched his MONOGRAM cannabis business in October 2020 and the brand ignited another campaign on Monday (March 1) spotlighting the hypocrisy and unfair regulations currently being upheld in the United States when it comes to marijuana.
"Cannabis laws are out of date and disproportionately cruel and punishing when compared to the rest of the legal code," Hov relayed in a statement. "We still don't have proper regulation for texting and driving in Missouri, but staying home and smoking weed will get you locked up."
Jay continued, "I created this campaign to amplify the voices of those who have been penalized for the very same thing that venture capitalists are now prospering from with the emerging legal cannabis market. Far too often we forget that these are real people whose everyday lives and futures have been affected by this outdated legislature – people like Bryan Rone, who can no longer pursue a career in sales because of a cannabis-related conviction in 2003."
You can marry your first cousin in more states than you can buy recreational weed. pic.twitter.com/BcC7PANmck

— MONOGRAM (@monogramcompany) March 1, 2021
Ads, billboards and murals will be broadcasted across cities such as Los Angeles, San Francisco, New York, Chicago, Washington D.C. and Miami to spread awareness for the drug policy campaign.
"The war on drugs worked, if systemic racism was the goal," one of the campaign's posters reads. "Weed is a federal crime, even in the states where sex with farm animals isn't."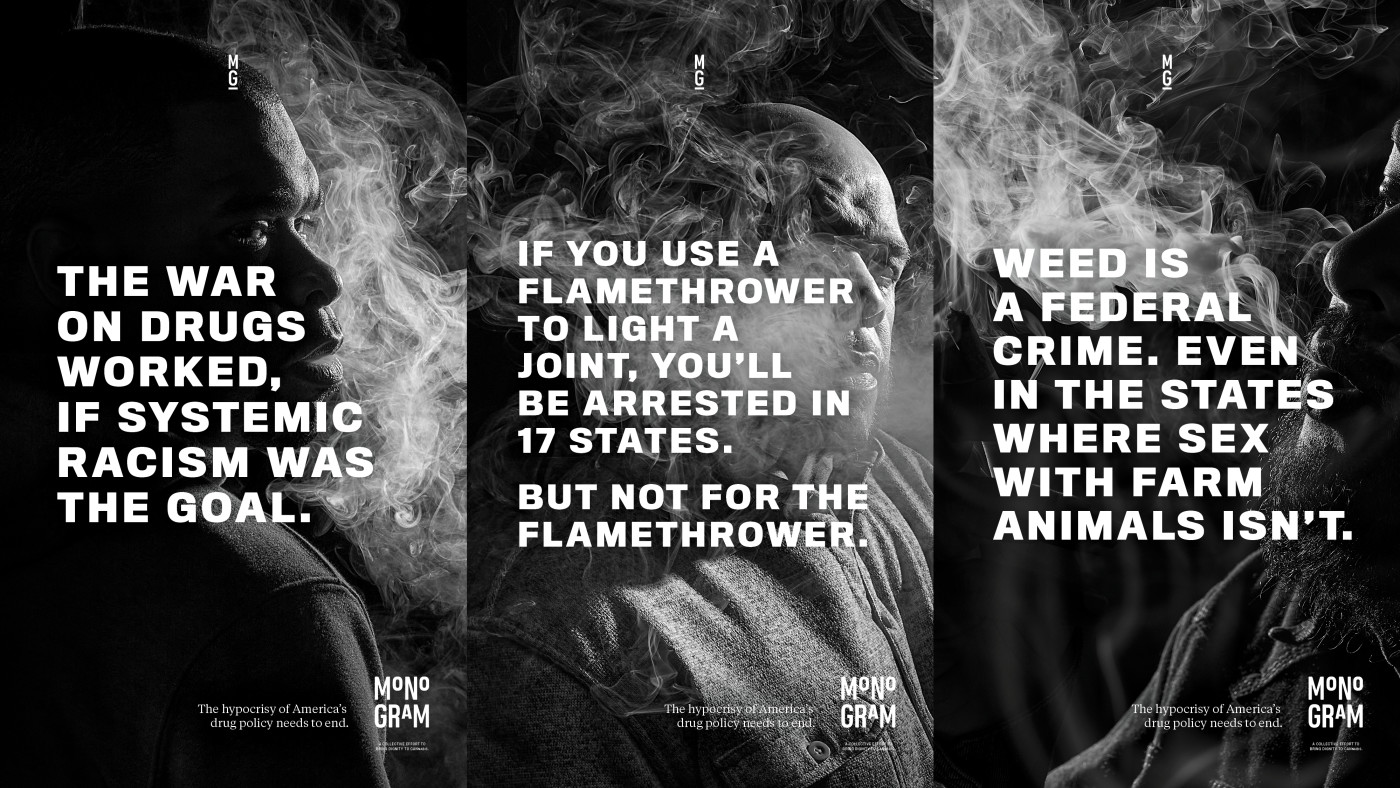 MONOGRAM
New Jersey followed the Roc Nation CEO's lead when they became the latest state to legalize and decriminalize the recreational use of marijuana in February.
"Today, we're taking a monumental step forward to reduce racial disparities in our criminal justice system, while building a promising new industry and standing on the right side of history," Governor Phil Murphy said at the time.
MONOGRAM is a California-based cannabis business launched by JAY-Z, his first foray into the lucrative weed industry alongside a company named Caliva. Jay originally came on board as the cannabis company's Chief Brand Strategist in 2019. They've since released their own potent strains and array of pot-related products.