With his recent solo LP Dope Sick gaining praise and earning a spot on Tech N9ne's tour, Swollen Members alum Madchild has been having a banner year this 2012. Now, in a recent interview with Action Recon, the Vancouver emcee announces his new LP with none other than Slaine.
Madchild recalled that he and Slaine first met when Swollen Members embarked on tour with La Coka Nostra. Since then, the two emcees have been extremely close friends and have planned to record an album together.
"I had an immediate connection with Slaine when [Swollen Members] we went on tour with La Coka Nostra," he recalled. "La Coka is one of my favorite groups, and Ill Bill and Slaine are two of my favorite emcees, and Everlast is a legend – I know he's not in the group now, but still to me, Everlast is incredible…I'm doing an album with Slaine. We're gonna do an album together, and Slaine to me is like, I just love his flow, I just love his style. He's just such a character, even when you see him in the movies, that's like his real character almost that he's playing. He's so natural…it'll be an honor to work with him."
Check out the full interview below.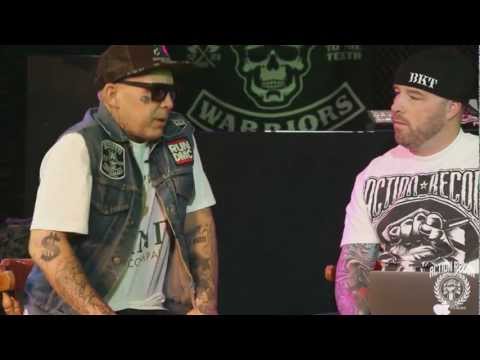 RELATED: Madchild Admits Wasting 3 Million Dollars On Drugs, "Dope Sick" & Letting Battle Axe Records Go