While Q-Tip and Phife Dawg of A Tribe Called Quest continue their 20-year tradition of bickering like an old married couple, and Posdnuos and Dave of De La Soul quietly separate themselves from third plug Maseo and pursue their arguably ill-conceived concept project, First Serve, two members of the illustrious Native Tongues collective are actually stepping past petty differences and working together to move their historic crew's legacy forward.
Dres of Black Sheep and Jarobi of A Tribe Called Quest have joined forces as evitaN (Native spelled backwards) to show that men of a certain age can still rip it and that the Native Tongues need to once again be officially reinstated. Speed Of Life (dropping digitally June 26th) will hopefully do the aforementioned as well as leave millions of Hip Hop listeners' jaws dropped upon hearing the formal rhyming debut of Tribe's longtime non-rapping fourth member, who arguably outshines his Black Sheep partner.
With a bevy of recordings so strong recently released buzz cuts – "Who Is This," "The 3 Kings" featuring Sadat X, "P.T.I." and "Give It To Me" – will not make the cut to the album's final tracklisting, Dres and Jarobi's debut as a duo (alongside additional appearances from Rah Digga, Havoc of Mobb Deep, Homeboy Sandman, and the esteemed Dean of Funk University, Bootsy Collins) is shaping up to be the type of crew project long starved Native fans have been hungering for.
HipHopDX caught up with Dres and Jarobi late yesterday (May 30th), right before an evening studio session, to chop it up about their new union. Jarobi (who was coming from his day gig as a Chef serving up pan-European cuisine at August restaurant in New York City's West Village) and Dres (who surely spent a good portion of his day teaching his toddler-age son how to grip a mic properly – as seen at the end of this clip) got on some grown-man discussion with DX about their evolution into evitaN, Chi-Ali's plans as a soon-to-be free man, and just what all of it means for the greatest group of groups in Hip Hop history.
HipHopDX: I gotta jump things off by asking you Jarobi about your progression as an emcee. 'Cause that guy on that demo version of "Scenario" and that guy rippin' it on "Give It To Me" ain't the same guy.
Jarobi: [Laughs]
DX: [Laughs] So what happened, man, to get you to this point?
Jarobi: Dres. I can't say that I've been rhyming the whole way through [the last 20 years] because I haven't been. I'm not gonna lie to you, I started to do a project in like '96 but besides then I hadn't really touched a pen until September of last year.
And, I don't know, [those new rhymes are] just where my mind is at. Like, I didn't know what I was gonna do when I came in here [to the studio], and this is the stuff that came out.
DX: Now, Dres, you told SOHH, "Jarobi might wind up being the dopest emcee in A Tribe Called Quest." Better than Q-Tip? You ready to call it?

Dres: I mean, granted, the body of work isn't as extensive, but this is my word, I think if you take two debuts and put them next to each other, he's clearly in front of him.
And I think given the opportunity to amass a similar amount of work – and we're talking strictly lyrically, strictly as an emcee – I think that it would definitely be in the eye of the beholder, it would definitely be up to the consumer to judge for themselves. But me personally, I think Jarobi has something that I think neither Tip nor Phife [Dawg] possess.
And don't get it twisted, they're incredible emcees, and dope brothers – Those are my brothers [and so] I'm saying this internally as it relates to family. But at the end of the day, in Michael Jordan's family it was his brothers and him. And though we might not of seen his brother play, he was able to call if for what he felt it to be. And, I'm calling it for what I see it to be. I would see it, as far as a debut goes, Jarobi is literally light years ahead of them.
And given the opportunity I think he'll be able to surpass the great feats that they've accomplished lyrically. I think he's an incredible emcee. He's massively intelligent, which is one of the reasons why I even asked him to do the project. I've known Jarobi for a long time and he's always been a sharp brother, always. He's an intricate brother. And he's a thinker. He thinks about what he says before he speaks. And having been on stage for 20 years, I knew he had to be soulful. So it felt like a no-brainer to me. And [that intuition] proved to be 110% correct.
DX: I don't wanna rehash too much history, but I gotta ask you Jarobi, can you clarify once and forever whether you voluntarily had your slated verses for The Low End Theory cut or if Tip pulled 'em off the album and that's what made you bounce?
Jarobi: That's what people think; people think stuff like that? No, I voluntarily left. And, I can't even really say that I left, I just kinda like took a back seat – like, way, way, way in the back.
It was never a situation like, "You're out the group." Or it was never a situation where it was like, "I'm leaving the group." That was never the case. I had other interests. And, I didn't make the decision to pull my verses off [The Low End Theory] album, but that was the correct decision to make. Because, I wouldn't have been around to do shows and support it anyway. So that was the correct decision to make.
I saw [Q-Tip] yesterday. So as far as any problems or shit like that, that's fucking ridiculous. He's been one of my biggest supporters of me being here in New York. Like, real talk, he's holding me down.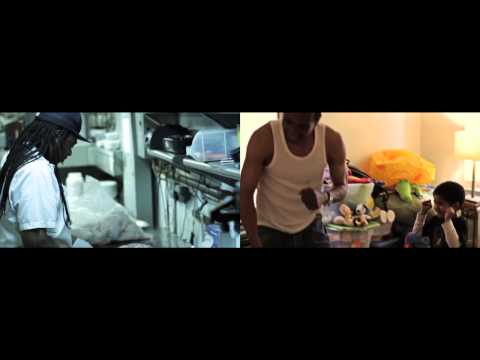 DX: You mentioned 20 years ago you had other interests. In the just-released video for evitaN's "Who Is This" we see you grindin' at your day gig as a chef. Was culinary school already in your sights before you left the microphone alone or did that come into the picture after?
Jarobi: Oh no, I only wanted to do two things in my life and that's cook and do music.
And I'm ultra-blessed and ultra-fortunate to be able to do that. When I left the Hip Hop scene initially people were like, "Oh, you're fucking insane, dude. Look what you're walking away from." But, a lot of those same people, my contemporaries, 20 years later I definitely have a [skilled trade] and those people are struggling to figure out what their next move is gonna be. So at the end of the day, I definitely feel vindicated, and I feel like I'm really, really, really smart for [having gone to culinary school].
And plus, the other thing about it too, if I woulda kept going [with music], we wouldn't be having this conversation right now. People wouldn't be as interested as they are in what's going on [with me].
Dres: Sometimes we gotta go through what we gotta go through to be where we're at. I was thinking about the same thing with me and [Mista] Lawnge [of Black Sheep]. 'Cause if me and Lawnge [didn't have our issues, me and Jarobi] wouldn't be here [today as evitaN]. And this is my word, I feel so confident of us being in the right place right now in our lives [that] I'd much rather be here than be on the back-side of a successful Black Sheep career. I'd much rather be here.
DX: Now, Dres, I think you already answered this question, but did you know about Jarobi's standing as an emcee – that he hadn't picked up the pen in years – before you asked him to come record an EP for your label, Bum Rush, or were you trying to pull him out of his shell on the mic?
Dres: Um, well, I asked Jarobi maybe a year or two ago did he have anything. Like, initially it was gonna be an EP. It was gonna be five songs. And I was like, "Do you have anything I can listen [to]?" 'Cause I kinda wanted to gauge where he was at for myself. But, I knew innately that this kid has something to say. And [I also knew that] it's probably gonna be pretty fly that he's been in the room [with all these artists over the years]. Like, not even with just Tribe but Jarobi has a relationship with every emcee. … Regardless of him having a mic in front of him or not, I knew he had soul.
And let me introduce as well, the label that we're moving forward on, it's called Pool Of Genius. Bum Rush is actually gonna be a subsidiary of Pool Of Genius. But [the evitaN album] is gonna be launching the Pool Of Genius umbrella.
The first song we did, I kinda volunteered to do it with him because I thought it would be an easy way to kind of ease him into the water. I was like, "Why don't we do the first song together and take a little bit of the pressure off." And, it came out phenomenal! I mean phenomenal, to the degree that everybody we played it for was blown away. And, he plays it for Tip, Tip is like, "Y'all should be a group," and he brings the notion to me. And, I hadn't even thought about it, [so] I was like, "Wow." I was like, "Yo, let's do another record." So we wound up doing another record, which is better than the first record. And so we were literally just like, "Yo, let's do some more." And I think after about like four or five songs we knew, "Alright, cool, this is what we're gonna do. We're gonna group. We don't know what we're gonna call ourselves, but this is what we're gonna do."
And after recording 26 songs, yo, I am so glad to be here. I am where I am supposed to be.
DX: Q-Tip anointed y'all a group, but who came up with the idea to use native spelled backwards as the duo name?
Dres: I did. Initially it was like a working title.
Jarobi: Everybody was like, "It has to be something with native. That's a no-brainer."
Dres: And that actually kinda came early. Like maybe the fourth or fifth song in, I was just looking at the word native and I just ran it backwards and was like, "Yo, evitaN." So that was a working title. We had a few other titles that came to us during the duration of the album, but as we looked back at the names that we had came up with evitaN was clearly [the one].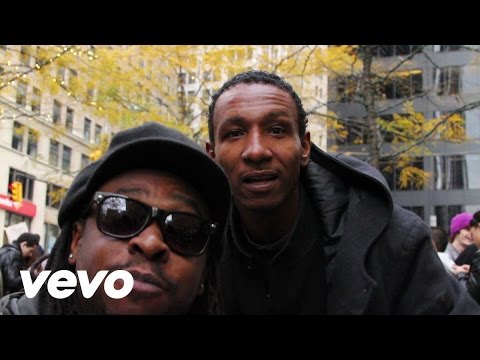 DX: I just wanna note this: you know in Spanish – as we all know – De La Soul means from the soul, and evitan means "to evade." I'm just curious if you knew that, and if that plays into the meaning at all of the group name?
Dres: Yeah, definitely. I think that we're kinda like trying to evade what you've become accustomed to, what has become normal. We're not in line with [that]. We're definitely trying to –
Jarobi: Evade the wack! [Laughs]  
Dres: Yeah. [Laughs] And to kind of take it somewhere it needs to be. Organic. That's a word that's not even used in Hip Hop right now. But that's something that's so natural, and nourishing. Things that are organic are important to our well-being. And it's not here anymore. Everything is synthetic … It's all synthetic at this point. And I think we're bringing some home cooking, that's very organic, on a wood stove even. We're really bringing something that's for the people.
DX: Speaking of evading, Jarobi, I'm just curious to know if you knew about Dres' past of evading the po-po? [Laughs]
Jarobi: [Laughs] Listen, the thing about it is, me and Dres, like, we've been cool this whole time. It's not like we [just came together to record an album]. This is my friend. So, yes, I do know about him evading the po-po. [Laughs]
DX: I think a lot of folks learned for the first time about Dres' movie-esque past during his interview last fall for HipHopDX commemorating the 20th anniversary of [Black Sheep's] A Wolf in Sheep's Clothing. I honestly didn't know the guy was supposed to have like his own episode of American Gangster. [Laughs]
Dres: [Laughs] And it's definitely nothing that I lead with. And that's kind of where I come from with it. I come from the era where cats that hustled didn't want you to know they hustled. It wasn't something that you bragged about. It wasn't something that was glorified. And anybody that did it wasn't trying to pull children in line for it.
Jarobi: This is one glaring major difference between Hip Hop in our generation and in our era and before and the generation now. We got into Hip Hop so that we would stay out of trouble, to move away from that shit. But these fuckwads nowadays, these muthafuckas are becoming rappers to get into trouble it seems.
Dres: Trouble validates them as a rapper – definitely not as an emcee. But as a rapper, it validates them.
Jarobi: I could tell you so much gangster shit about your favorite emcees you would not believe – niggas that's pimps, drug dealers, got bodies, all kind of shit – but of course I'm not gonna do that. But that speaks to what I'm talking about. Like, we got into Hip Hop to get out of the streets.
Dres: Yes. And I'm a little disappointed in some of the cats that have the knowledge but don't share it, to say that if you are talking about that shit talk about all of it. Talk about what goes on inside [prison], talk about what happens when you come home, talk about the realities of you not necessarily being the man you are right now. 'Cause nobody goes through prison untouched, regardless of wins and losses. No one goes through untouched. And no one goes through without fear. No one.
And no one speaks to how difficult it was for them to maneuver coming home, all the transitions they had to deal with. Or just real shit like somebody fuckin' they babies' moms and raising their kid. Like, all kinds of other shit is going on that doesn't hit the table.
I think I was fortunate. I met a brother while I was locked up on Rikers [Island] in '86 or '87 – I was like about 18, 19 years old – a kid by the name of Mo. He was from Uptown. Mo was a millionaire from the streets. And, he wound up becoming my man. Like, a good, good dude. And before he went upstate to do his life bid, he looked at me square in my face and he was like, "I just want you to remember something, man. I'm want you to know I'm a millionaire, and I want you to know it was not worth it. It was not worth it."
I never forgot Mo. And so when I came home, cats was trying to give me ounces of coke just to put me on. Everybody I bumped into was a hustler, so cats would throw me ounces. And this my word, [I didn't sell] none of it. Don't get it twisted, from time to time I had my little hustles to kind of keep the boat afloat, but I always knew it was not who I was. I was better than that. I could be bigger than that.
DX: I hate to use your past as a segue to another Native Tongue members present, but I have to ask you guys about Chi-Ali's pending release. He has a parole hearing in June and could be home as early as August. Do either of you guys know what his plans are, if he's gonna resume his Rap career?
Dres: Yes, we do know what his plans are. We got Chi a publishing deal. Chi's written a book. It's being proofread right now. And that'll be one of the things that'll be happening with him upon his release.
As well, we're right now trying to solidify a situation for him to do like a reality [show] with him transitioning back into society. And I think that's an opportunity to do it right, to show the kids [what post-prison life is really like].
He's done a lot of growing. I think he's much more in alignment with where we stand right now, as opposed to what the game is right now. … I don't think he's gonna undermine what anybody's doing, but there are certain realities that you are gonna know are realities when you see it from him. And I think he's gonna speak to some of the things that we're speaking to. So we'd like to help him solidify a situation on the reality [television] side, as well it's our intent that he do an EP for Pool Of Genius before he does anything. Let us introduce him back into music, as opposed to just jumping in the water and not necessarily knowing the temperature. Yo, come jump into what we're doing. You'll always be able to do you, but let's get you a foot [back in the door]. And let's reintroduce you [the right way].
I mean, at this point, this is where I honestly feel like the entire Natives need to be. Like, as far as us fucking with each other in a way that we haven't. Though we love each other, and everybody knows it, and though we have this great, great history, we haven't fucked with each other. And it's time to.
It's been past time to. One of the greatest things I feel like we're supposed to do is show the people the records that we made. We made records about empowerment, about unity, about community, but we wasn't a catalyst of the records we made. Big error.
And I think that evitaN is gonna be the spark plug to us fuckin' with each other how we should. Like, we're [from] two different groups [and we] came together to do something that's kind of unprecedented and brand new so that window that's closing on Native Tongues we are about to break [so it'll] be forever open. Like, we're supposed to be touring, we're supposed to have our own label, we're supposed to have our own merch. You buy water at a Native Tongues show it's supposed to be ours. We been knowing the game. It's time for us to display it. It's time for us to move together as brothers. And not be selfish, and not look at it like, "My record is hotter than yours this year so I deserve more money." I could give a fuck! We jumped turnstiles together. We should all make the same thing from Sammy B [of the Jungle Brothers] to Posdnuos. We're brothers!
Jarobi: I would love to be able to do some shit with the rest of those guys. And in a perfect world it would happen. I do think that we're gonna hopefully spark an interest. I'm hoping that another one of the byproducts of this evitaN project and what we're doing is that people will see that people our age are still really good at doing this. In any other music field twenty years in the game, that's like when you start becoming good and become a virtuoso. Twenty years in the game, Quincy Jones, that's when he starts getting nice. So why wouldn't it be the same in Hip Hop? As you grow and get older hopefully you learn more stuff.
Dres: Can I throw something in there? I feel like I shouldn't even have to hear some of these muthafuckas till they're a certain age.
Jarobi: But the youth and the angst of it is a big part of Hip Hop and I love that shit, and that's why people love Hip Hop. But, my contemporaries, my friends and stuff like that, they're like, "Nobody's making Hip Hop for us anymore," blah, blah, blah. So I kinda like tried to make the effort to say new stuff but make it grown. We're grown men. I'm speaking from an older dude's perspective now.
DX: At least you're finally speaking. [Laughs]
Jarobi: [Laughs] That's true. I'm definitely getting used to that.
Purchase Music by evitaN
Purchase Music by Black Sheep
Purchase Music by A Tribe Called Quest