A few weeks ago, ScHoolboy Q hinted about the possibility of recording an entire project with Harlem upstart A$AP Rocky. Now, in a recent interview with Maurice Garland, the TDE rapper talked about the possibility of recording a long-form collaboration with the leader of the A$AP Mob.
Although Q didn't provide any further details about the project, he explained that both artists – who shared the booth on both of their respective mixtapes Habits and Contradictions and Live.Love.A$AP – are still very much interested in pursuing the collab. He did explain that the project most likely won't get off the ground until the both of them finish their touring duties.
"I don't have an answer [for when it's gonna drop]," he said. "We're trying, we're trying. He's on the road, I'm on the road. We're gonna try and get it together. You gotta have it sound right – two of the hottest niggas coming up. I'm not a cocky nigga, but I call myself [one of] the hottest niggas [coming up in the game]. But yeah, Rocky, we gotta do it."
Q also spoke about balancing his role as a rapper and a father. He explains that while he doesn't get to see his young daughter while touring, he always brings her to recoridng sessions, including one with the legendary Dr. Dre.
"It's cool [being a father], my little baby Joy-Joy. I just talked to right before I went on stage," he said. "She's with me in the studio – my baby's a studio baby…everybody know. Everybody knows my daughter – [Dr.] Dre, everybody."
Check out the full interview below.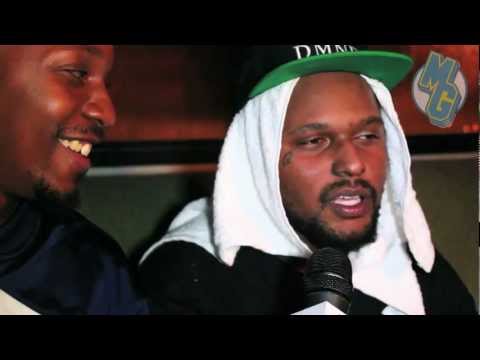 RELATED: VATE Magazine & BarrelhouseBKLYN Presents Schoolboy Q Live In New York City