In 1988, the Juice Crew released "The Symphony," which stands as one of the most beloved posse cuts of its era. The song features Big Daddy Kane, Craig G, Kool G Rap and Masta Ace and it was released on Marley Marl's In Control, Volume 1 album. A few years ago, Masta Ace shared his take on why MC Shan did not appear on the song. Shan did not make a comment at the time, but is now responding to what Ace shared, explaining his reasons for not appearing on "The Symphony." In this video interview he uploaded to his own YouTube channel, Shan also alleges that Marley has not paid emcees and that he's taken credit for beats he didn't produce.
The interview comes as a response to the aforementioned Masta Ace interview, in which Ace shared his take on why MC Shan did not appear on "The Symphony." According to Ace (in the interview from 2008), Marley Marl told him that Shan did not appear on it because he felt he would have been "playing himself" to be on the same song as "new jacks" at the time. In response, Shan claimed this is not true.
"Let me address that. I know this is something old I'm touching on," he shared in the interview. "What y'all gotta understand is I knew Marley Marl and I've done songs with him that I didn't get paid for. So, I can understand Ace for listening to that crap Marley was tellin' him but if y'all know me, I was never one to say nothin' on the side, behind your back. If I felt something about you, I was gonna say it to your face."
"It wasn't because Shan didn't wanna be on that record that Ace got a spot. Ace got a spot because he held his own," he added. "If he couldn't hold his own, he wouldn't have been on that record. So, Masta Ace, big shout to you for holding your own. But, all that that Marley told y'all was lies."
Shan then went on to say that he does not regret his decision.
"Yeah, I regret…I don't even regret not being on 'The Symphony.' If I might have been on it, maybe Masta Ace wouldn't be who he is today. So, I'm happy that I wasn't on it, that Ace got to get his shine."
In the interview, Shan also says he wasn't the only emcee to not get paid properly after working with Marley. Shan then went on to claim that Marley Marl is not responsible for producing many notable songs for artists such as Kool G Rap, Biz Markie and Big Daddy Kane.
"All of those joints y'all thought Marley Marl produced, let me tell you something. Kane, G Rap, Biz, all of them bring their own beats. They bring their own beats to the studio. Marley threw them in the sampler and put his name on it. My songs were the only ones that Marley sat down and actually had to work for."
"We want to talk about truth? I'll tell you the truth 'cause I ain't scared to say it. I don't know how many other people won't tell you. Maybe Kane won't tell you, 'I bring my own beats and you put your name on it.' Maybe G Rap and [DJ] Polo won't say it. Maybe Biz won't say it. But, I'm tellin' y'all. He got his name on a whole lotta stuff that he didn't even do."
At the end of his video, Shan shares that he will make another volume of this series. The interview can be seen below: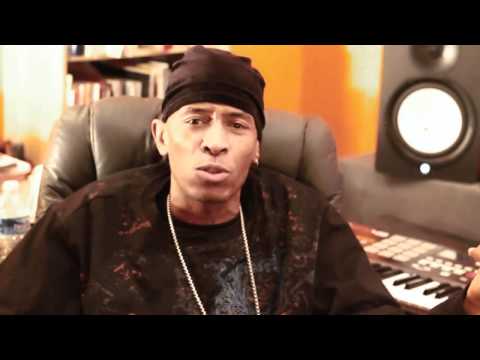 UPDATE: Marley Marl has responded to MC Shan's claims, stating that this stems from "years of bitterness and drug abuse" and that no one particularly cares about this situation.
"To all the Juice Crew fans and who have loved our legacy for all these years, I'm real sorry that you have to see this go down," said Marley Marl. To the other kids who don't know who this dude is in the background, this is MC Shan. He used to be one of the top rappers in the '80s down with the Juice crew. He made a record called 'The Bridge' about a place that he wasn't even from, and we let him prodigy that.
"It's like 25 years later with this 'Symphony' story, but to be honest, who really gives a fuck? Who cares?" he continued. "It's like 25 years ago. Masta Ace made that video four years ago. Four years to say something and nobody said nothing, it's so funny. And as for Cold Chillin', you know no one was getting paid back in the day. We was making joints."
Addressing the allegations directly, Marley Marl said that he doesn't understand why this would be brought up after so long and that MC Shan is coming from a place of irrelevance.
"As for me not making the records, come on man," he continued. "You saw what happened to all the artists after I wasn't producing their shit no more? I don't have to go there. I get to them every day on the radio. My skill levels right there, people see where I'm at so I doubt anybody believes that bullshit. This just comes from years of bitterness, drug abuse… Drug abuse and bitterness don't mix. This is what happens ladies and gentlemen."
RELATED: Marley Marl Recalls Making "Eric B. Is President" & "My Melody"