In late October, Jet Life Recordings and The Cool Kids fans were greeted with news from Curren$y that he signed Sir Michael Rocks (a/k/a Mikey Rocks) onto his label. The tweet briefly stated: "Happy to have added one of my good friends to the J.L.R. family. Roll one for @SirMichaelRocks for he is indeed Jet Life Official." Joining Smoke DZA, Trademark Da Skydiver, Young Rody, Fiend, Corner Boy P, Monsta Beatz, Street Wiz and Mousa, Mikey Rocks solidifies his solo career after the success of Premier Politics.
Releasing the long-awaited When Fish Ride Bicylces, with Chuck Inglish earlier this year, HipHopDX recently caught up with Mikey Rocks to discuss this new chapter of his career.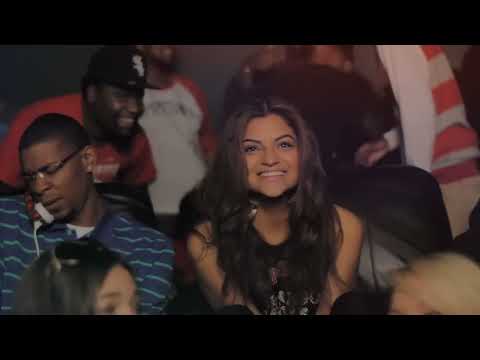 HipHopDX: Curren$y was quoted to have said "Happy to have added one of my good friends to the Jet Life family." Friendship aside, what kind of feedback does Curren$y give you, as an an artist himself, on your music?
Sir Michael Rocks: Man, Curren$y has always been a big supporter of what I got going on; my whole style to just my whole take on everything. I've actually been a fan of him for awhile now as well, since his Cash Money [Records] days. We first got together back in 2009 when he came to Chicago but we never ended up recording any music. We just got real high and kicked it for a while and just started building a friendship. It wasn't till later that year, in New York, we really got to record for his Pilot Talk album. I'm a fan of his first and he's a big supporter of mine. He tells me that I have so much potential to reach whatever I want to get at in my career and in life.
DX: Did his feedback ever give you a idea that he would eventually sign you onto Jet Life Recordings? If so, how?
Sir Michael Rocks: Well it's more like… we been friends for awhile and you know, I feel like it's more like a merger between us, rather than him looking for artists to sign. He saw that I was doing my solo thing and didn't really have a home for it. At the same time, I was really digging his movement and everything they got going on. Back when we first started making music together, I definitely could've seen me working with him. Just putting our forces together, ya know? So it's really not too surprising that we're working together now.
DX: How do you think Jet Life Recordings will cater to you as an artist?
Sir Michael Rocks: I'm very independent. I don't really look to anybody to tell me what my next move should be or how my work ethic should be or to guide me. I kind of handle all of that on my own. I've been doing that since me and Chuck [Inglish] started The Cool Kids stuff a while ago. I like to learn from others and take advice, of course, but I don't really look to anybody for work motivation or someone to keep me organized. With that said, I'm sure I'll be able to learn a lot from JLR, but at the same time, still be able to do me. As for Curren$y leading the pack, I want to be able to combine our forces. It's going to be fun.
DX: You recently released your solo tape, Premier Politics last month, what kind of creative growth would you like to have represented on your first album under the Jet Life label?
Sir Michael Rocks: I just want to continue to grow and evolve; get better at rapping. I want to get more and more comfortable on the mic and in my own ways. As an artist, you gotta develop your own style over time. 'Cause everybody kinda starts off with the same structure and it's up to us to learn the technicalities of it first and then start to develop your own style off that. I pretty much have to keep developing my thought process and my own approach to everything and personalizing that. I want you to feel like you stepped into a whole different world with my music, ya know? You gotta come to where I'm at and feel where I'm coming from on every song. I'm tryin' to create a small world within itself with my music. And I want that represented on JLR.
DX: What does the "Jet Life" represent or mean to you? And how will that be reflected in your music?
Sir Michael Rocks: The acronym "Just Enjoy This Shit" is great. It made sense to me when I first saw it. I like it 'cause in life, we look at things way too seriously. We sorta forget the bigger picture of things. We're gonna die soon man, so why are we sitting here, stressing and not enjoying life? Life is beautiful. It's like a rainbow that shows black too; it's got every color on it. It's got the ugly stuff and the beautiful stuff. And we need to be enjoying it all while we're still here. J.E.T.S. is bigger than some weed-smoking ish, I mean, it's a part of it but its way bigger than that to me. I want to make sure that that's captured too. "Just enjoy this shit," it's a powerful statement, man. I mean, we're young, not the richest, but we still got money so we should be comfortable. We kickin' it and we should be able to do what it do, and that's fresh. We those guys right now.
DX: What's next for the Cool Kids?
Sir Michael Rocks: When me and Chuck record, it's a little different because sometimes he'll have a beat already made and I come in, listen to it, and get vibes as to what I want to do with it, even if I like it or not. Chuck will then add his stuff to it as we kinda just sit around and vibe on the beat. We talk about our ideas and themes then bounce ideas off each other for a bit until we figure it out. We really just build off of each other, it's a very team-orientated work situation. If we're not together, I get the beat and do what I think I should do to it then he adds what he thinks he should do to it and in the end, we always seem to match vibes and pull it off. On the solo side of things, it's a little different. It's just me, everything is all me. I come up with things on my own, and have more responsibility. At the same time, it's cool to be able to express yourself further. As opposed to getting just one verse, you get more verses and get to say more and get more of your thoughts across as a soloist. I'm an interchangeable type of dude, I know how to work on a team and I know how to work on my own. [I] just gotta make the best out of any situation.
As for new Cool Kids stuff, we're currently working on our Shark Week tape. We plan to go out the country and record somewhere that's warm and just getaway [and] possibly film a movie short to the album. As of right now, we're touring for When Fish Ride Bicycles while I work on my solo stuff; we keep things moving.
DX: You guys reference a lot about animals in your music, why is that?
Sir Michael Rocks: It's kind of random but I was actually about to be a zoologist, 'cause I know everything about animals, but then I changed my mind.
DX: Things are definitely looking up for you and it's all rooted in your hard work. Props to you for that. My last question is this, if Hip Hop were a person, what would you say to him/her?
Sir Michael Rocks: I'd tell her this…"You don't know what the fuck you are or who you are. You don't even have a face." I'd say this because I don't think Hip Hop is every going to be just one thing. It can't be put into a box 'cause there's so many people doing it and so many different perspectives looking at it. It's not going to be just this one consistent thing; everybody likes different shit. I like the diversity of it though.
DX: Interesting you say that, do you feel that some people try to keep it in a box though?
Sir Michael Rocks: Hell yeah! It's human nature to try to box something in. But you can't do that 'cos everything is situational. Things change and it's stupid tryin' to box anything in especially with artists. You don't want to mess with their creativity and you do that if you put them in a box. It's more important for us to try what we want to try and let us become the best we can be from what we learn.