Ten years ago, Freeway's critically acclaimed, Philadelphia Freeway debuted launching the bearded lyricist's high-pitched octave into Rap history. Anthems like "Flipside" and "What We Do" represent as resolutely today as they did back in 2003 when each first bumrushed the airwaves and CDRs worldwide – remaining undeniable classics a decade later. But after surviving the Roc-A-Fella Records breakup, swerving into the independent arena and finding critical and creative success with his Jake One-assisted, Rhymesayers Records release, Stimulus Package, et al. – Free's greatest achievement is easily touching longevity sporting a high quality catalog. While much of the Roc's core toppled into controversy, complacency, or incarceration, Freeway is fresh off of his Made In America performance alongside Jay-Z and prepping his Babygrande Records debut (and fourth studio album), Diamond In The Ruff.
In this interview with HipHopDX, the Philly-legend describes rocking with Hov for the first time since Roc-A-Fella fell apart, details how he ended up included on "8 Mile Runnin'" off of the 8 Mile Soundtrack, the Philadelphia scene, and why Will Smith is still a legend away from the silver screen.
Freeway Explains The Process & Business Behind Diamond In The Ruff
HipHopDX: You mentioned Diamond In The Ruff last year when we spoke. Now it's finally here. How has the process been putting this project together?
Freeway: It's been good. It's really been a hobby until we found a home for it. You know I'm always doing so much other stuff. It's definitely been a good process. Me being able to create it and then being able to make the music that I want to make feels good.
DX: There's probably five songs on here that I really love.
Freeway: Anything that you don't like?
DX: I think there were a few joints that I think were par for Freeway. But songs like "Greatness" and "Early" and "Ghetto Streets" are songs that I think have a timeless quality to them. The whole project sounds big and theatrical. I was surprised to hear parts that – from a production standpoint – sound competitive to what deejays are spinning now. That's a hard thing to grab onto as an artist because songs are broken in the strip club and they're pushed on the radio. That's a hard dynamic to keep up with…
Freeway: Yeah, unless you go all the way one direction.
DX: How many different tracks did you go through when you were putting this together?
Freeway: There's probably over 20 to 30 that didn't make it. Me and [Jake One] probably got 30 records. Me and [Just Blaze] did a couple. There are a couple that I really loved but they're just not ready yet. Me and Mike Jerz got 20 records. There's a lot of records, man.
DX: Was there a specific type of sound you were going for while picking beats? Or did it just turn out that you heard the beat then wrote the joints?
Freeway: That's usually how I work. I'll pick a beat that I'll like. Just [Blaze] will send me a couple, or [Jake One] will send me a batch and I'll be like, "I'm rocking out to these." Three or four records will usually dictate a certain vibe. I just usually rock out to whatever I feel.
DX: On "Greatness" the hook goes, "Survived the Roc breakup / Small heart break but / You thought I fell off you got the wrong information." That part seems to speak to what you mentioned in our last conversation about building your own brand. This project came out on Babygrande Records. What's the difference between putting out a project on Babygrande and Rhymesayers?
Freeway: I love Rhymesayers [Entertainment]. It's just Rhymesayers has their own fan base and they have their own structure. It's like being a part of a legacy with Rhymesayers. Babygrande is cool. We get the job done. That's what it's here for. It's not like it's adding nothing to it or taking nothing away. It's a home for the project. I'm handling my business. They're handling their business and we're making it happen.
DX: Why'd you go to Babygrande for this one? Why not go back to Rhymesayers for this album?
Freeway: Rhymesayers got a lot going on. They got Brother Ali. They got a lot of things that they've got to concentrate on. The opportunity presented itself with Babygrande [Records] and we were ready to go. They seemed like good dudes. They seemed like they could get the job done, so we did it.
Me and Brother Ali are working on an album together. We're probably gonna put that out on Rhymesayers. Me and Jake One will probably do a [Stimulus Package 2]. When we do that, there's no other place to take it but Rhymesayers. Basically, I'm a free agent. The beauty of being a free agent is that I can do what I wanna do. The only thing that can stop that is if Roc Nation or somebody like that would want to sign me. Then I would do something like that. Other than that, I'm happy doing what I'm doing.
DX: "Ghetto Streets" is an awesome song.
Freeway: Thank you, man. I wasn't sure how people was going to take that, but I knew I loved it so I put it on there. Produced by Needlz.
DX: Needlz laced that joint. You've got a line here: "But you'll gun him down if he get a pound / Then you'll take his life / For an extra stack / That's like Shaggy / Killing Scooby Doo / For a Scooby Snack / That shit is wack." That reminds me of your verse on "8 Mile Runnin" off of the 8 Mile Soundtrack.
Freeway: Yeah. Basically it's the same knowledge. [Recites first verse of "Ghetto Streets"] Niggas will watch your back while you're hustling. If you got some beef, he'll ride out with you to kill a nigga and all that. But if you got one thing that he wants, or if you got something more than him – he will take your life for that after he was just riding with you. That's how it is in the hood. You see from the movie Paid In Full, when [Cam'ron] was like, "You got 16 bricks right there? Who hit you off? A?" That's how niggas really is. Niggas will be your right hand man. I've seen it personally. Niggas that I thought would never turn their back on me, turned their back on me just because I was successful. Niggas that we used to go eat together and go scrape money together to go get food and all types of shit turned their back on me. And I was still showing them love. Feeding them and doing all kinds of stuff. But it's just that the success breeds envy. That shit is so real, man.
DX: Is there a remedy for that? Maybe not the success breeding envy part.
Freeway: The best thing that I found for it was to just be by myself. I had to learn from my mistakes and be cautious. Make smarter decisions. When I first got on, I had seven niggas living with me. I had seven niggas doing everything I do. Traveling. Smoking. Eating. Shopping. Everything. I would do for my niggas before I did for my kids and my mom because they were right there with me every time I did something. Right now, I couldn't call none of those niggas to do nothing for me. I'm sure if I had some beef and I was like, "Yo, I need y'all to go ride with me to kill these niggas," they'd probably do it. [Laughs] If I need them to pick my daughter up from school or something, they ain't doing nothing.
DX: How long did it take you to get to that point?
Freeway: A couple of years. Two or three years after I realized what was going on. It's a process. You've gotta strategically sever ties with things that are not good for you. It's a process. I went from not even believing this shit is happening to just had to shut down and get myself together. If you listen to my music, I talk about that a lot on Free At Last.
Freeway Says "Early" With Just Blaze Is Not A Reunion
DX: Is it fair to call "Early" a reunion between you and Just Blaze? Would you describe it that way?
Freeway: It's a trigger towards a reunion. We didn't go in the studio and create like how we normally did. Just gave me a couple beats and I did what I did to them and we made it happen. But when we go in, when we finally go in and get it in, it's gonna be crazy. You already know. Just is responsible for the majority of my hits, so you know how it can get when we get it in.
DX: Just Blaze was talking about that in an interview with HipHopDX recently. He talked about how you approached him to work together.
Freeway: I seen that. I replied to that and told him thanks for the love on Twitter and everything.
DX: The way he made it sound was that cats just expected him to make all these beats because he was around the Roc.
Freeway: You've got to think of the time frame. Just Blaze was Just Blaze, but he wasn't Just Blaze. He was just a nigga making beats. It's a bunch of niggas that just got signed by Jay-Z; just did Hot 97. We in Miami. Niggas be feeling themselves. You know how it is. Motherfuckers be feeling themselves. I've never been that type of person. I always had that theory that what goes up, must come down. I try to treat people how I wanted to be treated. I think that had a lot to do with my Islam. In Islam, you're supposed to treat people with respect. You're supposed to treat people how you want to be treated. You're supposed to show love to everybody that shows you love. I was just trying to work. I wasn't on it like, "Oh, you owe me this or you owe me that." Or, "Nigga, you better make me a beat." When I read the article and seen what he said, it's not like I did it on purpose. I was just being me. I really was just trying to work and get some stuff done. The way I approached him was the way I would approach you if I wanted to work with you and get some stuff done. It's not like I went out of my way to do something different. I was just being myself.
DX: Is it ever surprising looking back and comparing where you all were then and where you all are now?
Freeway: Yeah. I got no regrets. Everything that you do shapes you as a man. I remember there was a point where I thought it would never end. The whole Roc-A-Fella [Records] thing. We were on top of the world. Now, seeing it, I didn't even realize how much we were on top of the world when I was in the midst of it. But after the fact, I look back like, "Damn, we really was doing it." I'm just blessed to still be here. I'm about to drop another album this month – 10 years later from when I dropped my first album and that's hard to do. People still love my music. People are still interested in me, so I feel blessed. I think that has a lot to do with my Islam, too. It has a lot to do with the way I carry myself and how I treat people.
Freeway Reveals That Made In America Was The First Time He Performed With Jay-Z In Years
DX: I was at Made In America [Festival]. Early in Day Two, people were talking about Day One. Of course, you came out during Jay-Z's set. There were so many people in my section talking about how crazy they went when you hit the stage. The way that crowd erupted when you touched the stage was something I'll always remember.
Freeway: I don't even know if people realized that my mic wasn't even on. Everybody was singing my raps from the first eight bars. Then Jay gave me his mic.
DX: I didn't even notice that.
Freeway: If you look at the video you can see it. That shit was crazy. That shit really erupted. Every time I get ready to perform that record I get nervous. Every time. I was backstage praying like, "Yo, please make this go well because I really need this."
DX: That's surprising to hear you say you get nervous off of rocking "Roc The Mic" still.
Freeway: I remember when we was on tour. I think it was the Roc The Mic Tour. I guess it's like a boxer gets knocked out, or whatever. I remember we was on tour and there was this stylist that used to style us and she was so bad. I was in love with her. I tried to impress her. Every night I shut it down. Every time I would do it, I'd kill it, son. I went backstage. She's ironing my shirt or whatever. Putting my shit on. I'm like, "Yeah, I'm gonna shut it down for you tonight. This one's for you." I went out there and fucking forgot my verse! Jay was looking at me. They were holding me down. They were singing it. Nobody knew but them. They caught my words and then I caught back up. Ever since then, I get nervous when I do that song. I hope that shit doesn't happen again.
DX: What's that mean to you when you have that many people. It felt like 50,000 people in that park. That's your hometown. What's it mean having Philly on your back to you?
Freeway: It feels good, man. It means a lot. Philly's a rough stop. Just to be able to have that love, it feels great. And it feels even greater 10 years later. I'm still a star. It's me, so I be forgetting. I'll still have regular problems like people have. I'm cool. I'm well-off. But I'm not rich so sometimes it gets harder for me, too. I'm Freeway everyday. I have my own problems and everything. So I forget I'm a fucking star. I just be going to the market and doing stuff and people are like, "Oh, shit." My close friend is my road manager and my deejay, Peanut. We'll be out in the mall and people are staring. And he'll be like, "What is these niggas staring at? Oh, I'm with this nigga. I forgot." [Laughs] It's so easy to forget. And sometimes it's a blessing because I could be having a horrible day. I'll be going through so much. Then I'll come out and some little kids will be like, "Oh, Freeway, can I have your autograph?" And it'll remind me of how blessed I am.
DX: "Will Smith / State Prop / Rappers / Actors / PA stay hot…"
Freeway: Exactly! [Laughs]
DX: This is a really strong project. You're not running the same patterns as you were 10 years ago, for example. This feels like a step forward lyrically.
Freeway: Thank you, man. That's what's important to me because you don't know. I work, but I never know how people are going to take it. Every album I'm nervous. I remember when Philadelphia Freeway was getting ready to drop – a couple of days before it hit stores. I was like, "What the fuck? Are they really gonna accept me?" I was doing me. I wasn't trying to be like Jay. I wasn't trying to be like [Beanie Sigel]. I wasn't trying to be nobody else but myself. I was like, "Are people really going to accept me? Are they really gonna like my music or like what I've got to offer?" To this day, some people say it's a classic. So it's a good feeling.
DX: This is the 10 year anniversary for 8 Mile the movie. Eminem just reunited the cast recently. That was my first favorite song by you – "8 Mile Runnin'" with you and Jay-Z. How did you guys record that joint?
Freeway: I was in the studio. That's one thing. Niggas can say what they want about Jay, but Jay is good nigga. He gave everybody a shot. I remember he put [Young Chris] on the record with Pharrell. I can't remember the record but it was a crazy record. I wanted to be on that joint. He gives everybody a shot. I remember I came in the studio and he was like, "I got something for you." I was like, "What?" He was like, "I need you to get on this record for this Eminem movie soundtrack." I didn't even see the movie. I didn't know what it was about – 8 Miles. I just had to write a verse. I heard what Jay did and then I was going in.
I was in the studio working on my joint. It probably took me an hour to write the verse. I usually write quicker than that, but I'm like, "This is a record for Eminem's project. Jay is on this." So Jay was in the front room doing whatever he do. He came back in like 20 minutes like, "What's up? You ain't ready yet?" I'm like, "I"m working!" Then he came back like two minutes later like, "What? You need some weed? Somebody get Freeway some weed." [Laughs] Then I finally got it together. I laid that joint and he loved it. I was just happy that everybody liked it, man.
DX: That was the year before [Philadelphia Freeway] came out.
Freeway: I don't even remember. A lot of that stuff was foggy. I remember certain stories, but I don't remember the actual timeframe of when it happened.
DX: The "eight miles and runnin…" and "six miles and runnin…" that you and Jay trade on the hook…
Freeway: Yeah. I didn't know. I didn't see the movie. I didn't know what "8 Mile" [was]. I didn't know nothing about it. I just did my version of it. Like, "If you eight miles and runnin then I'm six miles and runnin, because I'm not where you're at. I'm 'Six miles and runnin in a Pontiac 6000 / '86 trans white / Shift / when the engine run / Anyone…" [Laughs] Things like that, that's a jewel right there. That's a blessing for him to put me on that. He could've easily put [Eminem] on there or did it himself. That's why I got so much love for him. Everybody on Roc-A-Fella, he gave a fair shot. If you look at it, everybody had a fair shot to get hot. He had [Omillio] Sparks on the "Give It To Me" record. He did countless things for Beans. I can't remember this fucking record that he put Chris on with Pharrell, but it was crazy and I was jealous because I wanted to be on it. He gave everybody a fair shot.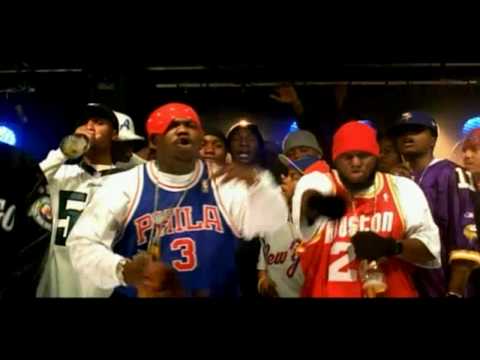 DX: Have you spoken to Beans recently?
Freeway: The last time I talked to Beans was when he was in court. He came down for the other case. I went to the courthouse and I seen him. It was sad. It was real sad just to see my boy shackled up and all that craziness. His wife called me like, "Beans said to tell Freeway to stop looking like he's about to cry. It's gonna be okay." [Laughs] But everything was good with him. He beat that other case and will be ready to come home after the regular time he's supposed to do.
DX: He put out a great project this year, too. [This Time] Ruffhouse is back, man. That's one of the most important labels of my lifetime. Of my favorite Records of the 1990s, they put out almost half of them. That's a Philly label right there.
Freeway: Who knows? I've got a lot of records. I might take some of those over there one day. Get it cracking. [Laughs]
DX: You mentioned Will Smith in "Early" also. How would you describe Will Smith's legacy as a rapper? If you separate Will Smith the actor from his career, would you still have the same level of respect for him as an emcee coming out of Philly?
Freeway: Yeah. He's not like a street emcee, but he definitely [represented]. That's Will Smith. Are you kidding me? Before the movies and the acting and all that, "Parents Just Don't Understand," "Summertime." Those are classic Philadelphia records that's never gonna die. People try to take away what he did as far as an emcee because of the success that he had with everything else. But you can't count that boy out for what he did with the music. His earlier stuff. Big Willie Style and all that other crazy stuff he tried after he made billions of dollars didn't pop off as much. But Will Smith from West Philly – when he was trying to come up like I was – was making good music.
DX: Philly seems like it's in a place where it's about to break again. There's a lot of new cats coming out of Philly that are talented.
Freeway: Yeah, definitely. Meek Mill is doing his thing. His little squad Dreamchasers Records that he signed, Lee Mazin, she's one of the hottest female rappers that I've heard in a minute. She just dropped a mixtape called LoveLee and I'm on there. You should check it out and make sure to tell everybody to check it out. It's crazy. We've got a crazy joint on there. My man Chill Moody is doing his thing. There's a group called GroundUp that I got a couple records with in Philly that's doing their thing. Young Savage.
DX: OCD is getting all kinds of looks now. S.T.S. is still doing his thing.
Freeway: You know S.T.S. is like a fucking underground legend! [Laughs] There's a lot of people in Philly coming up and they're being themselves. GroundUP sold out the The Living Arts Theatre two times just doing what they do. And that's hard to do. There's some niggas that've sold records that probably can't sell out the TLA.
Purchase Music by Freeway