Dreams. They provide us with a goal set, a perspective of where we are in life and often, a smile that moves us forward. In the case of BJ The Chicago Kid, dreams may be what kept him alive.
Growing up in the notorious Southside of Chicago, BJ was exposed to the glamour of what can be and, of course, the everyday occasion of gang violence and what would never be.
With major collaborations already under his belt with the likes of Mary J. Blige, Toni Braxton, Mary Mary, Mario, Musiq Soulchild, Snoop Dogg and Kendrick Lamar, just to name a few, BJ made the choice to live out his dreams and they have carried him to Los Angeles. His heart will always lie in Chicago.
DXnext recently talked with BJ The Chicago Kid about his life, what he considers to be the "hard left" and "hard right" in south Chicago and how a young kid, turned 29-year old man, has evolved into one of the most acclaimed singers in hip hop music.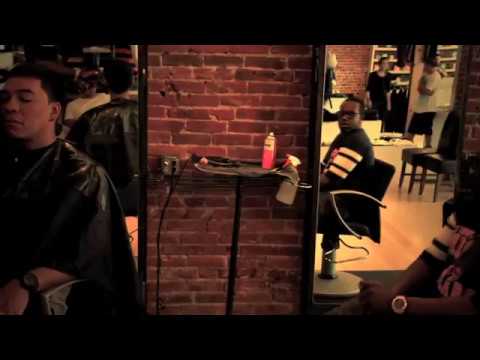 On How B.J. The Chicago Kid Came To Be: "Well to fast forward, I moved to California in 2002 and when I came out here, my mentality was to be this great song writer. I always wanted to be an artist but I was driven to be a songwriter and I understood that that doesn't pay the bills just doing that. [Laughs] But I began singing background; I actually came out singing background for Mary Mary. So through that I ended up writing songs as well and still try to, I guess, give the songs out that I wrote, to the people that I would do shows for. Like from Mary J. Blige to Mario to Usher to just different artists that I felt could fit and just build the relationships with the artists and that's kind of how things began to grow. So as a writer, things began to pick up. Me and a friend, named Harold Lilly, wrote a song called, "Hurt Again" from Mary J. Blige and I ended up doing three songs for Musiq Soulchild, one being "I Wanna Be" another one's "Ridiculous" and the other one's "Love of My Life" and the list goes on but I ended up doing some stuff. Mary Mary helped me go on tour with Usher for the Confessions Tour and that's kind of where things all took its turn for the better."
On Growing Up In South Chicago: "Actually, it was crazy growing up in Chicago. Honestly my parents are very religious but my friends were very um, um, um, [laughing] how could I put it? Friends of mine were very interesting and they were very curious of what was going on with life at the time so I would say Sunday, I would be at the church with my fam and I get out of church and Monday through the week, I would be out with my friends in the streets learning about life and in every aspect possible so it kind of gave me a balance actually. In the neighborhood where I'm from in Chicago, it's manicured lawns, nice houses, but the activity that goes on definitely don't represent what you see. The houses are owned by older grandparents and godmothers and parents that actually believe in beatifying the neighborhood but the godkids and the grandkids and the sons, nieces and nephews are the ones pretty much in the neighborhood so just in the time me growing up there, I've seen people go from the neighborhoods to MTV to winning Grammy's and I've seen people found in trunks, of cars. You get what I'm sayin'? So it's everything from a hard left to a hard right and it's just really the fact of man you really got to stay focused and know who you are to some degree to get out of there and do better."
On Interest In Singing Hooks And Full-Out Songs: "Really, it's all a part of me. Someone who's naturally singing R&B, they don't think that I'm the most R&B type of artist but I feel like musically I'm well balanced. I listen to everything from MF DOOM to Little Dragon to Boyz II Men back down to Marvin Gaye you know the list just goes on, Portishead and all those type of crazy things so my taste for music helps me to see myself in any type of music presented to me to accompany or to be featured on or just do a hook on. Music is just a part of me period so no matter what I hear, I believe that I have the gift that I can kind of see myself and hear music with any type of music."
On What Makes A Good Hook Singer: "I feel like the hook, as far as your message has to really be profound. There's two things that really make a hook; the message and how you really fit that message inside that eight bars or that 12 bars or that 16 bars for the hook. There's always one think I liked about Kendrick Lamar, no matter what I sent him to get on whether he's rapping on the intro, whether he's rapping the hook, he plays the part of the song, like he listens to what I'm saying and he says things that I haven't said that kind of enhances the subtext more than just rapping. I'm sure that you've heard that a rapper was on or just another artist was on and it sound like they were just going and then just try to walk it back down to the subject at the end of the verse and it's like nah, the whole verse is about the subject cause I'm gonna further enhance cause I really understand what you're talking about. I understand what you need to hear to be broken down if you haven't gotten it out of what he said in his verses yet so you kind of have to make it seamless as far as subject-wise and I feel that's what a lot of people don't get so that's why I have mastered it, I feel like I really understand that some of the best hooks to me have been seamless or just the subject matter or how the hook began, it has to have that catchy vibe to it. It has to have something that bites you."
On Working With Mary J. Blige: "Working with Mary J. Blige was very interesting. The first time I met her actually, we worked with Dre & Vidal so it was us and Harold Lilly and his manager, we all went to Mary's house in L.A. and we met with her and she played us some of the songs that she had already worked on and what she felt would help make the album a pinnacle project so we just all got the vibe of the album. They had particular tracks already that she like so those tracks, I wrote to those and met her in the studio a day or two days later and when we came back, we came back with those songs written and we kind of wrote a couple more songs that same day and she came back in and we kind of went over the songs that we wrote and she edited a few things just to really make it custom for her and from that phase, just seeing how she working, how she cuts vocals and how she takes a song to the next level from what you hear in your head to what you see her doing, it's totally amazing."
The Life of Love's Cupid And The Making Of It: "I feel like The Life of Love's Cupid is very different from what I've always released. When I first started doing mixtapes, I felt like I was doin' them, number one, to kind of to show our intention and get good music from them but no body in R&B was doing mixtapes at the time so that's why I wasn't so afraid of the name mixtape, you know what I mean? Before people was always sayin,' 'B, why don't you just take a Lil Wayne beat and get on that? Maybe they could feel more familiar with you.' And I'm with that but I felt like it just wasn't that time for me just yet. So all the music that I would release was all original music straight from my producer's soul, from my soul as a writer straight to the soul and hearts of the listeners so what I feel like we gave them was unpainted. It was just straight pure from concentrate. So now that The Love of Life's Cupid is kind of formed it was like, 'Okay, well now I can have a little fun.' I won't just necessarily take a beat from somebody else but I'll just take something from somebody else and just kind of master it with something else and make sense. I had a song with a friend of mine, a female artist by the name of Jazzy and she did a joint called 'Feel Like Making Love' that she wanted me to be a part of, the remake of Roberta Flack and that was kind of like, 'Okay, now I can understand,' now I can put this on there and I had a joint from Fly Union that I always loved and they was kind enough to let me use the instrumental and that was a song that was called 'Heartless,' another song on there of course is 'Electric Feel' and I wanted to take the lyrics from that and the melody from that and kind of arrange it to a more broken down feel and put an acoustic guitar to that. It was kind of just finding out how to take the hits from somewhere else and kind of make it mine and that's what The Love of Life's Cupid is all about."
Major Inspirations That Guided Him Out Of South Chicago To Cali: "I would definitely say my family. God, of course and my family. The support of my family and actually being away from my family keeps me in line and from not just being in California but just being all over the world. Knowing that my family is getting older. Some family and friends have passed away and going on and just knowing that that time away, if I come out here and pretty much B.S. my time, I'm forfeiting all of that and I could be enjoying that. That could mean I could be back there being a part of every picture that I'm not in and I feel like me staying responsible, me staying mentally strong and me not forgetting what I'm here to do, it helps keeping me going so from that alone, and on top of that, I still dream on a daily basis. My dreams never stop. There's a song on Pineapple Now And Laters called 'Dream Two.' I had the song title and the song concept two, three years ago. I finally found the beat to put it on there and I feel like no one's ever explained it. I've had many dreams in my life now as I'm walking in my front room, I feel like I'm on dream 55 by now but no one's every delivered it like that so 'Dream Two' is suitable for me and I think that for people to understand how I see the world and how I stay motivated through the most natural things that I probably walk by everyday."
Goal As An Artist: "My ultimate goal period as a creator is to just keep dreaming and keep making that come to life whether it's a song, whether it's a movie, whether it's an idea for another artist, whether it's believing in another artist to help the world see their vision and help them grow and evolve musically as well. I just believe in keep dreaming because as long as I'm dreaming, my dreams are never put into a box so you can dream about designing plates, knives and the most craziest things and forms but if that's what you really want to do, then you tap into that and really figure out how you can be the best at it. As long as you keep dreaming, I feel like you can do whatever so that really takes the title off of music and makes it so broad and that's just where I am with it. I already know I'm gonna buy my mom a house, I already know I'm gonna do this, I'm gonna do that. I just believe in my diligence and how I've been and just my cause and how hard I work at being the best at what I do. I feel like that's going to come in time so I just need to keep dreaming and keep working at making those dreams come to life."