While on the set of the music video for Slaughterhouse's record Throw It Away
, This Is 50 caught up with Bronx producer Swizz Beatz and almost immediately questioned the self-proclaimed Renaissance man about comparisons some have made between the producer and noted musician Dr. Dre.
Though Swizz Beatz did seem awestruck by the comparisons he went on to explain that he doesn't see himself in Dr. Dre's class just yet. He also shared that he isn't too concerned with comparisons and is instead more focused on making music that may eventually become part of his legacy.
"Well, I think that I got a little more work to be exactly in his class…I don't really like to talk too much like that. I like to put in work to inspire people and they do their homework and figure out what I've done," Swizz Beatz explained. "As long as I'm leaving a legacy for my kids I'm cool I don't really gotta put it on the front plate of what I did and what I'm not doing. I just have fun."
Swizz Beatz may be known to most as a Hip-Hop producer, but the Bronx native also boasts the titles of fashion designer, artist, philanthropist, and more. When asked why he chooses to wear so many hats in his career the producer spoke on his need to sometimes step out of the box.
"The reason why I do so many things is to show people that there's no excuse not to get it," said Swizz. "Coming from the South Bronx and being able to travel the world and make something from nothing. People wanted me to just stay a deejay and I'm like 'Yo, if I stay'd a deejay you wouldn't have had over 500 something songs.' I just like to step out the box."
Keeping with the positive nature of the interview Swizz shared the best piece of advice he ever received which was simply to stay humble.
"Best advice I ever got was just stay humble. It all means nothing at the end of the day. As long as you got your health, as long as you got your family that's what it's all about. All this other shit it comes and goes," the producer revealed.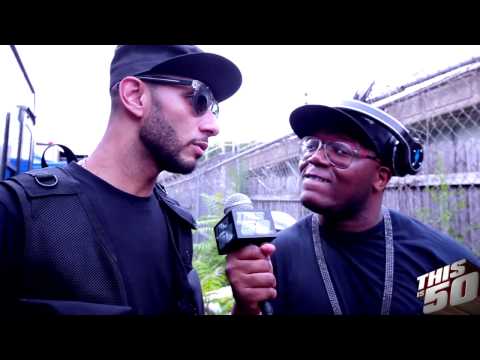 RELATED: Swizz Beatz Announces New Single Featuring Chris Brown & Ludacris