From Large Professor to Pete Rock to Busta Rhymes, Roc Marciano has worked with some of New York's biggest Hip Hop icons. Now, in a recent interview with Out The Box TV, the Long Island emcee/producer recalls the time he linked up with Detroit's very own J Dilla.
Roc explained that he got the chance to meet and work with the late Dilla while recording Busta Rhymes's Anarchy as a member of the Flipmode Squad. He said that the day Jay Dee came to the studio to deliver Busta beats, he grilled the Slum Village alum about how he crafts his drums.
"I was in a session when Dilla came through and was dropping off some beats. I was there during the Anarchy album," he recalled. "Busta always worked with Dilla, and I got the opportunity to meet the brother at that time. He was a real cool brother. To be honest, man, he just seemed like another brother from my hood, he seemed just like a real genuine dude. I remember when I first seen him, he came to the studio, and fuckin' with Buss, we had beats from all over…Busta's a superstar, so Buss got A1 beats from everybody. And I'll always remember, when we played everybody's beats, Dilla's drums was slapping everybody's drums. His shit's was crazy, so when I seen him in the studio, first thing I said [was], 'Yo, you've got the best drums in the game.' He was like, 'Word, thanks fan'…me and Buss tried to shake him down for the secret in the studio, he just said it was just good samples, good snare choices."
Roc also spoke on his recent work Dilla's partner in the Ummah Q-Tip on his long-awaited Reloaded project. He said that Tip's meticulous nature in the studio has helped elevate his music to a new level and will give listeners a fuller sonic experience.
"With [Q-]Tip, what more can you say – The Low End Theory, Midnight Marauders," he exclaimed. "I'm a minimalist in a lot of peoples' opinions when it comes to music, so a lot of people want my beats to have more bass and power, 'cus I'll rock over a naked sample and I'm good money. But my music could go to another level with those extra frequencies, and Tip is there to make sure my shit is on a higher level, so his expertise is being added to what I'm doing to make the package more full. If I've got a sample that's already crazy, he's like, 'Yo, we can't hear that bass, lift that bass up' and they'll go find the right bass tones and give it that body it needs…when you're working with a brother like Q-Tip who's so meticulous…you get to learn that his input is actually [needed]…those little things are making something that was probably already great greater."
Check out the full interview below.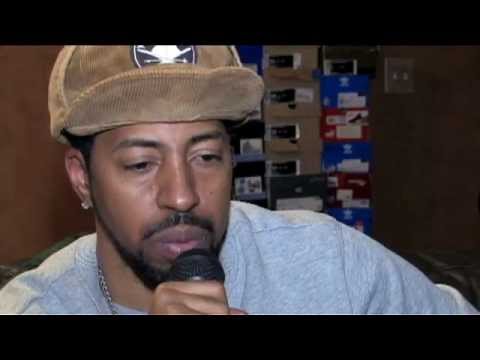 RELATED: Roc Marciano Signs With Man Bites Dog For First Producer Album, "Marci Beaucoup"