It seems as though Lil Wayne still hasn't move on from Jay-Z's "Baby money" line from the Watch the Throne song "H.A.M.
," as he is still firing shots at Jay-Z and Kanye West.
At the Cash Money Pre-Grammy party, Lil Wayne tossed a few bars out for the crowd: "I met a bad red bone, I took the bitch home / I asked her what she want to watch, she said surely not The Throne."
Lil Wayne and Jay-Z have been sending thinly-veiled shots back and forth for years, but when Jay-Z's line on "H.A.M." suggested that Baby – Bryan "Birdman" Williams – exaggerated his wealth, Lil Wayne took particular umbrage to the line.
Even though Wayne previously responded on "It's Good
," Jay has yet to return fire, simply acknowledging that beef is part of the sport of Hip Hop.
During the event, Wayne also hinted at Christina Milian signing to Young Money.
Watch the video below, courtesy of realtalkny via hiphop-n-more.com: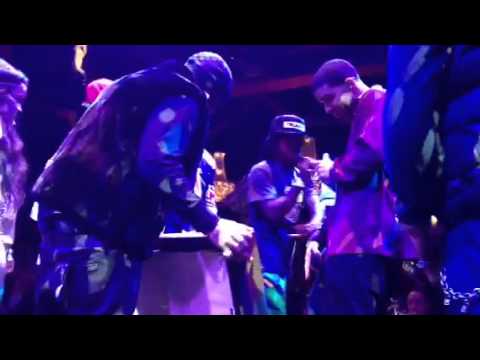 REALTED: Kanye West And Jay-Z Commended For Disclaimer For "Niggas In Paris" Video