Tech N9ne has announced his upcoming "Hostile Takeover Tour 2012," which begins in March and hits 90 shows in 99 days.
For the tour, the Strange Music honcho will hit the road with Machine Gun Kelly, Krizz Kaliko, Mayday, Prozak and Stevie Stone.
Dates and tickets are yet to be announced for the tour. More information will be announced on TheRealTechN9ne.com and StrangeVIP.com on January 24th.
Watch a promo video for the tour below.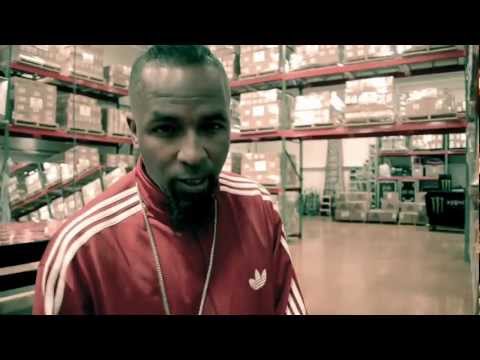 [January 19]
UPDATE: Tech N9ne has announced the itinerary for his 90-date "Hostile Takeover Tour 2012."
March 24 – The Midland Theatre – Kansas City, MO
March 25 – Cotillion Ballroom – Wichita, KS
March 26 – Cains Ballroom – Tulsa, OK
March 28 – Diamond Ballroom – Oklahoma City, OK
March 29 – Palladium Ballroom – Dallas, TX
March 30 – Juanita's Café and Bar – Little Rock, AR
March 31 – The Varsity Theatre – Baton Rouge
April 1 – House of Blues – Houston, TX
April 3 – Brewster Street Ice House – Corpus Christi, TX
April 5 – Emo's East – Austin, TX
April 6 – Wreckers – Lubbock, TX
April 7 – Tricky Falls – El Paso, TX
April 10 – Sunshine Theater – Albuquerque, NM
April 11 – The Top Deck – Farmington, NM
April 12 – Pepsi Amphitheater at Fort Tuthill Park – Coconino, AZ
April 13 – The Rialto Theatre – Tucson, AZ
April 14 – Celebrity Theatre – Phoenix, AZ
April 15 – House of Blues – San Diego, CA
April 16 – The Observatory Orange County – Santa Ana, CA
April 17 – House of Blues – Las Vegas, NV
April 18 – House of Blues – West Hollywood, CA
April 19 – The Majestic Ventura Theater – Ventura, CA
April 20 – TBD – TBD
April 21 – Pozo Saloon – Pozo, CA
April 22 – The Catalyst – Santa Cruz, CA
April 23 – Cal Neva Resort Frank Sinatra Ballroom – Crystal Bay, NV
April 24 – The Phoenix Theater – Petaluma, CA
April 25 – Ace of Spades – Sacramento, CA
April 26 – Fat Cat Music House & Lounge – Modesto, CA
April 27 – The Senator Theater – Chico, CA
April 28 – Arcata Community Center – Arcata, CA
May 1 – TBD – TBD
May 2 – McDonald Theatre – Eugene, OR
May 3 – Roseland Theater – Portland, OR
May 4 – TBD – TBD
May 5 – The SHowbox SoDo – Seattle, WA
May 6 – The Capital Theatre – Yakima, WA
May 8 – Knitting Factory – Spokane, WA
May 10 – Knitting Factory Concert House – Boise, IS
May 11 – TBD – TBD
May 12 – Saltair – Magna, UT
May 13 – Mesa Theater & Club – Grand Junction
May 15 – The Black Sheep – Colorado Springs
May 16 – The Black Sheep – Colorado Springs
May 17 – Aggie Theatre – Fort Collins, CO
May 18 – The Fillmore Auditorium – Denver, CO
May 19 – The Venue – Casper, WY
May 21 – Al Bedoo Shrine Auditorium – Billings, MT
May 22 – Rushmore Hall – Rapid City, SD
May 23 – All Seasons Arena – Minot, SD
May 24– Fargo Civic Center – Fargo, ND
May 25 – Ramkota Exhibit Hall – Sioux Falls, SD
May 26 – Cabooze Music Club – Minneapolis, MN
May 27 – The Omaha Civic Auditorium Mancuso Hall – Omaha, NE
May 29 – 7 Flags Event Center – Clive, IA
May 30 – The River Center – Davenport, IA
May 31 – The Orpheum – Madison, WI
June 1 – The Rave / Eagles Club – Milwaukee, WI
June 2 – House of Blues – Chicago, IL
June 3 – The Egyptian Room @ Old National Centre – Indianapolis, IN
June 4 – The Castle Theatre – Bloomington, IL
June 5 – IPFW Rhinehart Auer Hall – Fort Wayne, IN
June 6 – Newport Music Hall – Columbus, OH
June 7 – The Fillmore Detroit – Detroit, MI
June 8 – Headliners – Toledo, OH
June 9 – The Agora – Cleveland, OH
June 10 – The Rostraver Ice Garden – Belle Vernon, PA
June 11 – The Silo Nightclub – Reading, PA
June 12 – Town Ballroom – Buffalo, NY
June 13 – The Chance Theater – Poughkeepsie, NY
June 14 – Theatre of Living Arts – Philadelphia, PA
June 15 – The Worcester Palladium – Worcester, MA
June 16 – Starland Ballroom – Sayreville, NJ
June 17 – Highline Ballroom – New York, NY
June 19 – Baltimore Soundstage – Baltimore, MD
June 20 – The NorVa – Norfolk, VA
June 21 – Tremont Music Hall – Charlotte, NC
June 22 – TBD – TBD
June 23 – The Masquerade – Atlanta, GA
June 24 – House Of Blues – Orlando, FL
June 26 – Club Cinema – Pompano Beach, FL
June 27 – Green Iguana Bar & Grill – Tampa, FL
June 28 – Plush – Jacksonville, FL
June 29 – Birmingham-Jefferson Convention Complex – Birmingham, AL
June 30 – Whiskey – Jackson, MS
July 1 – Orpheum Theater – Memphis, TN
July 3 – Marathon Music Works – Nashville, TN
July 4 – Expo Five – Louisville, KY
July 5 – Pops – Sauget, IL
July 6 – TBD – TBD
RELATED: Tech N9ne Explains Strange Music's Beginnings, Musical Legacy