In his 10 years of work with 50 Cent and G-Unit, DJ Whoo Kid has managed to come out of it all with a few good stories. Now, in a recent interview with ThisIs50's Young Jack Killer, Whoo Kid recalls the time when Suge Knight and some hired goons chased him and other members of G-Unit out of Los Angeles, California club.
Whoo Kid explained that 50 Cent and Suge Knight were feuding around the time that the event occurred over the song "Tha Realest Killaz," which featured a previously unreleased verse from the late Death Row rapper 2Pac. So when Whoo Kid hit Los Angeles to spin at a club, Suge made sure to give him a special welcome by hiring an army of 34th Street Gang members to chase out of the club at which he was performing.
"I got paid five G's to DJ at a club in [Los Angeles], but I didn't know that they were promoting [the event] on LA radio, so good old Suge Knight is in his car tuning in," he explained. "It was [at] the time that I leaked the 50 Cent and 2Pac song 'Tha Realest Killaz,' which it was a record that Snoop Dogg couldn't clear on his album, so whoever they [originally] gave the record to, they gave it to me, so I kinda spliced it up [with a verse from 50 Cent] and made it a bigger record, 'cus it was a verse [from 2Pac] that nobody ever heard, and the fact that [Snoop] couldn't clear it, he gave it to me to leak."
He continued, "Suge Knight took it upon himself to 'find me' that day…he set it up [so] that everybody in [the club I was DJing in] was in [the 34th Street Gang]…the promoter got tricked, too. The promoter gave me the five G's and once I got to the stage, of course, at the time 'In Da Club' was the biggest record, so of course the first record I played was 'In Da Club.' So as soon as I played 'In Da Club,' the whole club turned and looked at me…[then] the promoter came up to me and was like, 'We gotta get you out of here…Suge Knight's in the front. We're trying to call the cops so he don't come in, but he wants to come in'…we started running out the back, I'm jumping in the van, and then for some reason – I don't know where, but C-Lo got the dirtiest looking gun I ever seen in my life…so I'm looking up and I see the 34th Street Gang running up to us with knives, so I'm like, 'Holy shit, I'm about to get stabbed for some 50 shit!' I'm like, 'Yo, get the gun!' By the time [C-Lo] grabs it…the police come [up]…[C-Lo] throws the gun all the way to back of the van. The cops grab the 34th Street Gang, and we peel off."
Check out the full interview with Whoo Kid below.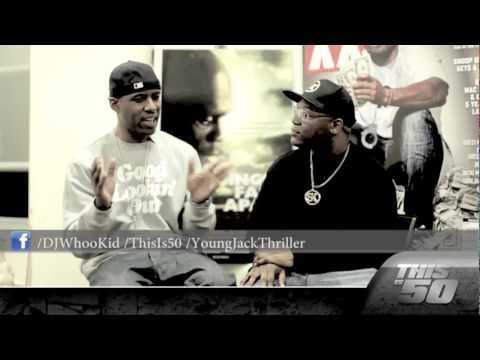 RELATED: DJ Whoo Kid Talks 50 Cent's New Album, State Of Hip Hop