Hang around on the Internet long enough, and you can be tricked into thinking different sub-genres of Hip Hop are binary opposites. It doesn't take much to witness commenters hurling insults at each other about what's "real Hip Hop" and what's not. Lines get blurred, genres mix and before you know it, what once fell under the larger umbrella of just Hip Hop is being separated into mainstream, conscious and other categories.
To the casual observer, it's easy to look at Skyzoo's The Great Debater—with it's Gordon Gartrelle episode of "The Cosby Show" inspired artwork—and figure Sky was influenced by the Native Tongue collective. What might come as somewhat of a surprise is which Native Tongue member Skyzoo was influenced by…not Q-Tip or Posdnuos, but Chi-Ali. During an exclusive chat with DX, Sky explains how the criminally slept on combination of Chi-Ali rhymes over Beatnuts production and 50 Cent's business hustle factor into his style along with a "Golden Era" aesthetic toward being honest in the booth.
Skyzoo Explains Coming Into Hip Hop As A Fan In The Golden Era
HipHopDX: How did you get involved with Hip Hop?
Skyzoo: I started rapping when I was nine. Growing up in New York in the throughout the mid-late '80s and going into the '90s, you couldn't get away from Hip Hop. It's what it was, even if you didn't end up doing any rhyming or dancing, you couldn't get away from Hip Hop. It was the new thing, the dope thing. It was the new culture that no one knew at the time was gonna takeover, become larger than life and withstand the test of time. They literally said Hip Hop would only last five years, and however many years later it's still going strong—stronger than anything else. So, coming up back then you couldn't get away from it.
DX: Who would you say had the biggest influence on you?
Skyzoo: When I was nine-years-old, I remember watching Video Music Box, Ralph McDaniels and all that, and seeing an artist by the name of Chi-Ali. He had a record called "Age Ain't Nothin' But a Number."
Chi-Ali, for those that don't know, was a part of the Native Tongues movement with Black Sheep, A Tribe Called Quest, Queen Latifah, De La Soul. And he was the youngest one in the crew, I think 15 at the time when the rest of them were adults. So for me, when I saw that video and that he was 15-years-old, he looked like the guys in my building. He looked like the cool guys. But he wasn't too old where he was an adult. He was a kid like me, but he was a teenager. That just appealed so much to me, man. He just looked like the coolest guy in the world in his video. I was just like, "Yo, this guy is beyond cool. He's rhyming, and he's from New York." You could see it all in the video. He wasn't kicking little kiddie stuff in the video; it was like the perfect balance of everything of that cool guy that would be in the lobby. When I was going to school, them cool guys would be in the lobby tagging the wall or shooting dice. To me, those were the cool guys when I was a kid. So, he looked like that guy and he sounded like that guy, and I just related to it right away. The minute the video went off I started rhyming. So, I started rhyming at nine years old, and from day one it was 100%. It wasn't like it was a lost hobby and then I got serious. I was serious from day one. I told my mother at nine-years-old what I was gonna do.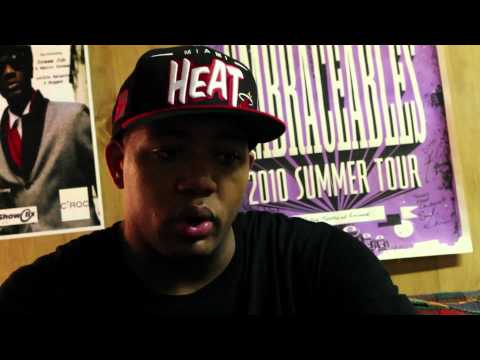 DX: Was your mother and the rest of your mother supportive of that early career choice?
Skyzoo: As far as my family and the way they support my music…it's been dope with them. My parents in particular have been super supportive. Sometimes they understand the business and the nature of it, and sometimes they don't. But regardless of what they do or don't understand, they still stand tall beside me 100%. I really can't ask for more than that with them. You know, to them I'm the greatest thing in the world as far as emceeing and what I do. They're super proud, and I appreciate that whole-heartedly. I've got two younger brothers—one is 22 and one is 10. Both of them are huge fans, particularly my 22-year-old brother, because he's closer in age. He really gets it. So, he goes out there and is like, "All I listen to is my brother and maybe one or two other people." And his whole crew and friends are the same way. And then my baby brother who's 10…to him, that's money right there. He goes to school and he's the man every time I'm on "106 & Park," or I'm on MTV, or being on NBA 2K11, or Grand Theft Auto, and 2K12 coming up. So that's part of his success and excitement in the filming of it. And, to me, family is something that's hugely important. It's something that you can't go without. And if you're blessed enough to have it, like I do, you have to cherish it.
DX: Going back to your formative years, how did Hip Hop turn from a hobby into a career path?
Skyzoo: I started putting tapes out in like '02. But being in New York, it was just in New York. If you wasn't in New York, you didn't get it. But if you were in New York, you were able to go to Harlem or Queens and pick up a copy. So, it started in '02, but it really started getting recognition in '05 I wanna say.
Skyzoo Explains How 50 Cent Pioneered The Mixtape Movement
DX: And you branched out from there?
Skyzoo: The way it started out, as far as the business aspect and getting out there, was with the mixtapes. This was 2002 when 50 [Cent] was running everything. 50 Cent was running the world as far as Hip Hop…the mixtape scene, the streets and all that. The model that he set up and created was putting out your own mixtapes. At the time rappers were jumping on [DJ] Clue tapes, or Kay Slay tapes, or Envy tapes with you a freestyle. You had Fabolous with a couple freestyles on everybody's mixtape, Joe Budden, all those guys, and it was the mood. That's what was going on. And 50 did something kinda different. If you had two Fab' freestyles on a Clue mixtape, 50 would give you 15 freestyles of his own on his own mixtape, and that was it. There wasn't a DJ or anything like that, and it was the first time artists were making their own mixtapes. He created the way that I did The Great Debator, the way that Mac Miller has K.I.D.S., the way that Wiz Khalifa has Kush & Orange Juice…all these guys. Anybody you name today that's putting mixtapes out where it's all original music, or it's them on other people's beats and they're turning it into their own record—that's 50. He created that.
In '02 he started that, and there was a wave where everybody began moving like that. And I did my first tape like that. Every year I had a joint out or two in a year, whatever it was. I literally was going to the mixtape stores, to the sneaker stores where they sell them in the back of the store, or the fitted store where they sell them in the back, or the white tee store with the Africans. I was going borough to borough with a bag of CDs and dropping $20 or $25 on consignment, and sometimes getting paid up front. Whatever it was, I'd come back a week later and they be sold out, putting more in. That's how it all started. And then from that point, the Internet came in to play. I was able to take advantage of both worlds simultaneously and really just do what I wanted to do in those worlds.
DX: Talk a little about your style specifically
Skyzoo: With me being very literal in my music—really putting a mirror in front of me and writing to show it to y'all, that's really how I look at it and what I call it. It was always a part of who I am from day one. Reason being because of who I grew up on. I grew up on Jay-Z, and [Notorious] B.I.G., and Nas. I grew up on Raekwon, Scarface and Ice Cube. I grew up on all these guys that made the music where they talked about what was going on. You know, if you look at all of the artists I just named, you go through any of their albums that's what it was. If you look at Biggie as an example, you know, B.I.G. sold two, three million [copies] of Ready To Die out the gate. He was still alive when he got that plaque. He had records on there like "Me & My Bitch" and "Things Done Changed." My favorite record on Ready To Die is "Everyday Struggle," hands down. He had records like "Suicidal Thoughts." Those are records that are beyond personal. And, he was doing that, Jay was doing that, and Nas was doing that, and Raekwon was doing that. All these guys were doing that, so it was the norm. It wasn't weird, or out-of-the-blue to do that.
You had to have extremely personal records on your album. So, me doing that now, it's because that's how I came up. It's not because I said I wanted to be different or that nobody's telling stories nowadays, or really putting the mirror up when they write, so I'm gonna do that just because. I do it because the music I was listening to everyday going to school was that music. I was listening to "Everyday Struggle" everyday, I was listening to "Me & My Bitch" everyday, I was listening to "Politics As Usual," and "Friend Or Foe," and "Coming of Age," and "New York State of Mind," and "One Time 4 Your Mind," and "One Love." These records were telling stories and that's what I was listening to. So when I was writing my records in eighth, ninth, tenth grade, that's how I was writing. Because I just thought that's how you write, and that was it.
Purchase Music by Skyzoo